Contact: Diane L. Godwin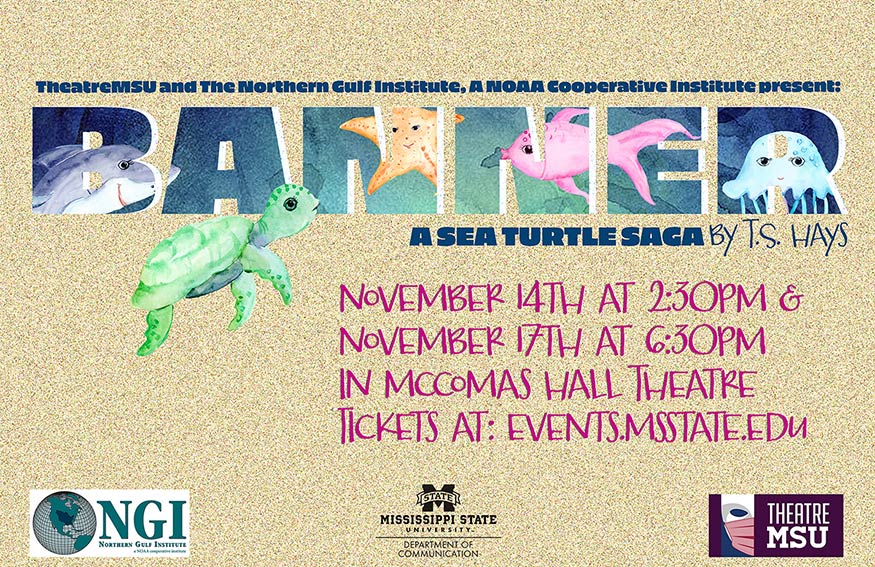 STARKVILLE, Miss.—An original musical production created by Mississippi State faculty and students aims to educate the next generation about being good stewards of the Gulf of Mexico's resources and marine habitat.
Public performances of "Banner—A Sea Turtle Saga" will be held Nov. 14 at 2:30 p.m. and Nov. 17 at 6:30 p.m. in the McComas Hall Mainstage Theater. Tickets for the public performances are $5 and available at https://msstate.universitytickets.com/. Additional free performances exclusively for local school districts also are planned, with teacher packets provided to facilitate children's classroom learning about marine environments.
MSU's Jonathan Harris, Northern Gulf Institute education and outreach director and marine scientist, joined with Tonya Hays, an award-winning playwright and communication faculty member, to create the original children's musical. They also worked with students in the Theater MSU organization and in Hays' Theater for Young Audiences class.
The play tells the story of a green sea turtle named Banner and his sea-creature friends who go on an underwater adventure. The story teaches about the dangers marine animals face due to plastic pollution, oil spills and climate change.
As part of the production, MSU students will be working with large-scale puppetry designed by Tim Baker, a professional sculptor, propmaker and special effects artist who has worked with Marvel Studios and Universal Orlando on multiple film projects. In addition to capturing children's attention with his imaginative puppets, Baker will give a free puppetry workshop for MSU theatrical students.
Harris said through education and outreach, MSU's Northern Gulf Institute has an objective to inform and engage the public about protecting the Gulf of Mexico's ecosystem by relating research findings in understandable and accessible methods.
"We are increasingly concerned about the influence of human activity on the Gulf's marine ecosystems. For instance, tons of plastic waste end up in the Gulf, killing or harming sea life and changing marine ecosystems," he said. "We need to inform and inspire the next generation to help us conserve, protect and restore the Gulf to protect our health, quality of life and survival."
The musical play is written by Hays, an assistant professor with an interest in writing plays for young audiences and a passion for producing theater to impact social change. Original music and lyrics are by Aubrey Hays, Curtis McMurtry, and Diane Burgess, with additional lyrics by Bella Bingham.
"After seeing the musical, our hope is that the students really understand how everything is connected and how we interact matters. In the end, the children will learn to care for and protect the Gulf because they will want it to be a better place—not just for the sea creatures, but for themselves too," Hays said.
NGI, the play's sponsor, also is providing funding to take the musical production on the road for a performance at the Mississippi Aquarium in Gulfport on Nov. 22 and at the Southeastern Theater Conference Fringe Festival in Memphis in the spring.
For more information, contact Harris at jharris@ngi.msstate.edu. For more about Theatre MSU upcoming shows, visit www.comm.msstate.edu/theatre-msu.
MSU is Mississippi's leading university, available online at www.msstate.edu.