Contact: Sasha Steinberg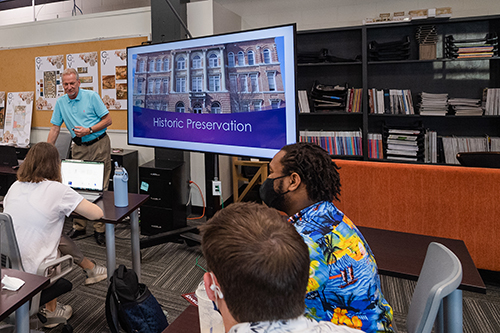 STARKVILLE, Miss.—Mississippi State's College of Architecture, Art and Design now offers a Master of Fine Arts in Historic Preservation.
Approved by the Mississippi Board of Trustees of State Institutions of Higher Learning, this new MFA is a terminal degree, one of the few degrees of its kind in the U.S. and the only graduate degree program in MSU's College of Architecture, Art and Design.
Enrollment in the program is now open for the spring 2022 semester. Applications can be completed through the MSU Graduate School. Learn more at www.caad.msstate.edu/academics/graduate/mfa-historic-preservation.
The college also offers bachelor's degrees in art, building construction science, and interior design, as well as the state's only professional architecture degree accredited by the National Architectural Accrediting Board.
"We have been overwhelmed by the positive response from the academic community, preservationists in the state, and interest from students," said Beth R. Miller, professor and director of MSU's interior design program, where the MFA is housed.
"The potential impact from this Master of Fine Arts in Historic Preservation to Mississippi State University and the state of Mississippi is only just being realized. We look forward to welcoming more students to the program," Miller said.
Open to undergraduates with degrees in design-related and non-design related undergraduate fields, the MFA focuses on historic preservation combined with preservation field studies.
Students will complete coursework in history of American architecture, landscape architecture and interiors; investigation and documentation of structures, interiors and sites; adaptive reuse of existing buildings and intervention approaches; building materials conservation; historic preservation and conservation; preservation economics and advocacy; conservation of interior details, furniture, materials and finishes; and additional preservation-related courses available as electives.
Upon successful completion of the program, students will possess the skills necessary to educate diverse populations and promote historic preservation through employment at nonprofit organizations, government agencies, museums and private-sector firms, and in academia.
For more on MSU's MFA in Historic Preservation including admissions information, visit www.caad.msstate.edu/academics/graduate/mfa-historic-preservation.
MSU is Mississippi's leading university, available online at www.msstate.edu.