Contact: Carl Smith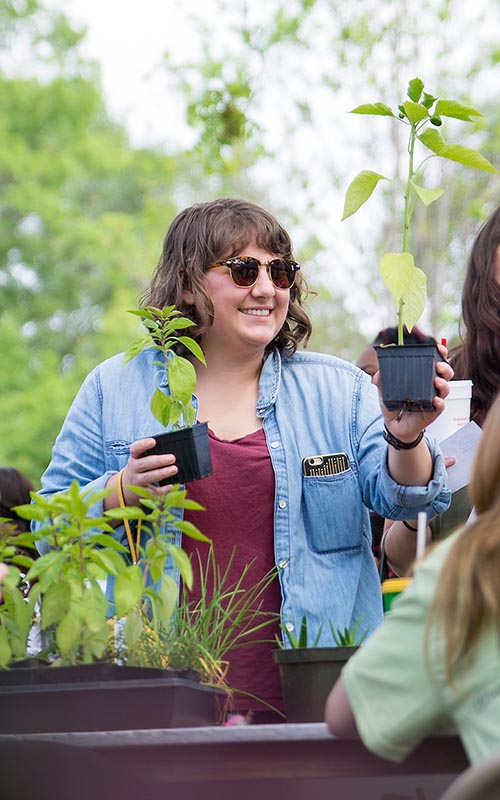 STARKVILLE, Miss.—Mississippi State will promote sustainability and environmentally friendly standards of living during Earth Week April 19-22, culminating with students, faculty and staff wearing green on Earth Day, Friday [April 22], instead of the university's traditional maroon. Then, MSU will welcome a series of prominent speakers who will continue the environmental focus through the end of the month.
The MSU Office of Sustainability is partnering with numerous departments and campus groups for daily events, including a sustainability bootcamp, campus clean-up day and an Earth Day fair at the Drill Field.
"Earth Week is important to our campus because it allows MSU stakeholders to come together while creating awareness through a host of events and providing educational information concerning the care for our environment," said Joseph Paige, MSU Office of Sustainability energy and sustainability coordinator. "Earth Day is set aside every April 22 to celebrate the planet's clean natural resources. On that specific day, MSU will join many across the globe to voice their concerns, goals and plans to continue to contribute to making our planet a better place to live."
Events include:
—Tuesday [April 19], 11 a.m. to 1 p.m., Sustainability Bootcamp in Colvard Student Union's Dawg House.
—Wednesday [April 20], 4-5 p.m., Campus Clean Up Day. Participants should meet at the parking lots of Griffis, Moseley and Deavenport halls; Sorority and Fraternity rows' parking lots; and Chadwick Lake.
—Wednesday [April 20], 11 a.m., Flower Power, featuring a fashion show, vendors, speakers, refreshments, a drum circle and more at the Drill Field.
—Thursday [April 21], 11 a.m. to 1 p.m., Water Resources Lunch-and-Learn featuring Assistant Extension Professor Beth Baker and a free lunch. Those interested in attending should register in advance on Cowbell Connect.
—Thursday [April 21], 11 a.m. to 1 p.m., Virtual Bike Ride. Participants should post a video of themselves riding a bike to and around campus on Instagram and tag @msugoesgreen. Prizes will be awarded to those participating.
—Friday [April 22], 10 a.m. to 2 p.m., Earth Day Fair, featuring games, a food truck, picnic and more at the Drill Field.
Sponsors and partners of Earth Week events include the MSU Office of Sustainability, Office of Fraternity and Sorority Life, Office of Health Promotion and Wellness, Horticulture Club, Energy Club's solar decathlon team, Blue Zones Club, Climate Reality Project and Pink Plaid Vintage in Starkville.
Beyond Earth Week, MSU's College of Forest Resources and Forest and Wildlife Research Center will host prominent speakers on campus this month continuing the environmental focus:
—Monday [April 25], 2 p.m., Craig McLean, retired National Oceanic and Atmospheric Association chief scientist who spent 40 years championing ocean exploration, scientific integrity and science diplomacy, will speak at the Colvard Student Union's Fowlkes Auditorium. The event is presented by the MSU W.L. Giles Distinguished Professors.
—Wednesday [April 27], 9 a.m., Waldorf Lecture on the Environment featuring Steve Brandon, a two-time College of Agriculture and Life Sciences alumnus, MSU supporter and renowned wildlife photographer who has captured stunning wildlife images around the world. The CALS-sponsored event will be held in Allen Hall, Room 13.
—Friday [April 29], 10 a.m., the 2022 Carlton N. Owen Lecture Series featuring USDA Under Secretary and Mississippi native Homer Wilkes. Titled "Climate Smart Agriculture and Conservation," the presentation will be held in Tully Auditorium in Thompson Hall. For more information on Wilkes' lecture, visit www.msstate.edu/newsroom/article/2022/04/usda-under-secretary-natural-r….
For more information on the MSU Office of Sustainability, visit www.sustainability.msstate.edu or MSUGoesGreen on Facebook, Instagram and Twitter.
For more on the College of Forest Resources and Forest and Wildlife Research Center visit www.cfr.msstate.edu and fwrc.msstate.edu/.
MSU is Mississippi's leading university, available online at www.msstate.edu.