Contact: Vanessa Beeson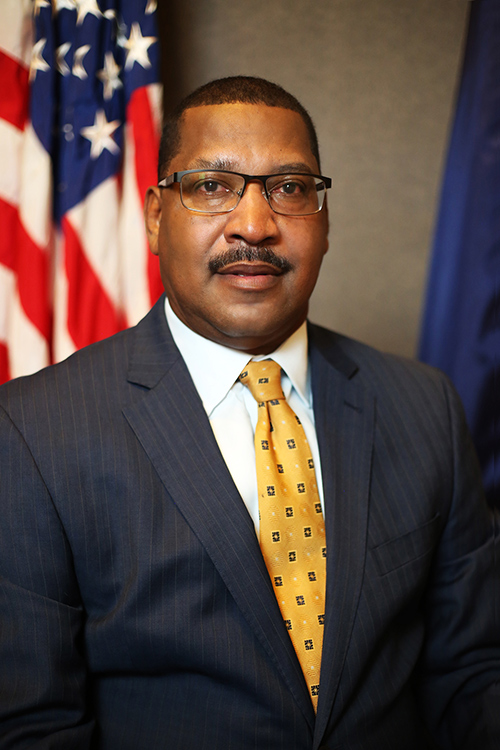 STARKVILLE, Miss.—The U.S. Department of Agriculture Under Secretary for Natural Resources and Environment—a Mississippi native and the first African American to hold this federal office—is this year's guest for Mississippi State's Carlton N. Owen Lecture Series.
Under Secretary Homer Wilkes will lead the Friday, April 29, public program titled "Climate Smart Agriculture and Conservation" at 10 a.m. in Tully Auditorium in Thompson Hall.
"Dr. Wilkes has a unique perspective to share due to his myriad experiences in working lands conservation and coastal restoration that perfectly aligns with the intent of this lecture series. His ascent to a position of national leadership in natural resources conservation provides a model to which our students might aspire. We are so proud to welcome him back to campus for this special event," said MSU President Mark E. Keenum.
Under Secretary Wilkes was appointed by President Joe Biden and confirmed by the Senate in February of this year. His work spans more than 40 years including his service as director of the Gulf of Mexico Ecosystem Restoration Division after the 2010 BP oil spill. He also has served as acting associate chief of the USDA/Natural Resources Conservation Service in Washington, D.C. His USDA tenure includes positions as state conservationist for Mississippi, chief financial officer for NRCS and more. He served as a naval supply officer in the U.S. Navy Reserve for 23 years. The Port Gibson native received his bachelor's degree, MBA and doctoral degree in urban higher education from Jackson State University.
Wes Burger, dean of MSU's College of Forest Resources and director of the Forest and Wildlife Research Center, noted that Wilkes' lecture will address climate-smart agriculture, carbon and conservation.  
"Climate-smart agriculture and forestry contribute to the economic and environmental resilience and sustainability of our food and fiber systems," Burger said. "The College of Forest Resources is honored to host Under Secretary Wilkes as our 2022 Carlton Owen Lecturer. His decades of experience in developing and delivering conservation programs and practices help our producers and forest landowners become more productive, profitable and sustainable."
The Owen Lecture Series was established 30 years ago in MSU's College of Forest Resources by the Greenville, South Carolina, resident and 1974 MSU graduate for whom it is named. The program focuses on natural resources conservation issues.
For more on MSU's College of Forest Resources, visit www.cfr.msstate.edu. For more on the Forest and Wildlife Research Center, visit www.fwrc.msstate.edu.
MSU is Mississippi's leading university, available online at www.msstate.edu.