Contact: James Carskadon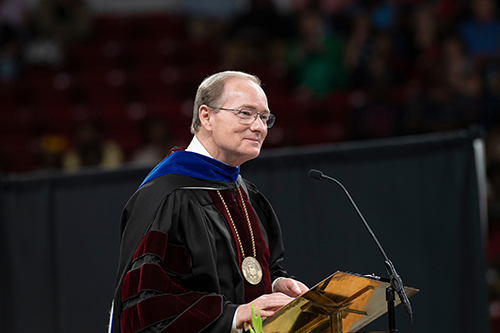 STARKVILLE, Miss.—Approximately 3,800 Mississippi State University graduates are ready to do great things in their lives and help mold the 21st century, MSU President Mark E. Keenum said during spring commencement ceremonies.
Noting the challenges students have overcome to earn their degrees, Keenum also highlighted graduates' potential to impact their communities with the knowledge and traits learned while pursuing higher education.
"You persevered, you moved forward, and you stayed committed to your dream," Keenum said. "You are ready for this next step in your life. You are ready for graduate school, medical school, law school, or starting that new job and a career. Having this degree will afford more opportunities to grow and advance in your career.
"You are a product of this 21st century," Keenum added. "In the decades to come, you will see and experience some amazing things. This century belongs to you, and we're counting on you to do great things moving forward as a Mississippi State Bulldog."
Keenum, a three-time MSU graduate with degrees in agricultural economics, served as the speaker for the May 12th and 13th Starkville campus commencement ceremonies in Humphrey Coliseum. The former Under Secretary of the U.S. Department of Agriculture has guided the university to unprecedented heights, and his interest in international food security has strengthened the university's contributions to global economic sustainability. He has led MSU to record growth in enrollment, capital improvements and fundraising.
"We all depend on other people to help us in our life journey," Keenum said. "As you go forward in this world, you will realize that even more so. With your core values of integrity, hard work, and respect for all people –—and with your degree from Mississippi State— there is nothing you cannot achieve that you set your mind to."
MSU recognized two distinguished alumni, Col. Robert L. Barnes Jr. and the late Robert P. "Bob" Bowen, with honorary Doctor of Public Service degrees during this week's ceremonies.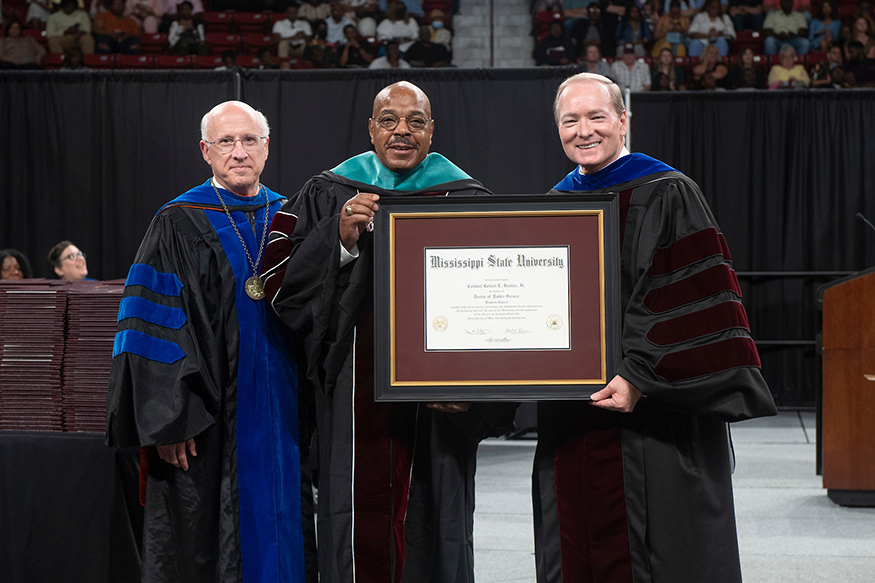 Barnes graduated as salutatorian of his high school class and became a first-generation college student, earning a degree in sociology from MSU in 1972. Upon graduation, he also became the first African American ROTC cadet to be commissioned into the U.S. Army from Mississippi State. In the Army, Barnes served in various leadership positions in the U.S. and abroad and earned numerous military awards including the Legion of Merit. He retired in 2004 at the rank of Colonel. The Brookhaven native also holds a master's degree in transportation management from the Florida Institute of Technology and worked many years in logistics and human resources management positions at Pepsi Cola, General Electric, Systems Management America, and Walmart Logistics. He actively promotes MSU through involvement with the Central Mississippi Alumni Chapter and as chair of the Black Alumni Advisory Council, which he helped organize in 2016. In 2021, he was named as the College of Arts and Sciences' Alumnus of the Year.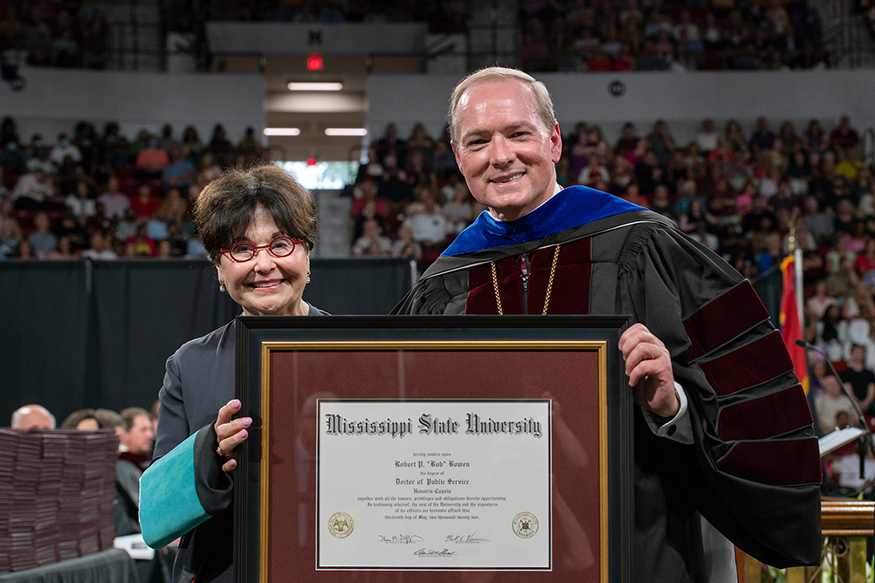 Bowen, a former certified public accountant, is a 1963 history and political science graduate who spent 30 years with Arthur Andersen LLP, concluding his career as partner. A distinguished military graduate of MSU's ROTC program, Bowen flew over 700 combat missions in Vietnam as an Army Aviator. In his civilian career, Bowen became a director and audit committee chair for three New York Stock Exchange-listed public companies and has served on a number of civic boards in Memphis and North Mississippi. He also received an MBA from Emory University in 1968. Bowen was recognized as Alumnus of the Year for the College of Arts and Sciences in 2016. He is survived by his wife of 43 years, Sheryl, three children and two grandsons.
Archived graduation videos are available at https://www.registrar.msstate.edu/students/graduation.
MSU is Mississippi's leading university, available online at www.msstate.edu.