Contact: Madison Welzbacher
STARKVILLE, Miss.—A Mississippi State graduate who will participate in the U.S. Department of State-sponsored Critical Language Scholarship Program this summer also is a Fulbright finalist selected to study in Germany.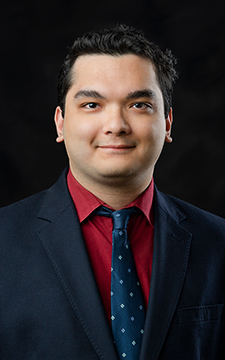 Javad A'Arabi, a political science major from Starkville, will study Persian along with 24 other students during the virtual language program.
Implemented by the Washington, D.C.-based American Councils for International Education, the Critical Language Scholarship Program is part of a government initiative to expand the number of Americans studying and mastering foreign languages critical to national security and economic prosperity.
A'Arabi recently graduated magna cum laude with the collegium honorum distinction. He will begin his Fulbright studies in September at Goethe University Frankfurt, where he will begin work on a master's degree in sociology.
As a Fulbright finalist, A'Arabi is participating in what is considered the world's largest and most diverse international educational exchange program, one devoted to increasing mutual understanding between citizens of the U.S. and other countries through open communication and long-term cooperative relationships.
A'Arabi said the experiences will help him learn in ways that will help him approach his professional and personal life. He plans to become a lawyer and said he would use his multilingual skills to better represent clients.
"To understand the immigration process and the hardships of other people, you have to speak the language they speak," said A'Arabi, explaining that he may seek opportunities to work with Persian-speaking refugees from Afghanistan. "I definitely think that once I learn this language, it will become a part of my life."
Additionally, he said his interest in Persian stems from his desire to better understand his own cultural heritage. His mother is Taiwanese, and his father is Iranian.
"I really want to know Persian just to feel more complete and experience my heritage through my own eyes," A'Arabi said.
He credits David Hoffman, the Shackouls Honors College Office of Prestigious External Scholarships director and an associate professor within the College of Arts and Sciences' Department of Anthropology and Middle Eastern Cultures, and Joy Cariño, a previous CLS winner, with helping him learn about the program and complete his application.
"In winning both a CLS and a Fulbright, Javad is joining rare company. Both of these are extremely competitive, and only the best students with the most compelling stories are offered these awards," Hoffman said. "Javad is an exceedingly good student who took full advantage of MSU's educational opportunities that facilitated his proposal to conduct work in Germany. He also has a unique Mississippi experience that will help better build understanding of the contemporary U.S. amongst those he interacts with while in Germany, thereby achieving the Fulbright mission of promoting mutual understanding between nations."
Learn more about MSU's Shackouls Honors College and the Office of Prestigious External Scholarships at www.honors.msstate.edu.
MSU is Mississippi's leading university, available online at www.msstate.edu.