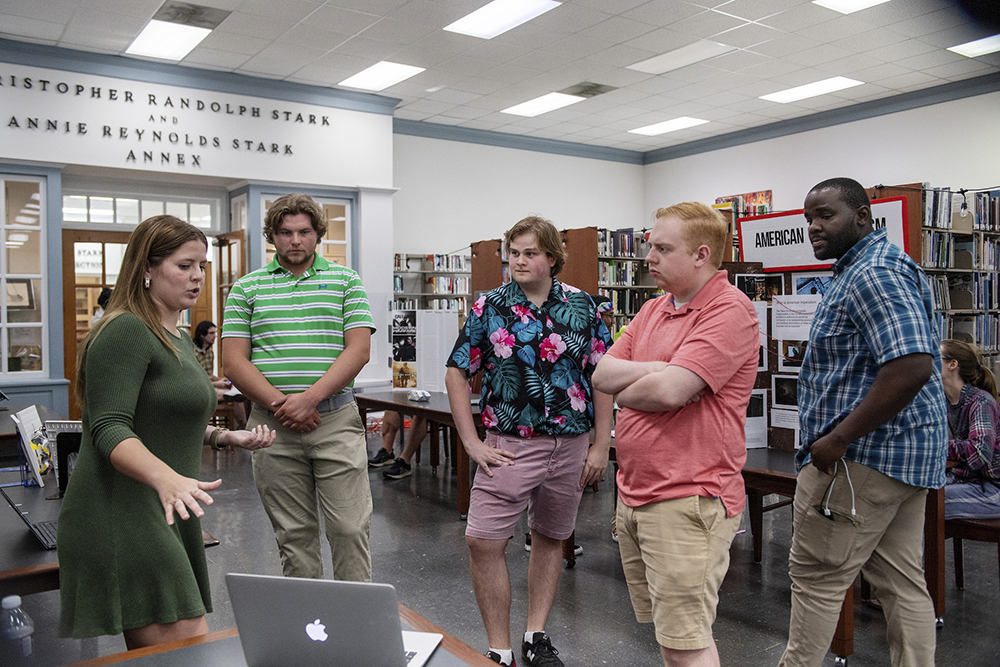 STARKVILLE, Miss.—More than 20 years after 9/11, a Mississippi State English assistant professor is helping students make sense of an important moment in history that shaped the world in which they were born and the media they consume. 
"Afterlives of 9/11" is a digital project created by Dhanashree Thorat in which students explore how the terrorist attack influenced film, literature and other media, with a specific focus on how Arabs and Muslims are portrayed in media. The project's website hosts short essays, videos, timelines and other creative works by students.
"Even though [most undergraduate students] have no direct memory of 9/11, they have been affected by the changes in America since then," Thorat said. "One of the important lessons drawn from studying the last 20 years was how commonplace it is to encounter stereotypes about Muslims and Arabs in film and media. In fact, looking at the long history of Hollywood, the class studied how the Middle East has been repeatedly shown in negative terms. The class considered how such stereotyping created public support for the wars and enabled hate crimes against Muslims after 9/11."
Starkville Public Library recently held a reception, "Remembering 9/11," that featured work from "Afterlives of 9/11" and invited the public to share their own stories about how the attack impacted Starkville and the MSU community. The 20th anniversary of the attack and the U.S. withdrawal from Afghanistan last year provided an important backdrop for the project, Thorat said.
Parker Liberatore, a sophomore aerospace engineering major from Hattiesburg who was born after 9/11, said, "for people of my generation born after 9/11, the depictions in Western media are all we had of this event growing up. This forces people to have to unlearn a lot of harmful stereotypes and tropes which unfavorably portray a large portion of the world's population."
His project, "Oscar Isaac and Middle Eastern Representation," analyzed the actor's roles in three modern franchises—"Moon Knight," "Dune" and "Star Wars"—and how each franchise incorporated elements of media depictions of Middle Eastern people into their own stories.
Cameron Temple, a graduate student from Brookhaven studying English and secondary education who was in Thorat's Topics in Film class, was only 2 years old when the attack happened. Her contribution to the project documented the history of Guantanamo Bay and its use in the War on Terror.
"After becoming more educated on 9/11 and the impact it had on specific groups of people, we are able to see how it is still relevant today. It's really shocking to see how film and literature perpetuate ideas into Americans about Muslims and Arab people today," she said. "There are real issues that our young people need to be educated on, and there are very limited resources discussing these problems. I really want to get people asking, 'What can we do about this?' I think we still have so much to learn about post-9/11 culture in general, and I think our words are more impactful than we believe."
"Afterlives of 9/11" can be found at www.afterlivesof911.wordpress.com.
Starkville residents are invited to share their own remembrances of 9/11 by visiting www.afterlivesof911.wordpress.com/starkville-remembers.
MSU is Mississippi's leading university, available online at www.msstate.edu.