Contact: Harriet Laird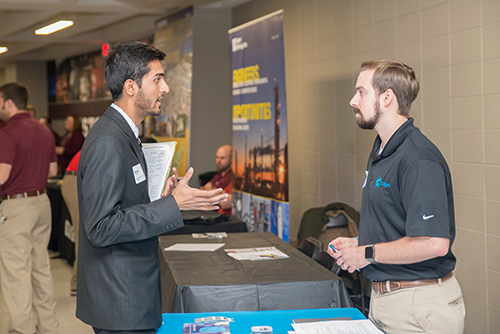 STARKVILLE, Miss.—Mississippi State's Career Center is reporting that 97% of 2020-21 university graduates report being employed or working on advanced degrees within the first six months after graduation.
Across all eight MSU colleges, 94% of respondents to the annual First Destination Survey stated that along with being employed or continuing their education, they also are seeing career success in the military or service-oriented programs. The 4,152 students who responded to the survey included graduates from the summer and fall of 2020 and spring of 2021 semesters at the undergraduate, graduate, and professional degree levels.
"The data from this survey shows that MSU students are gaining the necessary knowledge and skills here to go into the job market and secure employment. Their talent and leadership abilities also are a testament to university faculty and staff who take an active approach in helping students become career ready," the university's Career Center Director Bethany Mills said.
More than half of graduates who reported their employment location said they have remained in Mississippi to work, with many choosing to stay at MSU for advanced degrees. Other top employers include Amazon, Starkville-Oktibbeha and Desoto County school districts, Raytheon, Milwaukee Electric Tool Corp., FedEx, International Paper, Wal-Mart and the U.S. Army. A total of 86% are employed in the southeastern U.S.
Also, the majority of respondents choosing to further their education after graduation instead of employment are staying in Mississippi, with 64% attending in-state colleges and universities.
"It is evident that Mississippi is benefitting from the talent of our graduates and their commitment to staying in the state," Mills said. "Our comprehensive research university prepares students for opportunities worldwide, but these numbers show we're also providing Mississippi with employees across many types of businesses and industries."
Along with high percentages for job placement, Mississippi State ranks No. 1 in the state as the top "Best Value College," with graduates earning higher salaries than those from any other in-state college. The ranking, from New York-based financial technology company SmartAsset, shows MSU graduates with a $55,100 average starting salary, $2,700 above the next highest university.
To learn more about services of the MSU Career Center, visit www.career.msstate.edu.
MSU is Mississippi's leading university, available online at www.msstate.edu.