Contact: Sam Kealhofer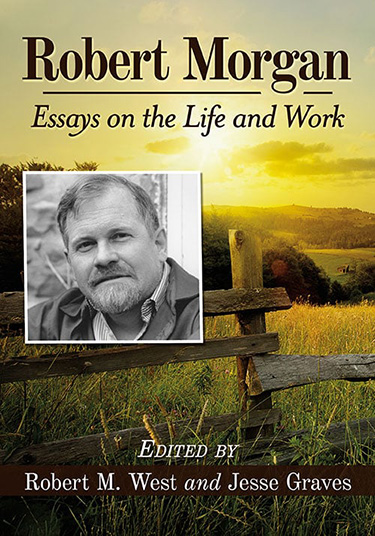 STARKVILLE, Miss.—Robert M. West, interim head of Mississippi State's Department of Classical and Modern Languages and Literatures and professor of English, has published the first book dedicated to poet, short story writer and novelist Robert Morgan.
West's book, "Robert Morgan: Essays on the Life and Work," published this summer by McFarland and Co., was co-edited by Jesse Graves, professor of English at East Tennessee State University.
In the book's introduction, West writes, "For more than 50 years, Robert Morgan has brought to life the landscape, history and culture of the Southern Appalachia of his youth. In 30 acclaimed volumes, including poetry, short story collections, novels and nonfiction prose, he has celebrated an often marginalized region. His many honors include four NEA Fellowships, a Guggenheim Fellowship and an award from the American Academy of Arts and Letters, as well as television appearances."
West's edited collection of Morgan's works include an array of essays by some of Morgan's most dedicated readers, including other poets, authors, critics and scholars, who reflect on and analyze his work. In addition to the many essays, an unpublished interview with the author is included, as well as an essay by Morgan and a bibliography of publications by and about him.
West's other publications include The Complete Poems of A. R. Ammons (2017), Succinct: The Broadstone Anthology of Short Poems (2013), which he co-edited with poet Jonathan Greene, and poetry chapbook Convalescent (2011).
His essays, book reviews and poems have appeared in publications including Alabama Literary Review, American Life in Poetry, Appalachian Journal, The Best Nonrequired Reading, Christian Science Monitor, Poetry, South Atlantic Review, Southern Poetry Review and Southern Quarterly.
West is a North Carolina native who received his bachelor's degree from Wake Forest University and his master's degree and Ph.D. from the University of North Carolina-Chapel Hill. He is a specialist in post-1900 American and British literature.
For more information about MSU's Department of English, visit www.english.msstate.edu. For more about the Department of Classical and Modern Languages and Literatures, visit www.cmll.msstate.edu.
MSU is Mississippi's leading university, available online at www.msstate.edu.