Contact: Jim Laird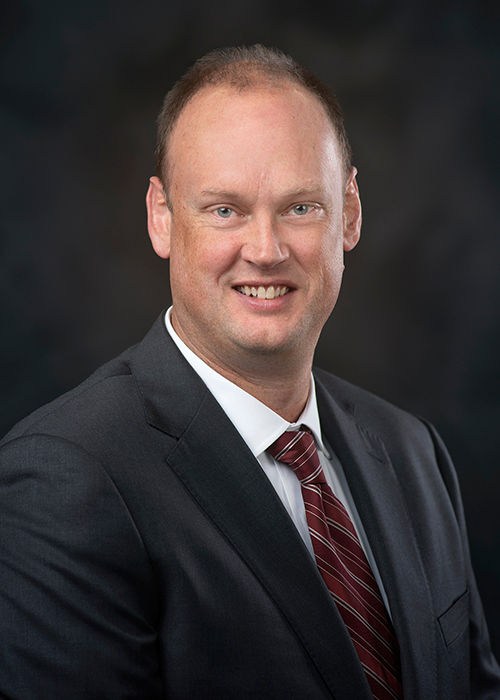 STARKVILLE, Miss.—A longtime faculty member in Mississippi State University's geosciences department is adding a new administrative role to his responsibilities in a newly created leadership position.
Provost and Executive Vice President David R. Shaw has named Professor Jamie L. Dyer interim dean of interdisciplinary studies, effective Aug. 16. In this role, he will serve as the chief administrative officer for MSU's growing Interdisciplinary Studies Program.
"Dr. Dyer has worked with interdisciplinary academic and research programs throughout his career, and he is passionate about bringing together faculty and students from across campus in innovative partnerships," Shaw said.
Most recently, Dyer served as an assistant vice president intern for academic affairs in the Office of the Provost and Executive Vice President. During this appointment, he was charged with identifying opportunities to develop new courses and programs that cross traditional boundaries. This process included an examination of the challenges related to multi-disciplinary, cross-college collaboration, such as student credit, funding and resources, and promotion and tenure criteria.
Among the task forces that the provost formed in 2019 to examine operations throughout the Division of Academic Affairs, Dyer chaired the Quantum Task Force and Unmanned Vehicular Systems Task Force and served as a task force member for both Health Science/Disparity and Data Science.
Additionally, Dyer has served a term as chair of the university's Promotion and Tenure Committee—gaining an appreciation for the perspectives and concerns of both faculty and administrators. He is also an associate director of the Northern Gulf Institute, a National Oceanic and Atmospheric Administration (NOAA) Cooperative Institute managed by MSU.
"Jamie is exceptionally well qualified to lead our interdisciplinary academic initiatives as we broaden and expand these programs to better meet the needs of our students," Shaw said.
Shaw cited the new Bachelor of Science in Data Science degree as one example of MSU's focus on interdisciplinary academic programs. The program—approved by the Board of Trustees of State Institutions of Higher Learning in April—is designed to include three general areas of coursework: general education to develop critical thinking and writing skills; a program core of computer science, statistics, mathematics, business information systems, and communications skills; and applications of the data science fundamentals in a specific concentration. Currently, the program offers nine concentrations. (For more, please see https://dsci.msstate.edu/.)
As interim dean, Dyer will collaborate with faculty and staff affiliated with the Interdisciplinary Studies Program in the management of academic activities, as well as oversee academic programs and fiscal affairs. He will also work with the academic deans to foster new and existing interdisciplinary academic programs, among other responsibilities.
"I am incredibly excited to begin working in this new role, and I look forward to expanding on existing interdisciplinary programs at MSU while defining and building future opportunities to prepare students for a rapidly changing workforce," Dyer said. "My previous work in the Office of the Provost highlighted the tremendous wealth of expertise that exists at MSU, proving that we are in a strong position to develop unique and beneficial cross-college and cross-discipline programs."
Since arriving at MSU in 2005, Dyer has been published in a variety of peer-reviewed journals and has received funding from agencies including the U.S. Army Research Laboratory, U.S. Geological Survey and NOAA. In 2019, he was recognized by the MSU College of Arts and Sciences with the Sanderson/Henry Family Dean's Distinguished Professor Award.
As the recipient of a Fulbright Specialist Grant in 2018, he traveled to Poland to collaborate on meteorology and climatology research with colleagues at Maria Curie Skłodowska University. In Poland, he developed and extended research projects related to the assessment and prediction of climate extremes such as droughts and heatwaves, extreme rainfall events and surface-atmosphere interactions over agricultural areas.
Dyer received his bachelor's, master's and doctoral degrees from the University of Georgia.
MSU is Mississippi's leading university, available online at www.msstate.edu.