Contact: Carl Smith
STARKVILLE, Miss.—A new museum exhibit chronicling the career of Jack Cristil, the longtime voice of the Bulldogs, and featuring several artifacts on loan from the Mississippi State University Archives and Special Collections opens Sept. 1 in Tupelo.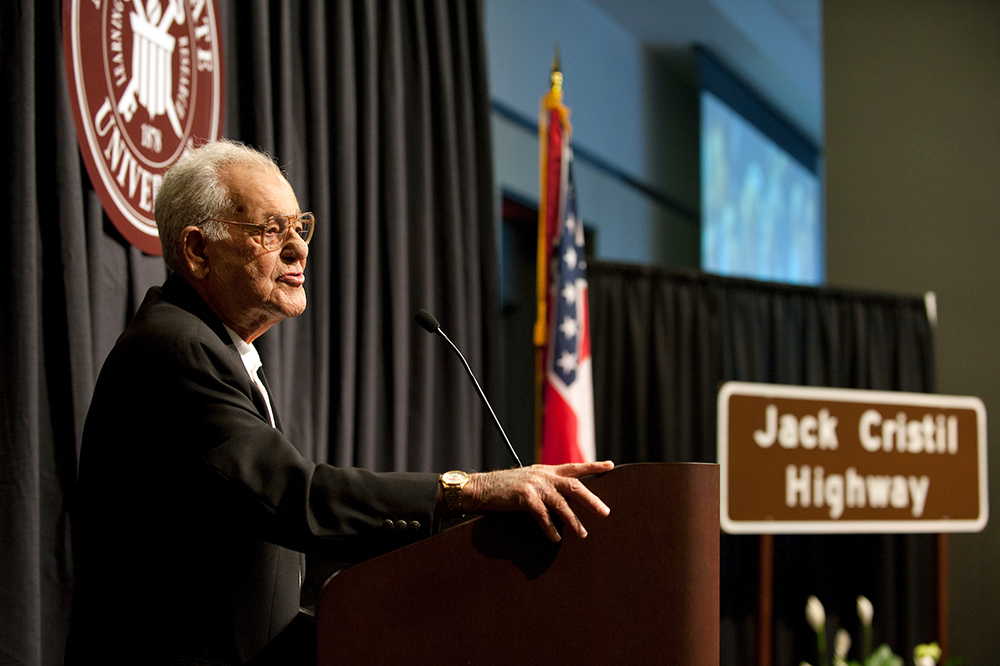 The Oren Dunn City Museum will host Jack Cristil: Wrapped in Maroon and White through Sept. 29. A special reception and program are scheduled for 6 p.m. Sept. 8 and will feature members of his family and university representatives.
Among the featured keepsakes and memorabilia are a program from the Bulldogs' 1980 football upset of the University of Alabama—the 6-3 victory that snapped the defending national champions' 28-game winning streak—and a black briefcase Cristil adorned with important quotations.
Cristil, a native of Memphis, Tennessee, served as an MSU sports broadcaster from 1953 to 2011 and called more than 1,500 collegiate athletic events before his retirement. He earned a record 21 honors as Mississippi Sportscaster of the Year and was named Southeastern Conference Broadcaster of the Year in 1988.
The Oren Dunn City Museum, located at 689 Rutherford Road in Tupelo, is open from 9 a.m. to 5 p.m., Monday through Friday.
For more information about the exhibit, contact Leesha Faulkner, the Oren Dunn City Museum curator, at leesha.faulkner@tupeloms.gov.
Visit www.library.msstate.edu for more information about the MSU Libraries and its special collections.
MSU is Mississippi's leading university, available online at www.msstate.edu.