Contact: Aspen Harris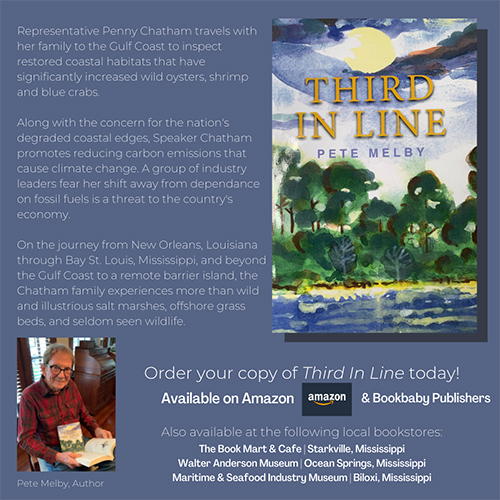 STARKVILLE, Miss.—A new novel written by a Mississippi State landscape architecture professor emeritus details the restoration of Mississippi Sound and Louisiana Gulf Coast waters and the boost of seafood that follows.
Pete Melby's "Third in Line" follows the fictional character Penny Chatham as she fights through environmental legislation to restore the coastal waters. Melby uses his extensive landscape knowledge to describe the many ecosystems included in the story, such as Mississippi's Cat Island. The book can be purchased through Amazon and by visiting BookBaby Publishers Bookshop website at https://store.bookbaby.com/book/third-in-line.
Melby also is an author of a 2002 collaborative book with MSU colleague Tom Cathcart called "Regenerative Design Techniques: Practical Applications in Landscape Design."
Melby received a Daughters of the American Revolution Conservation Committee certificate in 2018 for "outstanding achievement for environmental awareness" because of his work with the DAR and local garden clubs.
An alumnus of Louisiana State University, Melby enjoyed a 35-year career at MSU before retiring in 2013.
The landscape architecture department is online at https://www.lalc.msstate.edu/.
MSU is Mississippi's leading university, available online at www.msstate.edu.