Contact: Aspen Harris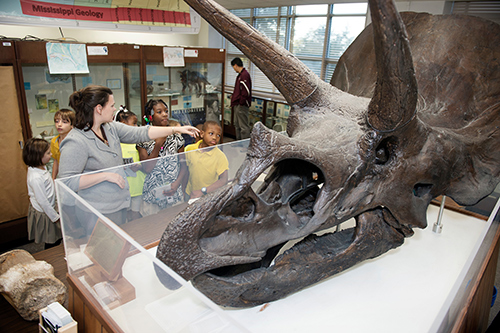 STARKVILLE, Miss.—National Fossil Day is approaching, and Mississippi State's Department of Geosciences is ready to rock the day with a new virtual exhibit.
The geosciences department will unveil "Mississippi Fossils from the Dunn-Seiler Museum" hosted by the Mitchell Memorial Library website in celebration of National Fossil Day on Oct. 12. The department's museum of rocks, minerals and fossils is located in Hilbun Hall, Room 112.
"We are very excited about our new virtual exhibit, which takes visitors back in time to see how our local landscape has changed through geologic time. Visitors can learn about some of the fossils they could find right here in their own backyards, and even can see interactive 3D scans of our newest Mosasaur specimen, found in Oktibbeha County," said Amy Moe-Hoffman, instructor of geology and Dunn-Seiler Museum curator.
In addition, the museum has opened voting to the public for its "Name the Triceratops" competition through Friday [Sept. 23]. Faculty, staff and students can submit name suggestions for the Triceratops—a real scientific cast of a Triceratops skull found in Wyoming. The Dunn-Seiler Committee will choose the top five names and open a final voting poll from Sept. 26-Oct. 7 to select the official name, which will be posted along with a link to the virtual exhibit on Oct. 12.
Voting instructions, announcements and museum viewing hours can be found at https://www.geosciences.msstate.edu/dunn-seiler-museum and on Facebook at https://www.facebook.com/MSUGeosciences.
Established in 2010 by the U.S. National Park Service, National Fossil Day is an annual celebration held to highlight the scientific and educational value of paleontology and the importance of preserving fossils for future generations. The day gives paleontologists, educators and students the chance to participate in fossil-related events and activities across the country.
For more information on MSU's Department of Geosciences and museums, visit www.geosciences.msstate.edu and www.museums.msstate.edu.
MSU is Mississippi's leading university, available online at www.msstate.edu.