Contact: Allison Matthews

STARKVILLE, Miss.—Mississippi State has completed several recent training sessions to prepare students, faculty and staff for potential emergency scenarios, and the university's emergency manager is reminding the campus community that ongoing training sessions are available in person and online.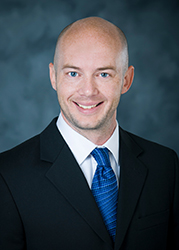 Brent Crocker said a series of emergency preparedness and response workshops have been offered this semester covering topics such as an active shooter, what to do "until help arrives," and basic emergency response steps addressing a wide range of potential situations, from severe weather to fire. Upcoming sessions include CPR training, already filled to capacity, and an Oct. 18 session on severe weather preparedness that coincides with the Mississippi Emergency Management Agency's fall severe weather preparedness week Oct. 17-22.
In addition to these campus workshops, MSU Police have conducted live simulation training sessions, including preparation for worst-case scenarios, like an active shooter. MSU's Crisis Action Team also has held a recent tabletop exercise to work through an active shooter hypothetical scenario.
"We feel preparedness is crucial, and we want to equip our students, faculty and staff to maximize their safety—even in the worst-case scenarios, which we hope MSU will never face," said Vice President for Student Affairs Regina Hyatt.
Crocker, who has been MSU's emergency manager since 2017, conducts training sessions by request for campus departments and student groups, including academic classes. Those wishing to host a training session may contact him at jcrocker@saffairs.msstate.edu.
All students and employees are urged to watch an online video about campus emergencies at https://vimeo.com/179047521, as well as to make an emergency plan. Similarly, the Mississippi State Personnel Board's "Active Shooter Situations" training program is available at http://www.mspb.ms.gov/Presentations/Active-Shooter-Training/presentation.html.
Crocker advises that all students and employees download and familiarize themselves with the university's Everbridge mobile app that contains links to emergency procedures and is linked to MSU's Maroon Alert system. The Everbridge app may be downloaded from any app store. Instructions are online at https://www.emergency.msstate.edu/app.
Crocker also urges that all in the campus community bookmark https://www.emergency.msstate.edu/ for more information on emergency guidelines, preparedness and training, as well as the Maroon Alert system. Also follow @maroonalert on Twitter.
MSU is Mississippi's leading university, available online at www.msstate.edu.