Contact: Allison Matthews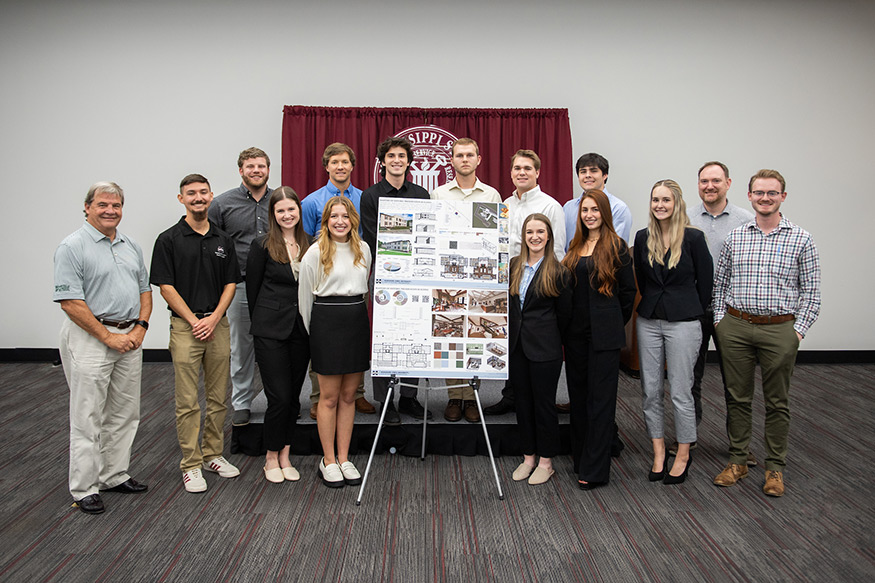 STARKVILLE, Miss.—A comprehensive student team project in Mississippi State's College of Architecture, Art and Design is helping seniors mirror professional client projects like those they can expect as graduates in their respective fields.
The annual Brasfield & Gorrie LLC Student Design Competition is an interdisciplinary contest in which student teams from MSU's architecture, building construction science and interior design majors simulate real-world design processes.
The assignment "seeks to engage the individual disciplines in collective design and construction solutions" and "incorporates sustainability, innovation and LEED construction principles."
For this year's assignment, students were asked to design and create a renovation and construction plan for an existing MSU building with the purpose of utilizing the space for the university's new Master of Fine Arts in Historic Preservation. Ten teams recently made their final presentations to Brasfield & Gorrie representatives and MSU faculty.
CAAD Dean Angi Elsea Bourgeois said the intensive project at the beginning of the students' fourth year aligns with one of the college's primary goals—collaboration.
"We know these industries have become more and more integrated, and clients now demand integrated product delivery. This is also a better business model when it comes to taking a project from the conceptual planning phase, through design, construction and all the way through interior design details, such as lighting. Projects have the best outcomes when design and construction professionals work together from day one," Bourgeois said.
Brasfield & Gorrie is a Birmingham, Alabama-based construction firm that provides general contracting, design-build and construction management services for a broad range of clients. Bourgeois said the company has been a longstanding partner of the MSU college and has provided important guidance as changing industry trends warrant updates to teaching methodology.
"Brasfield & Gorrie has been telling us about the importance of the respective professionals working together, whereas traditionally each industry was more isolated," Bourgeois said. She explained the student design competition is a practical way to prepare students for best practices, and Brasfield & Gorrie employees listen to the final presentations and offer feedback, as well as select competition winners.
Winning team members include (by hometown):
CLINTON—Caroline Prather, architecture
COLUMBIA—Heath Greenlee, building construction science
DIAMONDHEAD—Sydney Macmann, interior design
FRANKLIN, Tennessee—Ethan Harvey, architecture
MADISON—Connor Bailey, building construction science
SHANNON—Anna Kathryn Watson, interior design
SOMERVILLE, Tennessee—Emily Young, interior design
SPRING, Texas—Patrick Haggerty, building construction science
STARKVILLE—Lucas Elder, architecture; and Sonsireth Di Geronimo, interior design
TUSCUMBIA, Alabama—John Morrow, building construction science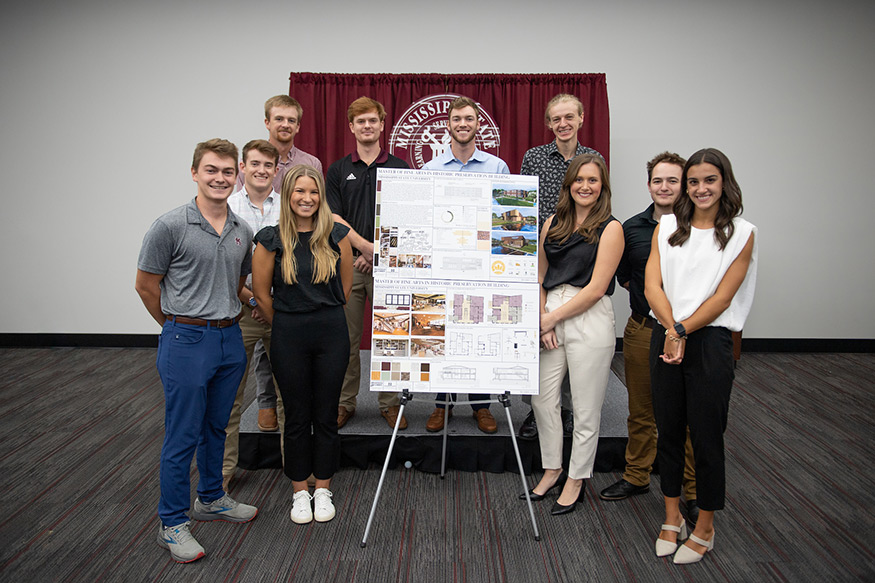 Honorable mention team members include (by hometown):
CLINTON—Raden Burris, building construction science
DEMOPOLIS, Alabama—Tyler Pipkins, architecture
GREENWOOD—Elizabeth Gallagher, building construction science
HAZLEHURST—Rachel Bozeman, interior design
JACKSON, Tennessee—Matt Spurgeon, building construction science
LOUISVILLE—Jake Herrington, architecture
MADISON—Claire Iupe, interior design
NAVARRE, Florida—Matthew White, building construction science
RED BANKS—Aidan Taylor, interior design
TUSCALOOSA, Alabama—Jack Minges, building construction science
Learn more about MSU's College of Architecture, Art and Design at www.caad.msstate.edu.
MSU is Mississippi's leading university, available online at www.msstate.edu.