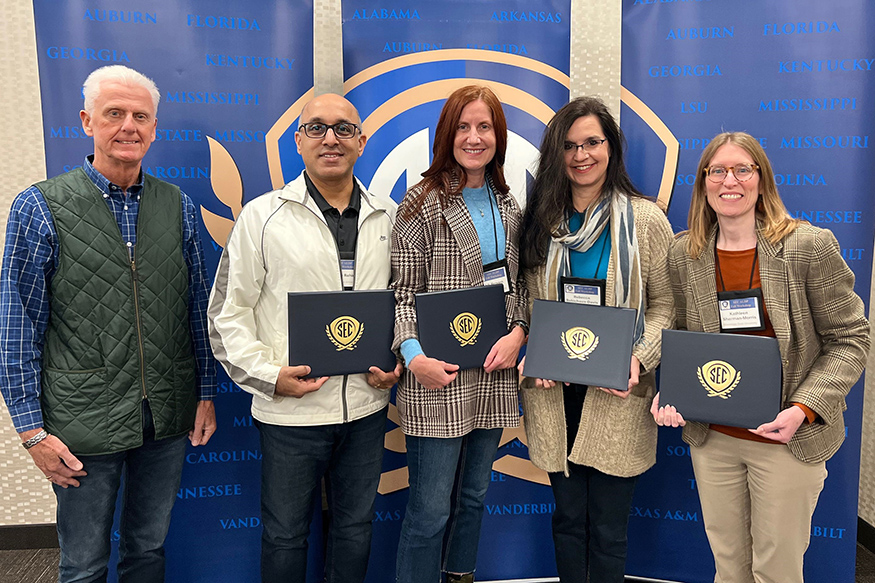 Contact: James Carskadon
STARKVILLE, Miss.—Four Mississippi State University faculty members have completed the Southeastern Conference's Academic Leadership Development Program.
The faculty are part of the 13th cohort of fellows in the SEC program, which is designed to identify, prepare and advance academic leaders for roles within SEC institutions and beyond. The program concluded this month with a three-day workshop held at the University of Georgia.
MSU's representatives in the 2021-22 SEC Academic Leadership Development Program are:
Ashli Brown, professor of biochemistry and associate vice president in the Division of Agriculture, Forestry and Veterinary Medicine;
Shahram Rahimi, professor and head of the Department of Computer Science and Engineering;
Rebecca Robichaux-Davis, professor in the Department of Curriculum, Instruction and Special Education; and
Kathy Sherman-Morris, professor of geosciences and assistant dean for academic affairs in the College of Arts and Sciences.
The two-year program included a tailored university-level program for participants, as well as two three-day workshops that brought together representatives from the 14 SEC universities. For more on the SEC Academic Leadership Development Program, visit https://www.thesecu.com/programs/sec-academic-leadership-development-program/.
MSU is Mississippi's leading university, available online at www.msstate.edu.