Contact: Trey Barrett
STARKVILLE, Miss.—While the U.S. and Canada have lost approximately a quarter of bird life—or 2.9 billion breeding adult birds—since 1970, Mississippi State researchers are finding ways to improve working forests for avian conservation.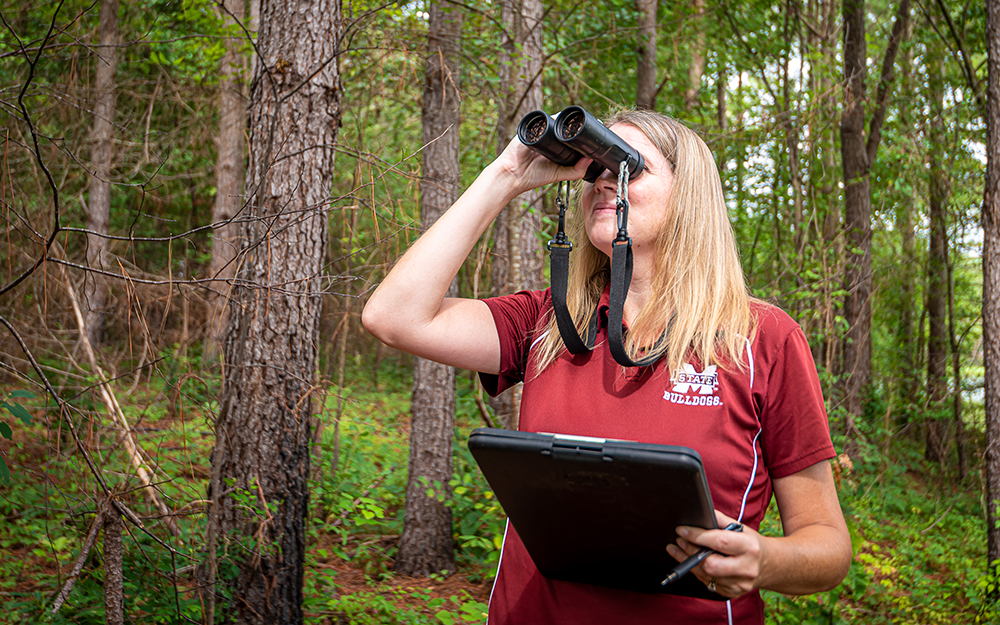 Two-thirds of Mississippi, or approximately 19.2 million acres, is forestland. The state's working forests support a $13.8 billion forestry and forest products industry. A new partnership, the Tombigbee Forest Bird Partnership, aims to showcase and maintain the values of sustainable forest management in these private forestlands to increase bird populations.
Kristine Evans, an associate professor in the Mississippi State Department of Wildlife, Fisheries and Aquaculture and the associate director of MSU's Geosystems Research Institute, is working closely with partners from multiple organizations and private companies on this effort. She has done extensive work with landbird conservation efforts and recently was recognized as one of three avian conservationists in the Western Hemisphere to receive the annual Partners in Flight Award, given by a network of more than 150 landbird conservation organizations.
Evans, a scientist in MSU's Forest and Wildlife Research Center, explained how working forests can make a difference in avian conservation.
"Across the southern U.S., 86% of forests are privately owned, many managed for timber production. Working forests are critical to sustainability of biodiversity and economic security in rural southern landscapes, and support many imperiled species," she said.
While the partnership will focus on improving avian conservation in these forests, Evans pointed out how many of these lands already provide significant habitat for birds.
"At one TFBP site, we detected 76 bird species. That's comparable to most protected, non-production forests," she said. "We seek to raise awareness of the value of these managed forest systems for biodiversity while making small management enhancements that will increase sustainability of forest resources for wildlife without impacting economic returns."
Evans has also helped lead the East Gulf Coastal Plain Landbird Conservation Plan, which details long-term population and habitat objectives of 29 prioritized landbird species across six Southern states. The objectives identified in the plan will be utilized in the partnership.
Evans' current research and monitoring in collaboration with the TFBP members includes evaluating the influence of forest management activities on species diversity.
"We must enhance our understanding of how forest management activities influence species diversity and abundance at the landscape scale to help achieve forest sustainability objectives. By combining ecological theory with forest management, we can better integrate conservation measures, particularly for at-risk species, while simultaneously achieving land use objectives," Evans said.
The partnership—which spans a 1 million-acre, 75-mile radius around Starkville, encompassing 19 northeastern Mississippi counties and six northwestern Alabama counties—includes the American Bird Conservancy, which helms the effort.
Emily Jo "EJ" Williams, vice president of the American Bird Conservancy's Southeast and Atlantic Coast Region and project lead, stated the project's goals.
"We want to communicate the values of the forests, sustain and increase conservation among avian species and utilize the TFBP area for demonstrations and outreach to local communities," Williams said.
Local communities, including the Mississippi Band of Choctaw Indians, are also involved. The tribe has about 28,000 acres of land and is in the process of rebuilding its dictionary. ABC scientists are assisting the tribe in identifying native bird species.
"We're learning about the cultural importance of the birds from Choctaw Native Americans and some of the names for trees and birds in the Choctaw language," Williams said. "It's so important to think about that in our landscape."
Through this project, William hopes local communities can learn the impacts private forests have on avian ecology.
"We want communities to realize how they can benefit from these forested landscapes and help them realize why these landscapes are so valuable," Williams said.
In addition to the ABC and the Mississippi Band of Choctaw Indians, other collaborators include the Sustainable Forest Initiative, International Paper, Weyerhaeuser, the Westervelt Company, C.A. Barge Timberlands LC, McShan Lumber, Wildlife Mississippi, Quail Forever and Alabama Forestry Association.
For more on MSU's Forest and Wildlife Research Center, visit www.fwrc.msstate.edu.
MSU is Mississippi's leading university, available online at www.msstate.edu.