Contact: Allison Matthews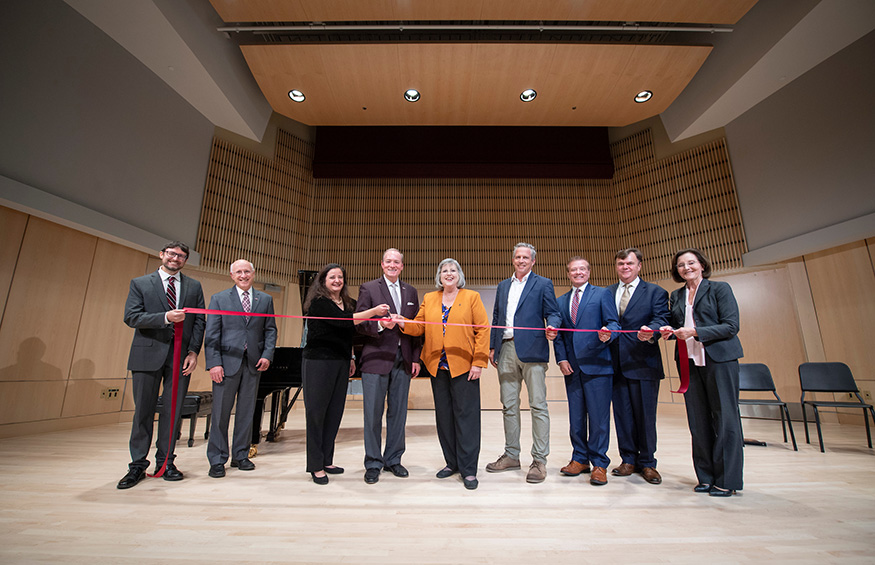 STARKVILLE, Miss.—Mississippi State is celebrating its new state-of-the-art Music Building with an official ribbon cutting ceremony today [Nov. 3].
The $21 million project provides a new space for the Department of Music, part of MSU's College of Education.
MSU President Mark E. Keenum said the university has enjoyed "remarkable growth" on campus over the past decade and is "truly blessed" because members of the Mississippi State family have helped the institution advance.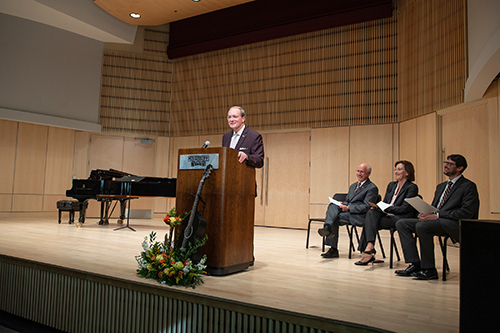 "What a wonderful occasion to celebrate the grand opening of our brand new Music Building here at Mississippi State University. If you look around, you see some remarkable things on our campus. Right next door is a brand new engineering building. We have new roads and infrastructure; we have growing endowed scholarships; growing endowed professorships. We have a lot of momentum and excitement, and it's because of the great people who love this university and appreciate so much what this university means to our state, nation and the world," Keenum said.
The 37,000-square-foot facility at 124 Hardy Road includes classrooms, a choral rehearsal hall, faculty offices, sound-proof practice rooms, recording studio, lecture/recital hall, student lounge and administrative suite. Hoppy Allred with Allred Stolarski Architects in Ocean Springs is the design professional for the facility, and Hattiesburg-based Mac's Construction Company, Inc. is the general contractor.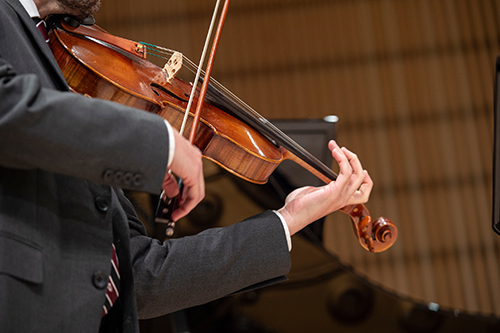 MSU Provost and Executive Vice President David Shaw said in addition to the building's official opening, "We are also celebrating the outstanding vision, collaboration and hard work of the many individuals who made this building a reality."
He called the new Music Building a "shining example" of the capital improvements made at MSU in recent years.
Dean of the College of Education Teresa Jayroe said students and faculty eagerly awaited the new facility, which "in concert with the adjacent Kent Sills Band Hall and marching practice facility, offers a competitive and modern complex for our music majors and band members.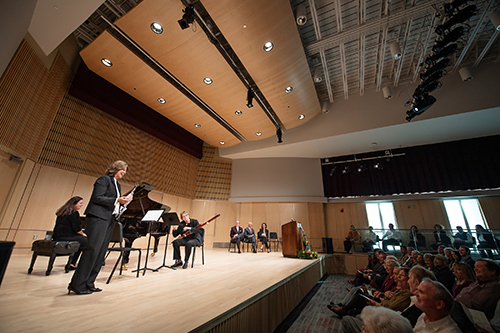 "We're cutting this ribbon today because of the vision of our President, Dr. Mark Keenum, who saw the need and did what was necessary to meet that need for our students and for our faculty—and for that, Dr. Keenum, we are all proud and grateful," Jayroe said. "All of us at the MSU College of Education and the Department of Music promise to be good stewards of the building you have entrusted to us."
She also thanked the many supporters of the project including Shaw, the State College Board and the Mississippi Legislature, as well as alumni and donors.
Department of Music Head Daniel Stevens said, "The beauty of our new music complex is that it intensifies the driving force toward collective success and encourages collaboration for faculty and students in research and creative activity."
Today's celebration included vocal and instrumental performances by faculty and students, along with tours of the building.
For information on naming opportunities, endowments and other ways to support MSU's Department of Music, contact Trish Cunetto, director of development for the College of Education, at (662) 325-6762 or tcunetto@foundation.msstate.edu.
MSU's College of Education is home to six academic departments, one research unit and numerous service units. For more about the college, visit www.educ.msstate.edu. Learn more about the Department of Music at www.music.msstate.edu.
MSU is Mississippi's leading university, online at www.msstate.edu.