Contact: Carl Smith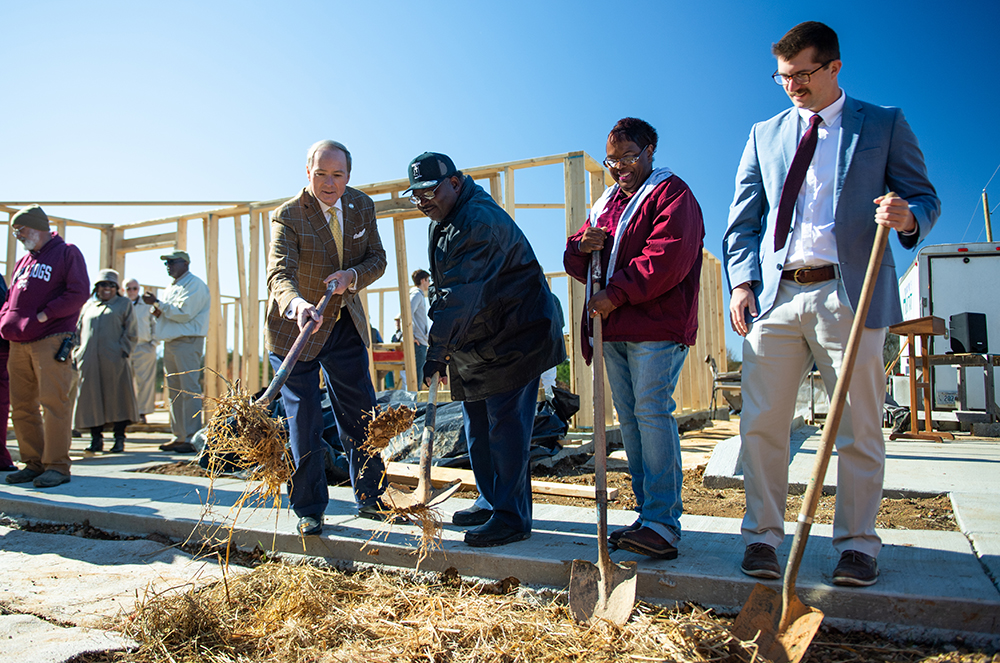 STARKVILLE, Miss.—Volunteers from Mississippi State and Oktibbeha County will transform a former local dairy farm into a 30-home community through the next decade.
Starkville Area Habitat for Humanity and university representatives broke ground Wednesday [Nov. 30] on a new home benefiting an MSU family as part of the 14th annual Maroon Edition home-building partnership between the two entities.
The home will be the first of approximately 30 constructed at Kelly Estates, an 11-acre parcel in eastern Oktibbeha County, by Habitat volunteers, including MSU staff and students. The recipient family is headed by Angela Nichols, a Starkville native who has worked for MSU student housing services for 12 years.
The groundbreaking at 821 16th Section Road, featured numerous MSU representatives—President Mark E. Keenum, Vice President for Student Affairs Regina Hyatt and Student Leadership and Community Engagement Assistant Director Alexis Hampton—and others from the community, including Oktibbeha County District 2 Supervisor Orlando Trainer and Rev. Charles Brown of Pine Grove Missionary Baptist Church.
MSU President Mark E. Keenum, reflecting on severe weather in the region this week, said homes offer refuge from life's storms and offer a place to "celebrate the blessing of our lives."
"They are where we gather with family and friends for birthdays, anniversaries and holidays and where we can be together and be ourselves—and feel at home," he said. "This is why it is so wonderful to be here with you this morning as we celebrate this special family, their future new home and the many volunteers who will help complete it."
Keenum said Mississippi State students, faculty and staff have been proud to work with Habitat for Humanity partners for many years.
Amanda Henry, Starkville Area Habitat for Humanity executive director, said the organization plans on constructing two or three homes per year and could finish the neighborhood in about a decade.
"Homeownership is a life-changing event that affects generations. Starkville Area Habitat has been here since 1986, and we can see that generational effect," she said. "There are children who grew up in Habitat houses who now own them. It really does make a difference.
"Having MSU students and staff as partners is a huge benefit for us in terms of support, but it's also a benefit for them to have work-service opportunities like these in their own community," Henry added.
MSU is Mississippi's leading university, available online at www.msstate.edu.