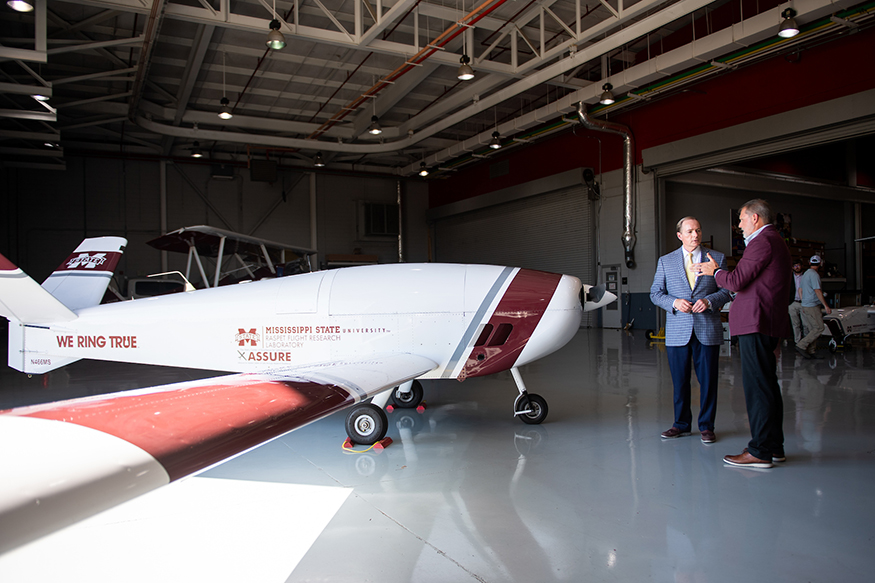 Contact: Chris Bryant
STARKVILLE, Miss.—Raspet Flight Research Laboratory at Mississippi State is announcing the acquisition of the largest, most sophisticated uncrewed aircraft system in its fleet, further cementing the lab as a national leader in UAS exploration.
The newly designed, remotely piloted Teros—with a nearly 40-foot wingspan and 600-pound payload—positions Raspet as only the second entity in the world to secure this autonomous aircraft, according to the manufacturer. Raspet officials also are expected to add another one this fall.
"This innovative aircraft typifies the extraordinary aviation research led by MSU as we work to implement uncrewed aircraft systems into the national airspace," said MSU President Mark E. Keenum. "Most importantly, this aircraft will enhance our researchers' ability to make new discoveries that benefit our state and our nation, enhancing our capabilities as we continue to grow our UAS partnerships."
This latest addition to Raspet's fleet of uncrewed aircraft systems is manufactured by Navmar Applied Sciences Corp. and is derived from the Sonex Aerospace Xenos-B Motorglider, a kit aircraft operated with an on-board pilot.
It is expected to be the first UAS of its kind to become type certified by the FAA, meaning it is designed for complete future integration into the national airspace system. Receiving type certification would enable it to immediately begin operating alongside manned aircraft when regulations permit.  
 "This strong, versatile, high-tech aircraft can fly up to 24 hours without refueling," said Tom Brooks, director of MSU's Raspet Flight Research Laboratory. "With a 24,000-foot service ceiling and the capability of carrying research equipment weighing six times what we could previously fly in our largest UAS, the research opportunities we'll be able to explore are almost endless."
Having an 1,800-pound maximum gross take-off weight, the Teros can be equipped with a 4G LTE cellular system for use when cell service is unavailable, an invaluable resource, Brooks said, during disaster responses or other emergency scenarios. With a maximum speed of 120 knots (about 138 miles per hour), it is surprisingly agile with short takeoff and landing capabilities.    
Depending upon the equipment carried, the Teros also can be used in everything from agriculture to utility monitoring, meteorological research and search-and-rescue missions.
"Anything that's dull, dirty or dangerous for on-board pilots to perform, the Teros could be a viable alternative," Brooks said. "It never gets tired, sleepy nor hungry, nor does it lose focus."
The Teros can be flown by either remote pilots positioned on the ground within mobile flight decks, known as ground control stations, or it can be operated autonomously by flight control computers within those stations. Multiple camera systems mounted on the UAS relay images and other data to researchers on the ground.
The investment in the aircraft and its associated equipment was covered by a federal grant for research, led by Raspet, designed to make UAS fly cooler, quieter and with more efficiency. Raspet's flight crew has spent several weeks training to operate the aircraft.
MSU's Raspet Flight Research Laboratory is the nation's leading academic research center dedicated to the advancement of uncrewed aircraft systems. Raspet is the only institute in the world designated both as the Federal Aviation Administration's UAS Safety Research Facility and as an official UAS Test Site for the FAA. Home to a fleet of the largest and most capable uncrewed aircraft in academic use, Raspet conducts UAS research on behalf of federal agencies and commercial industry alike, and it remains a world leader in composite material research. For more, visit www.raspet.msstate.edu.
MSU is Mississippi's leading university, available online at www.msstate.edu.