Contact: Aspen Harris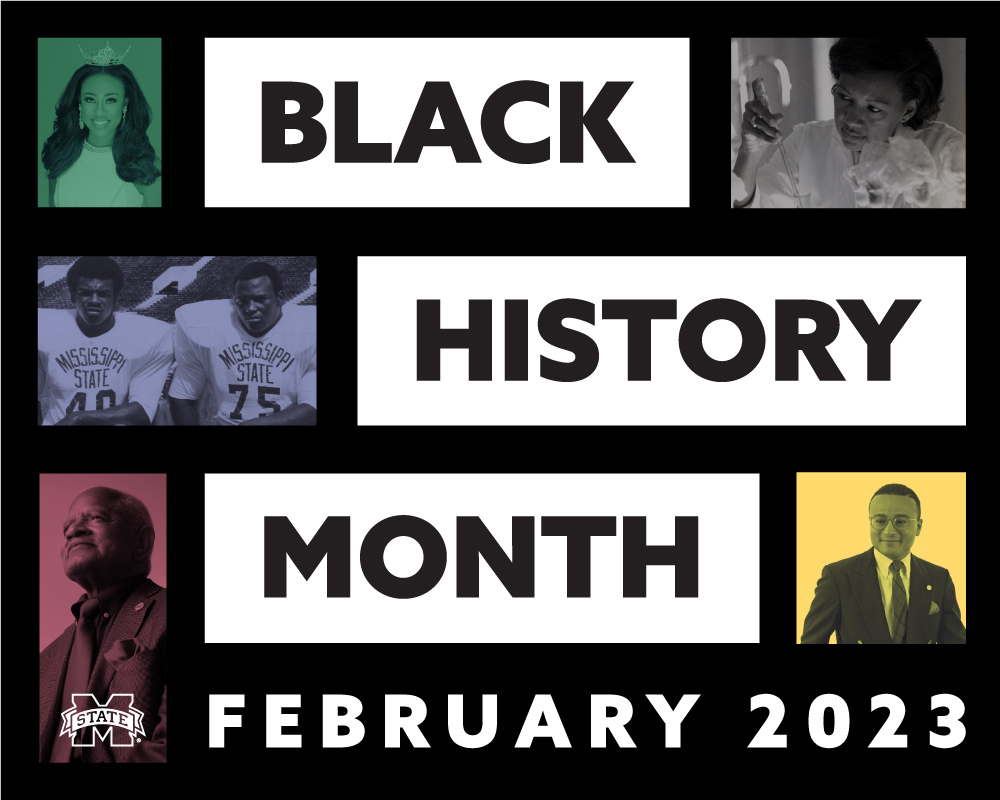 STARKVILLE, Miss.—Mississippi State is commemorating Black History Month throughout February with a variety of events, including a book signing and talk by the daughter of civil rights icon Fannie Lou Hamer.
MSU kicks the month off with "'What Would Mama Fannie Do?'; A Talk and Book-Signing with Jacqueline Hamer Flakes," Feb. 1, 2 p.m., in the John Grisham Room at Mitchell Memorial Library. Flakes is the youngest daughter of Hamer, an organizer of the historic 1964 "Freedom Summer" voter registration effort and creator of the Mississippi Freedom Democratic Party. The event is sponsored by MSU Libraries. 
Throughout the month, MSU's Office of Institutional Diversity and Inclusion and the Division of Access, Diversity and Inclusion are sponsoring a number of programs and activities.
Beginning Feb. 6, the Holmes Cultural Diversity Center and Office of Academic Access and Support host "Called to Create: Celebrating Black Artists," an art exhibition showcasing forms of Black art pieces from students and community members, in the Colvard Student Union Art Gallery. The exhibit will be open through Feb. 28.
MSU's ADI division will hold a social media campaign "Recognize and Inspire: Honoring Black Excellence" throughout the month to highlight Black student scholars, faculty and staff members who have contributed to the campus community and society in meaningful ways.
Other events during the month include:
—Feb. 8, 11:30 a.m., "Reaching Out: Understanding and Supporting Black Students,"  Colvard Student Union, Room 329. This faculty and staff luncheon includes dialogue on being a Black student in America, how different intersecting identities affect students in navigating higher education, and how faculty and staff can build sustainable support practices.
—Feb. 9, 5 p.m., "Structural Racism and Black Family Life in the U.S.," McCool Hall, Taylor Auditorium. A lecture by keynote speaker Deadric Williams, assistant professor of sociology at the University of Tennessee.
—Feb. 15, 4 p.m., "Family Secrets and Societal Roles: Finding Meaning in Human Connectivity," Griffis Hall, Room 401. President and CEO of Mississippi Urban League Portia Espy lectures as part of the Shackouls Honors College Orators Series.
—Feb. 16, 4 p.m., "Music of the Movement: Studying the Black Freedom Struggle in 10 Songs," McCool Hall, Room 126. Members of MSU's Department of History offer their analysis of how music shaped the civil rights movement through 10 iconic songs that reflect different eras of the Black freedom struggle.
—Feb. 17, 8 p.m., "Dawgs After Dark: Good Times," Perry Cafeteria. Students can dress up in an outfit inspired by the '70s, '80s or '90s and join in on a game night including bingo, culturally based Jeopardy, board games and card games.
—Feb. 21, 5 p.m., "Barbershop Talk: Black Male Vulnerability," Colvard Student Union, Dawg House. A conversation centered on Black men and male-identifying persons to discuss their experiences. Barbers will be offering free haircuts during the discussion.
—Feb. 22, 2-4 p.m., "Black History Month Mixer," Colvard Student Union, Dawg House. A mixer with refreshments designed to build and strengthen connections between faculty, staff and students.
—Feb. 22, 5 p.m., "Strong Black Woman Troupe," Colvard Student Union, Dawg House. A discussion on the strong Black woman troupe and the lived experiences of Black women and female-identifying persons.
—Feb. 23, 7 p.m., "Maroon Lounge: Celebrating Black Music," Colvard Student Union, Dawg House. A celebration spotlighting Black musical artists across all genres whose voices and songs have changed the world over decades. The event will include a live band performance and refreshments.
—Feb. 23, 8 p.m., "Black History Month Tribute," Humphrey Coliseum. A celebration of the month at the MSU women's basketball game against Louisiana State University.
—Feb. 25, 2:30 p.m., "Black History Month Tribute," Humphrey Coliseum. A celebration of the month at the MSU men's basketball game against Texas A&M University.
—Feb. 27, 7 p.m., "Talented 100," Dorman Hall, Room 140. A showcase of Black talent including musical, dance and oratorical performances.
MSU is Mississippi's leading university, available online at www.msstate.edu.