Contact: Pattye Archer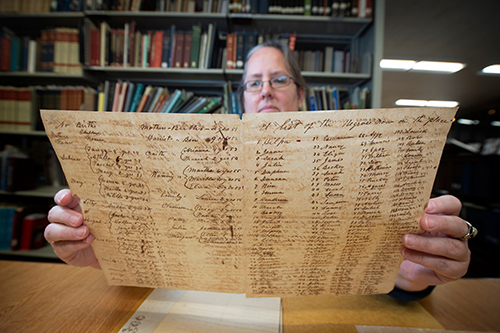 STARKVILLE, Miss.—Hands-on transcription of historical documents is the focus of a two-hour special Mississippi State workshop that will spotlight the Lantern Project digital database of fully searchable records of slavery victims.
"Introducing the Lantern Project: An Informational Session and Mini-Transcribe-a-Thon" will be held Saturday [Feb. 11] from noon-2 p.m. in Mitchell Memorial Library.
Coordinator of Manuscripts Jennifer McGillan said, "The Lantern Project is a multi-state and multi-institution effort led by MSU Libraries to digitize and transcribe legal records of enslaved persons, generously funded by the National Historical Publications and Records Commission of the U.S. National Archives and Records Administration.
"Our focus is to support research into the history of chattel slavery in America and the lives of enslaved persons," McGillan added.
The first hour of the workshop will be held in the John Grisham Room on the third floor of the library and will be an overview of the Lantern Project, including information about navigating the digital resource as well as about the types of legal documents included.
The second hour will be held in the ELI and Giles electronic classrooms located on the first floor and will offer attendees the opportunity to learn more about transcribing historical documents as an aspect of the research process.
"We are trying to encourage community engagement with the project and provide our students and community members the opportunity to learn more about transcription and to gain skills in historic research," McGillan said.
"Doing research with historic documents does involve working with hand-written documents which may be hard to read," she added. "We also want to bring the broader public and community into the important Lantern Project by promoting it and encouraging research."
McGillan said the materials have been digitized and some already have been added to the MSU digital collections. The library currently is working to get more of them online, and she encourages patrons to check back often for additional materials.
For more information, or to request an information session for a group or institution, please contact McGillan by email at jmcgillan@library.msstate.edu. Learn more at the project website, https://www.lanternproject.msstate.edu/.
MSU is Mississippi's leading university, available online at www.msstate.edu.