Contact: Addie Mayfield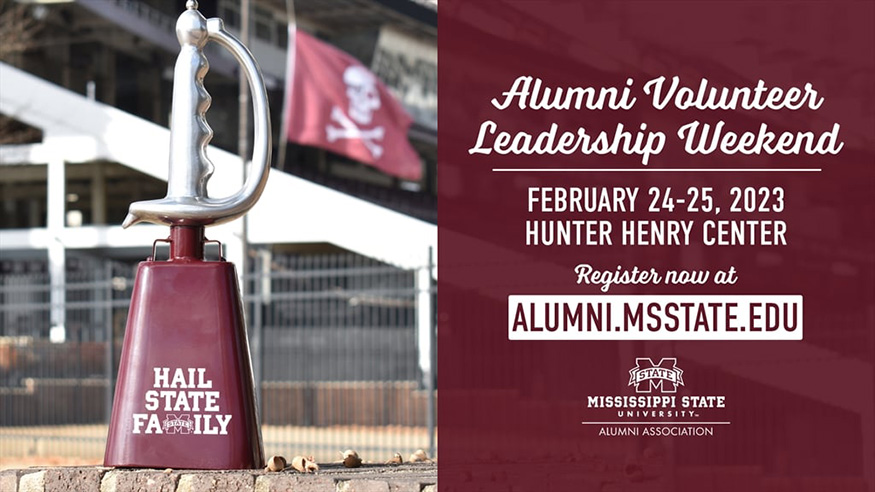 STARKVILLE, Miss.—Mississippi State University Alumni Association is hosting its 2023 Leadership Conference on campus Feb. 24-25 at the Hunter Henry Center. The annual celebration recognizes contributions of alumni leaders and volunteer members, while cultivating meaningful engagement and investing in the association's grassroots network.
The event kicks off Friday [Feb. 24] with the Chapter and Volunteer Awards Reception, which recognizes honor chapters, cowbell winners and volunteer awards. Developed to encourage and promote volunteer leadership, chapter membership and chapter engagement activities, the Chapter Recognition Program awards outstanding chapters each year according to their membership and achievement within the Honor Chapter Point System.
Gold, Silver and Bronze Cowbell distinctions are presented to the top three chapters in each of the association's five existing categories and honors awards also are given to qualified, high-achieving chapters. Of the more than 100 chapters and clubs that make up MSU's Alumni Association, 48 chapters will be presented with awards. A full list of chapters being honored is included below.
In addition to chapters, several alumni will be recognized for their dedicated service to the association. Three honorees will receive the Distinguished Service Award: Patsy Fowlkes of Chattanooga, Tennessee, a 1974 biochemistry graduate; Darlon Necaise of Kiln, a 1997 electrical engineering graduate; and Nancy Virden of Rolling Fork, a 1972 business graduate.
The association also annually honors the university's outstanding young alumnus or alumna. Receiving this honor is Evann Darnell Berry of Washington, D.C., a 2014 biological engineering graduate.
The Leadership Conference will be held Saturday [Feb. 25], just days before MSU's 145th birthday, and will begin with chapter roll call and the association's annual business meeting. Throughout the day of volunteer training and sharing, participants will hear updates from key university representatives, including Alumni Association National President Patrick White, Alumni Association Executive Director Jeff Davis, Vice President for Research and Economic Development Julie Jordan, Assistant Vice President for Enrollment and University Registrar John Dickerson, Director of Athletics Zac Selmon and other staff and volunteer leaders.
Alumni Association staff will share updates on programs and activities and highlight important ways for volunteers to advance the organization's mission and inspire support through meaningful engagement and outreach events. Conference participants also will have a chance to hear and learn about successful chapter programs and practices from peer members. The conference will conclude at 2 p.m., prior to the MSU men's basketball game vs. Texas A&M.
"We are excited to have our volunteers come back to campus for our leadership weekend and thank them for their commitment and service to Mississippi State University," said Michael Richardson, assistant director for regional and volunteer programs. "The weekend brings opportunities to share the latest from campus leaders, while providing our dedicated volunteers with impactful tools and energy to engage the Bulldog family in their communities."
For a full schedule and registration information on the 2023 Alumni Leadership Conference, visit alumni.msstate.edu/leadershipconference. Winners of the Chapter and Volunteer Awards will be announced following the event.
Editor's Note:
In-state chapters being honored at the Feb. 24 program include: Adams-Franklin-Wilkinson; Attala County; Central Mississippi; Clarke County; Clay County; DeSoto County; George-Greene; Grenada-Montgomery; Lauderdale County; Lawrence-Jefferson Davis; Leake County; Lee County; Leflore-Carroll; Lincoln-Copiah; Lowndes County; Mississippi Gulf Coast; Newton County; Oktibbeha County; Panola-Tallahatchie; Pine Belt; Sharkey-Issaquena; Simpson-Smith; Southwest Mississippi; Tate-Tunica; Washington County; Yazoo County.
Out-of-state chapters being honored at the Feb. 24 program (by state): Alabama—Birmingham, Huntsville-Decatur, and Mobile; Colorado—Rocky Mountain (Denver); District of Columbia—Washington D.C.; Florida—Northeast Florida (Jacksonville), Northwest Florida (Panhandle), and Greater Orlando; Georgia—Atlanta; Louisiana—Baton Rouge and Greater New Orleans; North Carolina—Charlotte; Ohio—Cincinnati-Dayton; Tennessee—Greater Chattanooga, Memphis, Nashville, and Smoky Mountain (Greater Knoxville); Texas—Dallas, East Texas, Greater Fort Worth, Greater Houston, and South Texas (Austin and San Antonio).