Contact: Aspen Harris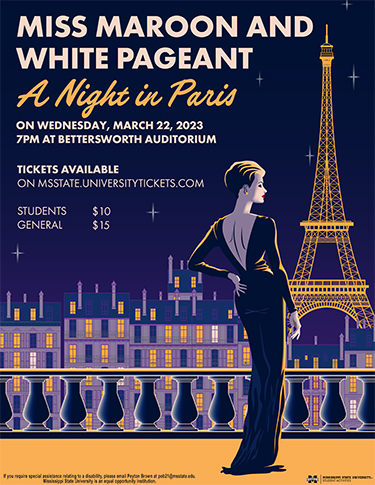 STARKVILLE, Miss.—Thirty-four students will compete for the title of Miss Maroon and White 2023 at Mississippi State on March 22.
The winner will be selected along with four Maroon and White beauties in Lee Hall's Bettersworth Auditorium. Open to the public, the event hosted by the Student Association begins at 7 p.m., with doors opening at 6:30 p.m.
Admission is $15 for the general public and $10 for MSU students. Tickets are available at the door.
With the theme "A Night in Paris," each contestant will compete in the areas of interview, evening gown and on-stage question.
Miss Maroon and White will receive a sash and crown, and beauties will receive a bouquet of flowers.
In addition to Mississippi, this year's contestants represent Alabama, Arkansas, South Carolina and Tennessee. They include (by hometown):
AIKEN, South Carolina—Avery Gray, a freshman professional meteorology major.
BATESVILLE—Kylie Stephens, a sophomore animal and dairy sciences/pre-veterinary major.
BRANDON—Megan McMinn, a sophomore fashion design and merchandising major.
CARTHAGE—Anna Johnston, a freshman kinesiology major.
CLINTON—Abigail Farr, a junior business management major; and Joise Nasekos, a senior environmental economics and management major.
GLUCKSTADT—Chloe Carter, a sophomore communication/broadcast journalism major.
GRENADA—Hannah Briscoe, a junior business administration major.
HAMILTON, Alabama—Natalie Robertson, a freshman communication/broadcast journalism major.
HARTSELLE, Alabama—Hannah Gregory, a senior secondary education major.
HATTIESBURG—Avery Hudson, a freshman nutrition major; and Merrit McLemore, a freshman communication major.
HOUSTON—Addyson Crump, a junior communication/public relations major; and Katherine Hill, a freshman criminology major.
JACKSON—Liliana Hewitt, a sophomore English major.
KOSCIUSKO—Adyson Poole, a senior landscape architecture major; and Austin Jones, a freshman accounting major.
LEXINGTON, South Carolina—Jadyn Snider, a freshman animal and dairy sciences/pre-veterinary major.
LOUISVILLE—Chloe Weeks, a sophomore psychology major; and Kaylee Gregory, a junior microbiology major.
MADISON—Amari Cooper, a sophomore biological sciences and social work double major; and Helen Horecky, a junior communication/public relations major.
MERIDIAN—Chloe Woodall, a freshman biological sciences major.
MOBILE, Alabama—Elizabeth Bergman, a freshman civil engineering major; and Madeleine Thompson, a senior communication/public relations major.
MONTGOMERY, Alabama—Margaret McNeill, a junior biological sciences major.
NASHVILLE, Tennessee—Aniyah McKissic, a freshman music education major.
PHILADELPHIA—Meredith Adams, a freshman marketing/integrated digital marketing major.
SALTILLO—Annabelle Bunch, a senior communication/broadcast journalism major.
SEARCY, Arkansas—Carson McFatridge, a sophomore wildlife, fisheries and aquaculture major.
SOUTHAVEN—Kyla Brown, a junior aerospace engineering major.
STARKVILLE—Claire Farmer, a sophomore special education major; and Makenzie Stone, a sophomore communication/public relations major.
WALNUT GROVE—Shemah Crosby, a junior anthropology major.
MSU is Mississippi's leading university, available online at www.msstate.edu.