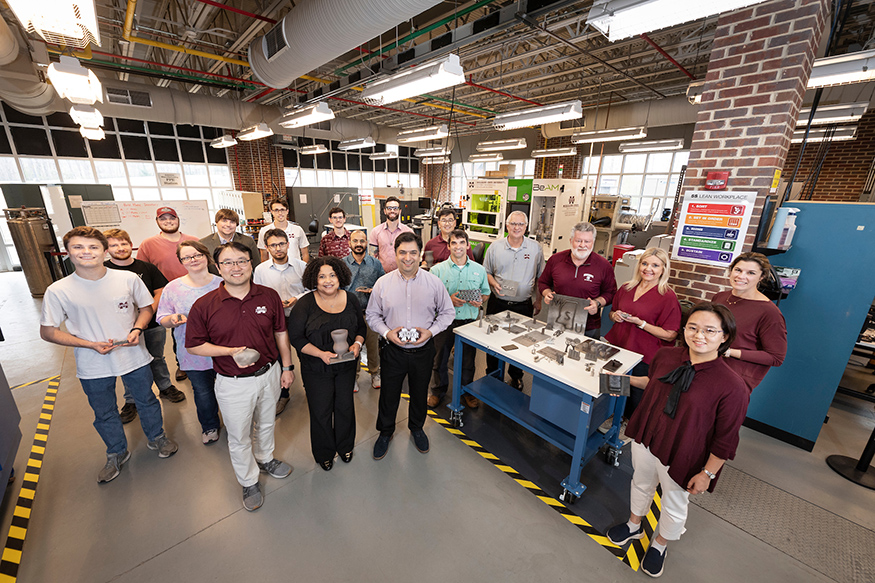 Contact: James Carskadon
STARKVILLE, Miss.—Mississippi State University is leveraging its expertise in high-performance computing and advanced manufacturing to support next-generation defense capabilities through a partnership with one of the world's premier engineering and research centers.
The university recently was awarded three separate contracts totaling $8 million from the Vicksburg-based U.S. Army Engineer Research and Development Center with a focus on data analytics and visualization systems, additive manufacturing and artificial intelligence-driven predictive maintenance. The work will continue for three years up to a total of $24 million, contingent on available funding. With MSU's Center for Advanced Vehicular Systems as the lead for the project, the multidisciplinary research team includes faculty from across MSU's Bagley College of Engineering.
Clay Walden, CAVS executive director, said the projects work toward simplifying defense supply chains and getting parts to the front lines, or the "tactical edge," as efficiently as possible. With additive manufacturing, parts can be 3-D printed at remote locations, eliminating long supply chains and reducing the need for storage. The researchers will study the life cycle of 3-D printed materials and use those findings to develop artificial intelligence and machine learning algorithms for predictive maintenance.
"A lot of times there are parts that need to be replaced, but you have a long, complex supply chain involving different companies, and then you have to move the part through a contested environment," Walden said. "If you can use additive manufacturing, you can greatly simplify the process to where all you need is a printer, feedstock and computer-aided design software. That's why the Department of Defense is interested in additive manufacturing, and we're excited to utilize our expertise in conjunction with ERDC to help develop fully integrated solutions that can support defense missions."
Hottinger Bruel & Kjaer Solutions, which has an office in MSU's Thad Cochran Research, Technology and Economic Development Park, will serve as a technology partner on the project and support software development. MSU's Center for Cyber Innovation will work with researchers to embed cybersecurity elements into products that are developed.
Julie Jordan, MSU vice president for research and economic development, noted that dozens of graduate and undergraduate students will be involved in the project, giving them experience at the leading edge of manufacturing and computing.
"This line of impactful research is a testament to our ability to bring together innovative teams that are fully equipped to address national security research priorities," Jordan said. "We also are excited to once again partner with ERDC. Collaborations like this boost Mississippi's overall research and development capabilities and help set the stage for the technological innovations that can transform our economy."
The first project, titled "Data Analytics and Visualization System Infrastructure," will result in an end-to-end framework to address the growing need for a robust infrastructure for data analysis and visualization to support DOD computational science and engineering methods.
The second proposal, "Advanced and Additive Manufacturing," leverages MSU's high-performance computing capabilities to develop a system of testing and evaluating part quality in the additive manufacturing cycle.
The third proposal, "Advanced Maintenance," studies advanced manufacturing equipment performance and how AI can predict and improve product performance and reliability.
MSU and ERDC have collaborated on dozens of research projects in areas of mutual expertise and capability such as high-performance computing, materials science, military engineering, autonomous systems, cybersecurity, artificial intelligence and machine learning, among others. Last fall, MSU expanded its presence in Vicksburg to provide local entrepreneurship support and enhance technology transfer efforts and research collaborations with ERDC and other federal partners. Additionally, ERDC is among the largest employers of MSU engineering graduates.
For more on ERDC, visit www.erdc.usace.army.mil.
MSU is Mississippi's leading university, available online at www.msstate.edu.