Contact: James Carskadon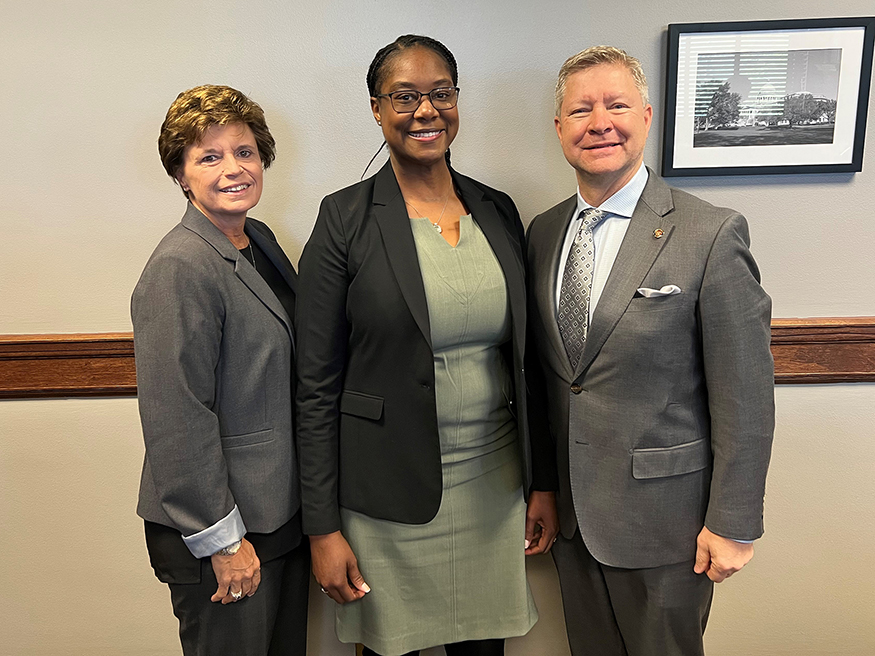 STARKVILLE, Miss.—Mississippi State University's Erika Womack has been confirmed as the State Chemist by the Mississippi Senate.
With Senate confirmation on March 23rd, Womack will continue to lead the Mississippi State Chemical Laboratory, a state agency housed on the MSU campus that provides testing and analysis services on products sold in the state for a wide range of stakeholders. Womack joined MSU as director of the lab and interim State Chemist last year.
"I appreciate and share the Senate's confidence in Dr. Womack to fulfill these duties and continue the vital operations of the Mississippi State Chemical Lab. Erika and her team work to ensure the integrity of products that we use every day in Mississippi," said MSU Vice President for Research and Economic Development Julie Jordan.
Before returning to MSU last fall, Womack served as a research laboratory manager in the Department of Physical Medicine and Rehabilitation at the University of Alabama at Birmingham. She is a two-time MSU alumna, earning a doctorate in molecular biology and a bachelor's degree in biological sciences. She also earned a master's degree in biomedical sciences from Mississippi College.
At UAB, Womack was responsible for managing a biosafety level 2 lab while conducting research on the impact of traumatic spinal cord injury on skeletal muscle metabolism. She oversaw and mentored a team that included undergraduate and graduate students, scientists and medical residents. Prior to her appointment at UAB, she worked as a post-doctoral research geneticist in the U.S. Department of Agriculture's Corn Host Plant Resistance Research Unit. From 2008-2016, she researched pediatric idiopathic scoliosis at the University of Mississippi Medical Center.
"It is a privilege to accept this position and an honor to have been entrusted with this role as the State Chemist of Mississippi," Womack said. "I am excited for the opportunity to lead this team of efficient and professional staff at the Mississippi State Chemical Laboratory, an organization with a reputation of excellence as a regulatory agency and fee-for-service analytical testing of agricultural products. I plan to preserve MSCL's established relationships as well as cultivate new relationships within the regulatory and agribusiness communities."
The MSCL works in cooperation with the Mississippi Department of Agriculture and Commerce to develop regulations for and conduct analysis of animal feeds, fertilizers, pesticides, agricultural limes and petroleum products sold in the state. It also assures the quality of retail foods, fuels, livestock feeds, crop protection products and more. For more, visit www.mscl.msstate.edu.
MSU is Mississippi's leading university, available online at www.msstate.edu.