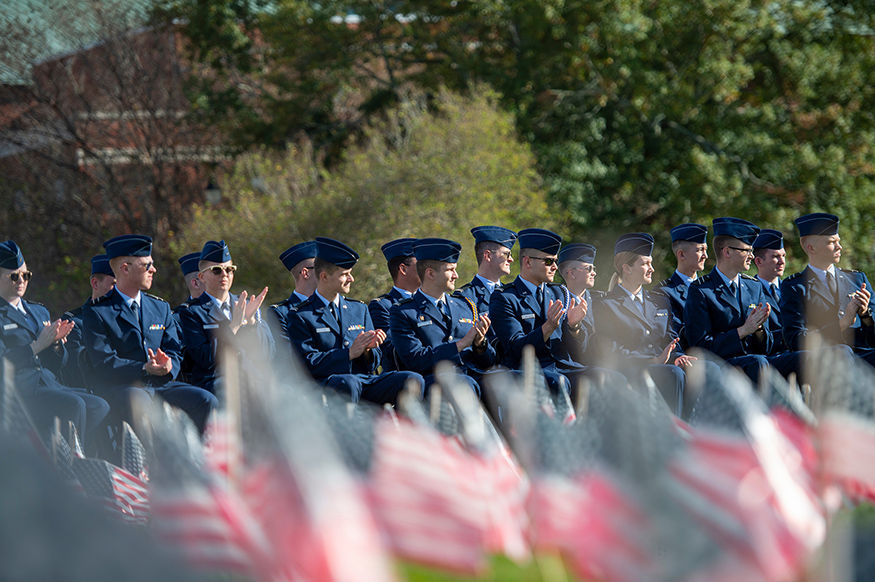 STARKVILLE, Miss.—Building on the university's generations of support for America's veterans, Mississippi State has been recognized as a top 10 Military Friendly School for the fourth consecutive year.
VIQTORY, formerly Victory Media, ranked MSU as a top 10 institution in its recently released Military Friendly Schools ranking, which surveyed more than 1,800 participating schools.
"We at the Center for America's Veterans are proud to be recognized again as leading the way in supporting our nation's veterans and military-connected students at Mississippi State University," said Doug Robinson, interim director of MSU's Center for America's Veterans. "This accomplishment comes from caring and dedicated veteran center staff and university leadership."
MSU has long been recognized as one of the nation's most veteran-friendly universities.  Including dependents, the veteran community at MSU now comprises more than 3,100 students. These students are served by MSU's G.V. "Sonny" Montgomery Center for America's Veterans at Nusz Hall and a network of specially trained university personnel. Montgomery, the center's namesake, was an MSU alumnus, World War II veteran and authored the Montgomery G.I. Bill as a member of the U.S. House of Representatives.
MSU offers many financial resources to the veteran community, including specific scholarships and an out-of-state tuition waiver for military members, veterans and dependents. Veterans and current military members can transfer technical credits earned through the military toward a bachelor's degree through MSU's Bachelor of Applied Science program.
In 2016, MSU completed construction of Nusz Hall, a 7,500 square-foot campus facility that features administrative offices, meeting areas, study rooms, a computer lab, and indoor and outdoor spaces for social and recreational activities. The center serves as a one-stop shop for processing all veteran educational benefits.
VIQTORY's evaluation shows that MSU exceeded standards in all measured categories, including culture, financial aid, military student support and retention, as well as academic policies and compliance. For more, see https://www.militaryfriendly.com/schools/mississippi-state-university/.
For more on MSU's services available to veterans, visit www.veterans.msstate.edu.
MSU is Mississippi's leading university, available online at www.msstate.edu.