Contact: James Carskadon
STARKVILLE, Miss.—Mississippi State University is celebrating more than 4,100 spring 2023 graduates with commencement ceremonies held Friday [May 12] at Davis Wade Stadium.
MSU President Mark E. Keenum reminded students that with an MSU education and the core values of integrity, a strong work ethic and respect for others, they can make a significant impact on the people they meet in life and the world as a whole.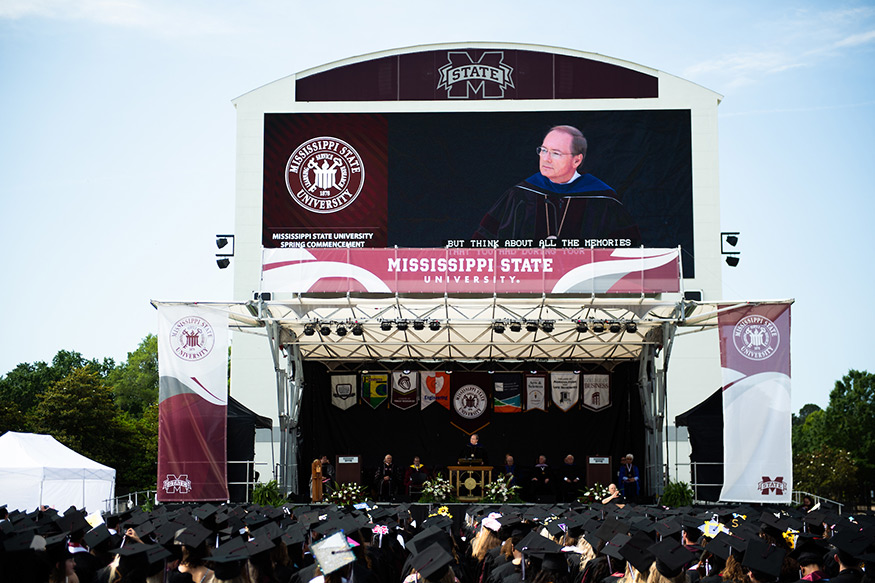 "All of you are prepared for what comes next," Keenum said. "You are prepared to be a change agent, do good and make the world a better place. You earned a world-class education here at Mississippi State, and you have the values you need to impact this world."
Keenum commended the graduates for their ability to overcome challenges on their journey toward a college degree. They now join the ranks of more than 160,000 living MSU alumni.
"Wherever we are in life, all of us will need courage to overcome the challenges and the difficult times we will all face," Keenum said. "Courage starts when you believe in yourself and have confidence in who you are. Just by being here today, you have exemplified courage in your life."
Friday's ceremonies marked the first commencement held in Davis Wade Stadium since 1998. Graduation was also held at the stadium in 1989 when former President George H.W. Bush served as commencement speaker.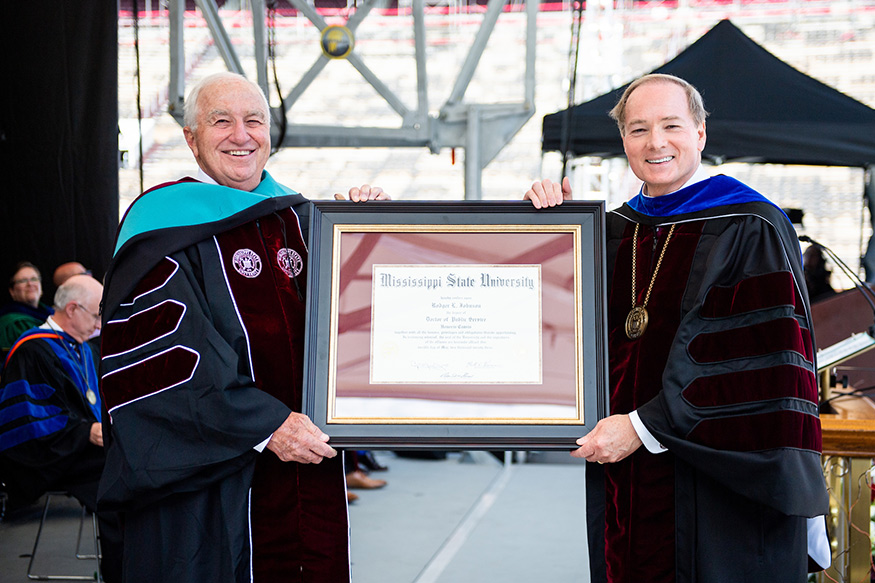 MSU is presenting Rodger L. Johnson of Atlanta, Georgia, with an honorary Doctor of Public Service degree during the day's first ceremony. A 1971 MSU civil engineering graduate, he has had a distinguished career in sales, marketing, engineering, operations and human resources with private and public companies. In 2004, he was named the Bagley College of Engineering's Alumni Fellow based on his notable achievements as a practicing civil engineer. A generous supporter of the university, Johnson is in his third term of service on the MSU Foundation Board of Directors.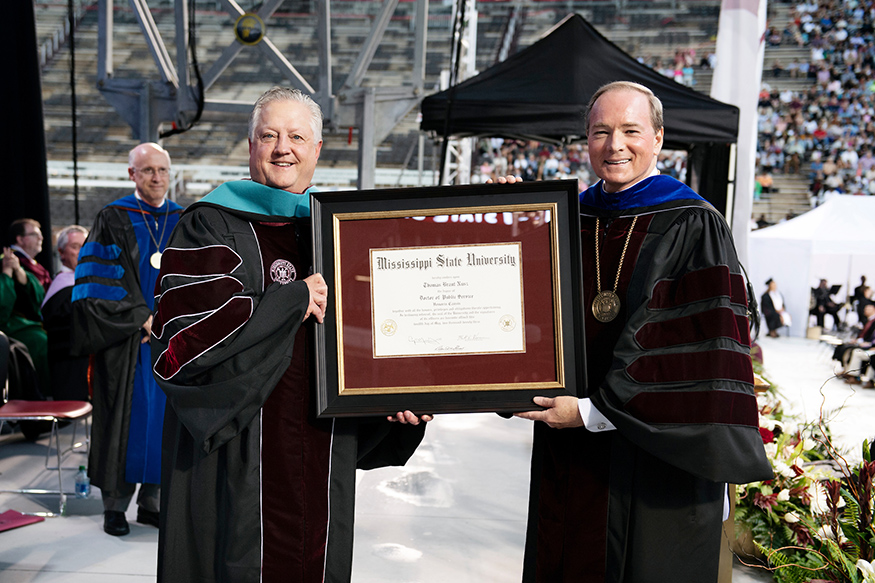 Tommy B. "Tommy" Nusz of Houston, Texas, is also being honored with an honorary Doctor of Public Service degree. A 1982 MSU petroleum engineering graduate, he recently retired as chairman and CEO of Oasis Petroleum. He was instrumental in the return of MSU's petroleum engineering program in 2015. A longtime supporter of the university, his contributions have boosted key facilities such as Nusz Hall, the home of MSU's G.V. "Sonny" Montgomery Center for America's Veterans, and Nusz Park, MSU's new softball stadium. He is a past president of the Bulldog Club and has served on the MSU Foundation Board of Directors.
Archival graduation videos will be made available at https://www.registrar.msstate.edu/students/graduation.
Mississippi State University is taking care of what matters. Learn more at www.msstate.edu.