Contact: James Carskadon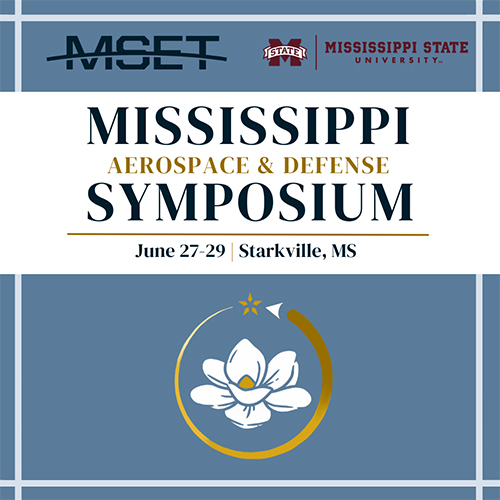 STARKVILLE, Miss.—A late June symposium in Starkville is kicking off a new effort to unite the state's aerospace and defense sectors.
The Mississippi Enterprise for Technology (MSET) and Mississippi State University are hosting the Mississippi Aerospace and Defense Symposium June 27-29 at The Mill at MSU. The symposium will bring together leaders from industry, academia and the public sector to meet and connect with one another, learn about the state's growing aerospace and defense industries, and promote opportunities throughout Mississippi. The event will consist of three days of networking, briefings, panel discussions and valuable updates from government and partner organizations.
Registration is now open, with early pricing in effect until June 6. Sponsorship opportunities also are available. Group hotel rates are available through June 2.
The symposium serves as a kickoff event for an MSET-led effort to formally establish a statewide aerospace and defense cluster. Supported by a Department of Defense grant through the University of Southern Mississippi, the cluster is intended to support industry-wide needs, promote economic development, and foster information sharing and strategies for growth among industry partners.
The event agenda includes updates on legislation pertinent to the aerospace and defense industries, as well as sessions focused on workforce development, contracting, and doing business with university and federal partners. It also includes tours of MSU facilities that support aerospace and defense needs, including the Center for Advanced Vehicular Systems, Advanced Composites Institute and Raspet Flight Research Lab. Two receptions will facilitate networking and collaboration. Complete conference information can be found at https://mset.org/aerospace-defense-symposium/.
Located at the John C. Stennis Space Center, MSET is a private, non-profit 501(c)(3) organization that facilitates regional economic development by leveraging the resources of Stennis Space Center, the state and region to foster business opportunities among public and private entities. For more, visit www.mset.org.
MSU's diverse research portfolio addresses several national security needs. Interdisciplinary teams of MSU researchers utilize advanced technology and a wide-ranging network to develop fully integrated solutions for public and private sectors partners in aerospace and defense. For more, see www.research.msstate.edu.
Mississippi State University is taking care of what matters. Learn more at www.msstate.edu.