Contact: Aspen Harris
STARKVILLE, Miss.—Fifteen Mississippi State fine arts seniors are showcasing their work and celebrating their upcoming graduation in a thesis exhibition across three locations on the Starkville campus.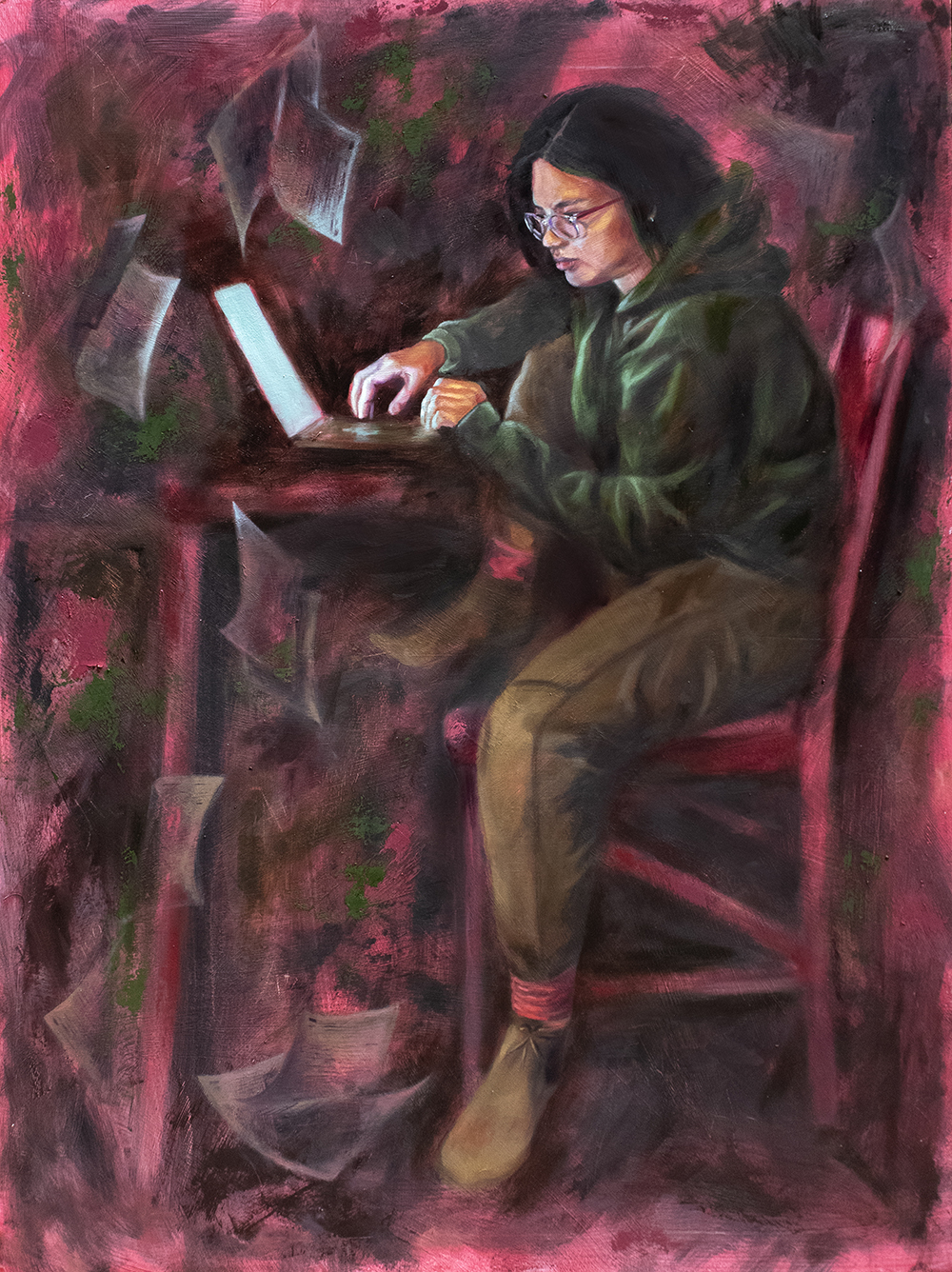 Open May 6-15, the "Streams of Consciousness" show includes installations in the art galleries of the Visual Arts Center, Cullis Wade Depot and Colvard Student Union. Through variations in tone, medium and scale, the work showcases each student's diverse thoughts and ideas joining together for one exhibit. 
A public reception will be held May 6, 2-4 p.m. in all three galleries, and students also will be selling merchandise in the Visual Arts Center Gallery.
Student exhibitors include (by hometown):
BYRAM—Minetta Mahr, shows how the "perfect" body is any body.
FAIRVIEW HEIGHTS, Illinois—Kenya Thompson, created geometric abstractions symbolizing a cognitive process in her thesis "Corners of the World."
FORT LAUDERDALE, Florida—Dontae Ball, uses his favorite media animation to create characters that represent his inner conflicts and reactions in his thesis "Luna."
GRENADA—Madison Haley, created a series of 2D representations of women in different stages of healing in her thesis "Convalescence."
HATTIESBURG—Max Burge, loosely ties a series of paintings called "Streams of Consciousness: Stream of Consciousness" with narrative elements; Nasya Pittman, inspired by her spiritual journey in a thesis that uses scale and found objects.
HERNANDO—Victoria Hickey, provides the enjoyment of landscape through themes of nature and stillness.
HUNTSVILLE, Alabama—Kelley Proaps, aims to reveal in her thesis "Broken" the truth behind the hardships of a broken world.
JACKSON—Phillip Thompson, visualizes a huntress tracking a deer in his thesis cartoon; Lydia Fortenberry, uses photographs and memories to rephrase a moment of her childhood in her thesis work.
MACON—Galashia Holman, humanizes the characters she created through the use of ceramics.
MEMPHIS, Tennessee—Harley Graves, highlights perceptions of the body in her multimedia thesis "Every Body Welcome" with themes of growth, imperfections, self-love and more.
NETTLETON—Brad James Jr., plays on the godlike status of celebrities by turning them into regular people with a cartoon style through his thesis "Pedestal Pedestrians."
SALTILLO—Zack Anglin, created a functional 24-piece dinnerware set as a ceramist.
VICKSBURG—Jerry Jenkins, formed a sculpture symbolizing his state of mind.
To learn more about the artists and individual gallery hours, visit www.caad.msstate.edu/exhibitions/2023/streams-consciousness-bfa-fine-art-senior-thesis-exhibition.
Learn more about MSU's College of Architecture, Art and Design and the Department of Art at www.caad.msstate.edu.
Mississippi State University is taking care of what matters. Learn more at www.msstate.edu.