Contact: Sarah Nicholas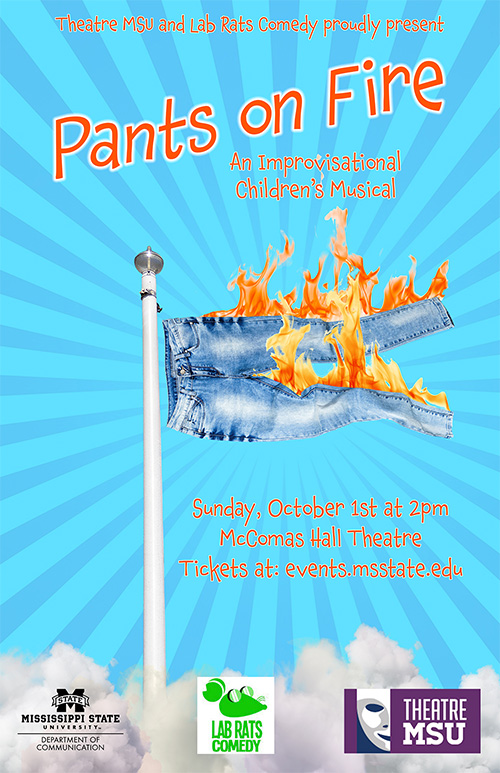 STARKVILLE, Miss.—Mississippi State's Theatre MSU debuts its 60th season this month with a play steeped in improvisation as part of its Theatre for Young Adults program.
The Department of Communication's production division, Theatre MSU is a 2021 School of Excellence awardee in Higher Education from the Mississippi Alliance for Arts Education and is celebrating a long legacy of theatrical excellence on campus with its milestone anniversary.
With four annual mainstage productions, the 2023-2024 season opens with "Pants on Fire: A totally made up musical for kids," from Creede Repertory Theatre in Colorado. MSU's Lab Rats Comedy—an improv student theatre club—also will sponsor the show.
Jesse Wade, MSU assistant clinical professor and technical director for "Pants on Fire," said the improv show is "completely different" from other productions.  
"As the audience arrives each day, the kids will be asked to submit ideas of locations, villains, heroes, problems, etc. and the cast will then completely improv the show based on the prompts they receive," Wade said. "They will create scenery and props and costumes in front of the audience—and then go! It doesn't get any more live than this. Every performance will be a completely new experience and a completely new story."
Presented on the McComas Hall main stage, "Pants on Fire" will be presented to local school children daily Sept. 25-29 by reservation. A public performance will be Oct. 1 at 2 p.m.
Tickets for the public show are available for $10 at www.events.msstate.edu. Email kad541@msstate.edu or thays@comm.msstate.edu for school reservations or more information.
Theatre MSU presents "Puffs," a 2015 original play by New York-based playwright Matt Cox, Nov. 15-19. "Puffs" is a parody of a familiar book and movie series about a wizard boarding school as told from the perspective of the least appreciated house in that school, the Puffs.
February 28-March 2, Theatre MSU presents "The Wolves," by Sarah DeLappe. This Obie award-winning and Pulitzer Prize finalist script centers on the young women of a high school soccer team as they gather each Saturday for practice.
The season culminates in spring 2024 in a Theatre MSU collaboration with the university's music department. As a way to celebrate and honor the program's 60th anniversary, from April 24-28 Theatre MSU will once again debut "Pippin," the first musical performed in MSU's McComas Hall.
For more about the 2023-2024 Theatre MSU season, contact Tonya Hays, concentration coordinator, at thays@comm.msstate.edu.
Part of MSU's College of Arts and Sciences, the Department of Communication is online at www.comm.msstate.edu.  
Mississippi State University is taking care of what matters. Learn more at www.msstate.edu.