Contact: Carl Smith
STARKVILLE, Miss.—Mississippi State's annual Classical Week returns Tuesday [Sept. 19] and features two outdoor performances of a famous Greek tragedy and a lecture from a renowned classics expert.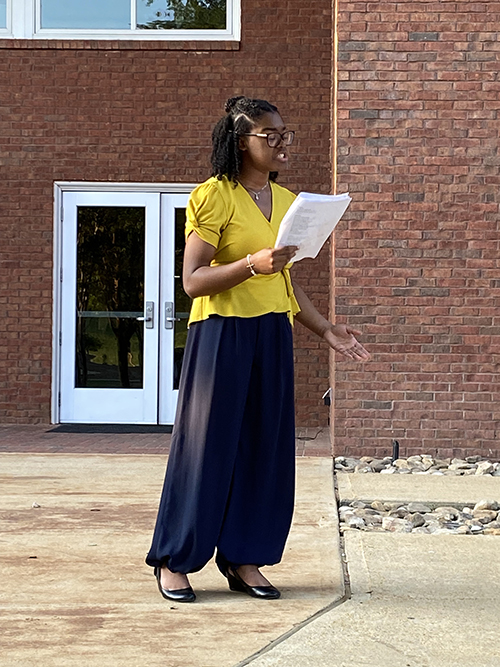 The 11th iteration of the event, 2023 Classical Week is an exploration of this year's Shackouls Honors College Orators Lecture Series' theme "I Will Not Live by Rules Like These: Living a Life Where Value Systems Collide."
David Schenker, associate professor of classical studies at the University of Missouri-Columbia, will present his lecture "Old Rules Lay Generational Foundations" at 12:15 p.m. Wednesday [Sept. 20] at Griffis Hall's Forum Room—Room 401. Admission is free and open to the public.
Now in its fifth year, the Shackouls Honors College-sponsored lecture series invites speakers from various disciplines to engage and enrich the campus and local community through public forums, panel discussions, seminars, course work, research and public lectures. Additional lectures are scheduled in November and February.
Also highlighting this year's theme are two student performances of "Electra," a story about murder and revenge written by Sophocles approximately 1,600 years ago. Directed by Donna Clevinger, an honors college senior faculty fellow and communication department theatre professor, the story highlights many Athenian issues and concerns of the time.
Performances are scheduled for 6 p.m. Sept. 19 and 20 in the Zacharias Village courtyard. Admission to both shows is free, and attendees are welcome to bring refreshments and are asked to bring a chair or blanket for seating. Lee Hall's historic Bettersworth Auditorium, where food is not allowed, will serve as the rain location.
Sophocles is one of the greatest tragedians who lived during the golden age of Athens. In addition to being a playwright, he held important political offices and is said to have fought at the Battle of Salamis in 480, which secured victory for Greece over the Persian invasion. Sophocles composed more than 100 tragedies, but only seven of his plays survive today. He is traditionally credited with introducing a third actor, raising the number of chorus members and implementing painted stage sets. One of the most striking features of Sophocles' characters is their psychological depth, which was a novelty in Athenian theatre.
Of the more than 20 students who comprise the cast and crew of "Electra," Clevinger said they "have worked very hard and made personal sacrifices to bring this timely story to the stage. They all took their roles seriously and had some fun along the way."
Clevinger worked with Schenker, the play's dramaturg, and Bonnie Oppenheimer, a local musician and chair of Mississippi University for Women's math department, to help bring the story to life. Additionally, Clevinger thanked both the Society for Classical Studies and the Classical Association of the Middle West and South for funds that helped defray the costs of the production.
For information on Classical Week, contact Clevinger at 662-325-2522 or dclevinger@honors.msstate.edu.
Learn more about MSU's Judy and Bobby Shackouls Honors College at www.honors.msstate.edu.
Mississippi State University is taking care of what matters. Learn more at www.msstate.edu.