Contact: Meg Henderson
STARKVILLE, Miss—On October 5, Mississippi State's South Mississippi Branch Experiment Station in Poplarville will reach a historical milestone of showcasing the Mississippi Agricultural and Forestry Experiment Station's research and outreach in ornamental horticulture.
For 50 years, horticultural professionals and plant enthusiasts alike have eagerly anticipated this annual MAFES exhibition, which features the South Mississippi station's All-American Selection Display Garden. In addition, participants enjoy the chance to learn about the ornamental and vegetable varieties there and current MSU scientists' research, from propagation and plant fertility to pest control and more. The Poplarville station is an off-campus research site of the university's Coastal Research and Extension Center.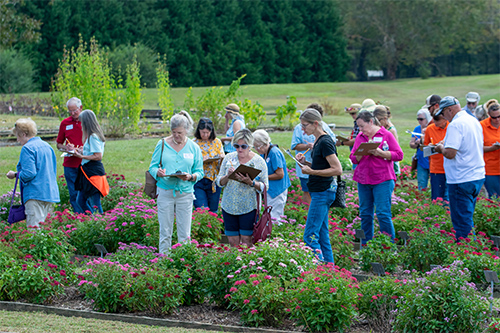 The day's program begins with a presentation on new technology—including methods of chemical application and the myriad uses of drones—that can help producers work more efficiently.
"We invite any producer interested in utilizing these technologies to join us for the field demonstrations," said Patricia Knight, director of coastal horticulture research at the CREC and research professor in MSU's Department of Plant and Soil Sciences. "We encourage producers to participate and see firsthand how they can work more efficiently across commodities as we move into the next 50 years."
During lunch, visitors can view research posters on a variety of horticultural projects coming out of the Mississippi Agricultural and Forestry Experiment Station. The afternoon's presentations will dive into the decades-long history of both the Poplarville station and the research in ornamental horticulture conducted there. Associate Extension Professor Jim DelPrince, a floral design expert, caps off the day with a special floral demonstration set to music from the era of the first ornamental horticulture field day.
Knight, who has directed the event since 1997, apart from her years as center head, has seen practices and trends in the horticulture industry change over time, but she explained the need for information grounded in scientific research has always been in demand. She said she and her team work hard to keep the event engaging and relevant to both producers and home gardeners.
Jenny Ryals, a research associate and horticulture doctoral student, has worked at the event since she arrived at the MAFES station in 2018.
"People are hungry for reliable information," she said. "We also offer opportunities for observation and hands-on learning that you don't get most other places."
"Today, people have access to so much information, but it's one thing to look at horticultural research online and another to speak in person to the scientist who has worked with the plants and then see those plants firsthand," added Senior Research Associate Scott Langlois. "And since most seed companies conduct their variety trials secretly, having open access to our trial gardens and researchers is a unique experience."
In addition to MSU, additional sponsors are providing support for this year's event, including Ball Horticulture; Bracy's Nursery; BWI Companies, Inc.; GreenForest Nursery, Inc.; GreenPoint Ag; Hilltop Liner Farm; Mississippi Farm Bureau Federation; Parish Tractor; Proven Winners/Spring Meadows Nursery and Syngenta.
Visit the South Mississippi Branch Experiment Station's website for more information.
Mississippi State University is taking care of what matters. Learn more at www.msstate.edu.