Contact: Camille Carskadon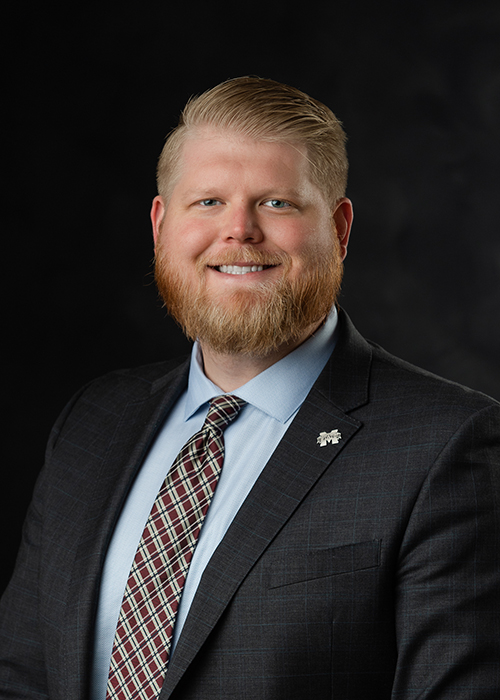 STARKVILLE, Miss.—Dalton "Ross" Smith, a Mississippi State University James Worth Bagley College of Engineering faculty member, has been awarded approximately $10.5 million to expand workforce development opportunities for Department of Mechanical Engineering students as part of the collaborative Advancements in Manufacturing program and IDEELab, an innovative training site.
The grant, which includes $7 million provided by the Department of Defense (DoD)'s Innovation Capability and Modernization (ICAM) office under its Industrial Base Analysis and Sustainment program, will support the lab's mission of achieving a novel teaching model in which students can learn the fundamentals of mechanical engineering in the context of real-world contemporary technology challenges.
"A strong industrial base is critical to our national security, and we need innovative approaches to developing our industrial workforce," said Adele Ratcliff, an MSU alumna and ICAM Director. "It's exciting to see this work taking place in Mississippi that will grow hands-on learning opportunities in advanced manufacturing for students in such a defense rich region. Mississippi State's leadership follows a National Academy's recommendation to incorporate an applied manufacturing focus to strengthen U.S. engineering and manufacturing capabilities."
The IDEELab provides students with a platform that offers cutting-edge, hands-on and critical thinking opportunities within each mechanical engineering core class. Smith said the lab is designed to serve as an internal cooperative program accessible to all MSU mechanical engineering students.
"This is a transformative initiative for us. All the data shows that engineers need more hands-on experience, and this grant helps them start from the first day they step onto campus," said Smith, IDEELab's deputy director. "It opens a tremendous opportunity to tailor student training to the needs of manufacturing industries, which is at the core of Mississippi's land-grant university momentous mission. Advanced manufacturing technologies remain the most critical component of the future economic fabric and, as such, it is absolutely crucial to equip our students early on in their career with the right skills to create these technologies."
One key trait companies seek in new hires is previous work experience, according to Smith, who added it's critical for engineers to graduate with the confidence and skills needed to tackle any engineering project.
"Ideally, everyone would have the opportunity of a co-op or internship, but that isn't always the case," Smith said. "This now becomes the place where students get to practice skills they learn in the classroom for creating marketable technologies. Students will have access to advanced manufacturing equipment, as well as collaborative design spaces."
Another grant phase is community outreach led by CAVS-Extension Director Tonya McCall, which lets elementary and secondary students explore engineering careers. Smith plans to bring elementary students to campus for classroom visits to get them excited about engineering.
"Anything from aluminum cans to rocket ships—there's the engineer somewhere who is a part of designing the machine, developing the manufacturing processes and much more to help make common products that we see every day," Smith said. "We want to make a big push to make students aware and show them what engineers do for a career."
Smith also organized a faculty team from the Department of Industrial Engineering, Center for Advanced Vehicular Systems Extension (CAVS-E), Advanced Composites Institute (ACI) and East Mississippi Community College to advance workforce training for upskilling the existing workforce. The program named AiM UP, Advancements in Manufacturing Upskilling Program, is led by   Associate Vice President for Research Reuben Burch, ACI Director Chris Bounds, CAVS-E Director Tonya McCall and Department of Industrial and Systems Engineering Associate Professor Wenmeng Tian. The AiM UP program is one that is being replicated with other community college partners around the state.
In addition to the $7 million provided by DoD, approximately $3.5 million of the grant comes from non-federal matching funds.
The Bagley College of Engineering is online at www.bagley.msstate.edu and can be found on Facebook, Twitter, Instagram and YouTube at @msuengineering.
Mississippi State University is taking care of what matters. Learn more at www.msstate.edu.