Contact: Lexi Holdiness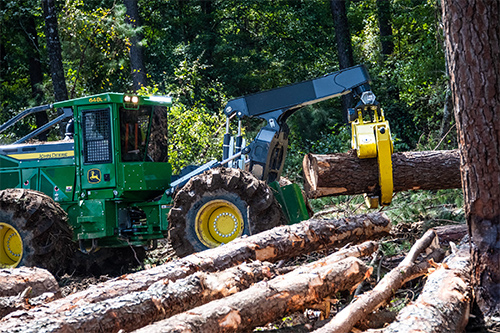 STARKVILLE, Miss.—The longest-running, live, in-woods equipment demonstration in the South—the Mid-South Forestry Equipment Show—will be held Sept. 22 and 23 at Mississippi State's John W. Starr Memorial Forest.
The event is hosted by Mid-South Forestry Equipment Show, Inc., and is a partnership between the Mississippi Forestry Association, MSU's College of Forest Resources and the Mississippi Loggers Association. With 35 years of biennial operation, the event offers networking opportunities for loggers, landowners, foresters and equipment manufacturers. The site is just off Highway 25 south of Starkville at 53 St. Mark Drive.
The two-day demonstration consists of live and static forestry equipment displays, loader and skidder competitions, continuing education presentations for foresters and loggers, food vendors and two $1,000 cash giveaways. Attendees range from foresters and loggers, their families and equipment manufacturers, averaging around 6,000 participants. The family-friendly show includes activity stations for children.
"There is something for everyone. We draw exhibitors from across the country and Canada. We have attendees from across the Southeast. The live demonstration, where equipment companies actually cut trees, is an important part of our show," said John Auel, Mississippi Forestry Association certification programs coordinator and show manager. "This year we have three live demonstrations from TigerCat, John Deere and Komatsu. Many equipment shows across the country do not have the live portion and are just static displays. Live demonstrations really help showcase the capabilities of the equipment, and this sets us apart from other venues."
Lauren Hawkins, the show's communications coordinator, added that the event encourages youth attendance and participation.
"We have always invited teachers to bring their high school students for free on Friday. This year, we have ramped up our efforts and anticipate several hundred students attending. This is a fantastic chance for students to learn about the many careers available in the forestry and logging industries," she said.
Registration currently is open with a $30 pre-registration admission and $40 on-site admission. Both include the attendee's family, spouses and children under 18. For attendee and exhibitor registration, visit the Mid-South Forestry Equipment Show's website at www.midsouthforestry.org.
For more information, contact Auel at jauel@msforestry.net.
For more on the Mississippi Forestry Association, visit www.msforestry.net. Visit MSU's College of Forest Resources at www.cfr.msstate.edu. Information about the Mississippi Loggers Association is available at www.msloggers.org.
MSU is taking care of what matters. Learn more at www.msstate.edu.