Contact: Sarah Nicholas
STARKVILLE, Miss.—Mississippi State faculty members will tackle issues ranging from remote warfare to underrepresentation in public relations to the biology of wetland plants in this semester's MSU Faculty Book Talk series hosted by the College of Arts and Sciences.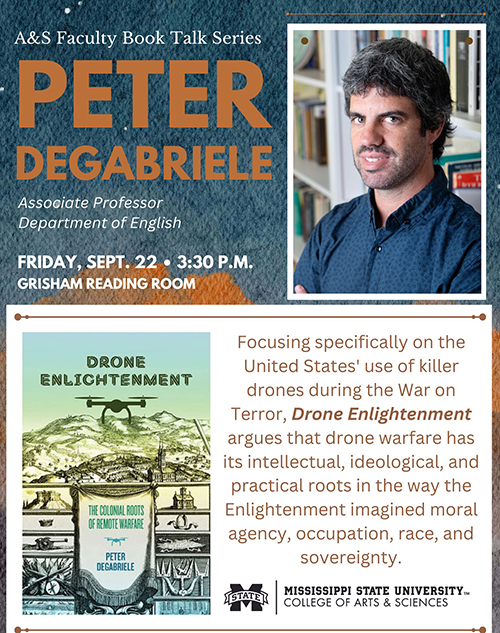 Free to all, the first talk is 3:30 p.m. Sept. 20 in Mitchell Memorial Library's John Grisham Room and will include a public reading and book signing.
Peter DeGabriele, an associate professor in MSU's Department of English, will present selections from his recently released University of Virginia Press publication "Drone Enlightenment: The Colonial Roots of Remote Warfare." His book delves into drone warfare and questions about responsibility, war and sovereignty.
"The MSU Faculty Book Talk series hopes to highlight and celebrate academic books and the MSU faculty who write them," said Eric Vivier, MSU associate professor of English and series director.
"Scholarly monographs remain the gold standard of research for many disciplines in the humanities and social sciences," said Vivier, who is also a faculty fellow with MSU's Judy and Bobby Shackouls Honor College. "They represent years of careful thinking, planning and writing; their publication can refresh scholarly conversations and alter intellectual paradigms in ways that journal articles cannot. We need academic books, and we need to support those who write them."
Additional talks to follow this semester include:
—Oct. 20, 3:30 p.m., Grisham Room: Melody Fisher, MSU Department of Communication associate professor, "The Untold Power: Underrepresented Groups in Public Relations" (Business Expert Press, 2022)
—Nov. 17, 3:30 p.m., Room 1220, Old Main Academic Center: Gary Ervin, MSU Department of Biological Sciences professor, "The Biology of Aquatic and Wetland Plants" (CRC Press, 2023)
MSU's College of Arts and Sciences includes more than 5,000 students, 300 full-time faculty members, nine doctoral programs and 25 academic majors offered in 14 departments. Complete details about the College of Arts and Sciences are available at at www.cas.msstate.edu.
Mississippi State University is taking care of what matters. Learn more at www.msstate.edu.