Contact: Meg Henderson
STARKVILLE, Miss—Mississippi State's Weed Science Team showed a strong presence at this year's national and regional weed science contests hosted recently by Bayer Crop Science in Union City, Tennessee.
MSU's team of six graduate students placed first in the national team sprayer calibration contest, first in the Southern regional sprayer calibration contest and third overall in the Southern Weed Science annual contest.
The MSU team included: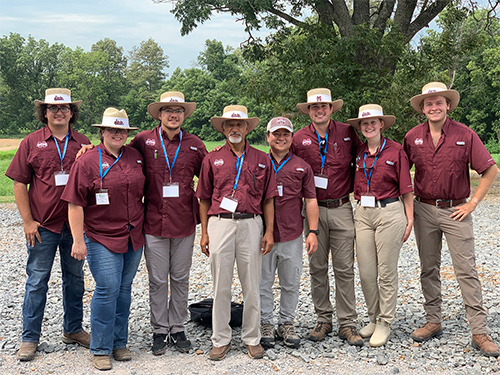 —VERNON, Alabama—Hayden Duncan
—MOUNT CARMEL, Illinois—Kayla Broster
—JACAREZINHO, Parana, Brazil—Antonio Correa Tavares
—NEW MARKET, Alabama—Jake Patterson
—STARKVILLE—Amy Wilber
—PEARL RIVER, Louisiana—William Stark
"During a contest, teams are given a problem and must use their classroom knowledge and make recommendations to solve it in a short amount of time," said Taghi Bararpour, a team coach and associate extension/research professor. "This practical experience gives them confidence when they apply and interview for jobs in the field."
MSU team is led by Bararpour and Associate Professor Te-Ming Paul Tseng, who have taken the helm from former coach Daniel Reynolds, an accomplished weed science professor now serving as associate vice president of international programs and executive director of MSU's International Institute. Bararpour—who once competed in these contests as a graduate student—mentors students at the Delta Research and Extension Center in Stoneville.
Tseng added that the competitions with the best weed science students in the country provide not only practical experience but also networking opportunities with industry representatives and peers—a strong advantage for career-minded graduates.
"Most of the contests are hosted by large companies, and it's a huge opportunity for students to be seen by industry personnel, as well as faculty from universities around the country," Tseng said. "Over time, we've seen contest winners often ending up in good positions in both industry and academia."
Just as the students benefit from competing, the coaches relish the opportunity to share their passion for the field and to mentor future weed science leaders and give them a national stage to exhibit their knowledge and skills.
"When we go to competitions, we want to show everyone that our program is among the best," Tseng said. "But it's also important to create a sense of teamwork and instill the idea that we're going to the competition not as individuals but as a team representing Mississippi State."
The national competition held every four years is a cooperative activity between the Northeastern, North Central, Southern and Western affiliated societies of the Weed Science Society of America, which was founded in 1956 to encourage and promote the development of knowledge concerning weeds and their impact on the environment. This year's competition drew 217 graduate and undergraduate students from 27 U.S. and Canadian universities, with over 60 teams competing in tests of real-world skills in the weed science field.
For more information on weed science in the College of Agriculture and Life Sciences' Department of Plant and Soil Sciences, visit www.pss.msstate.edu. Learn more about the Weed Science Society of America at wssa.net.
Mississippi State University is taking care of what matters. Learn more at www.msstate.edu.