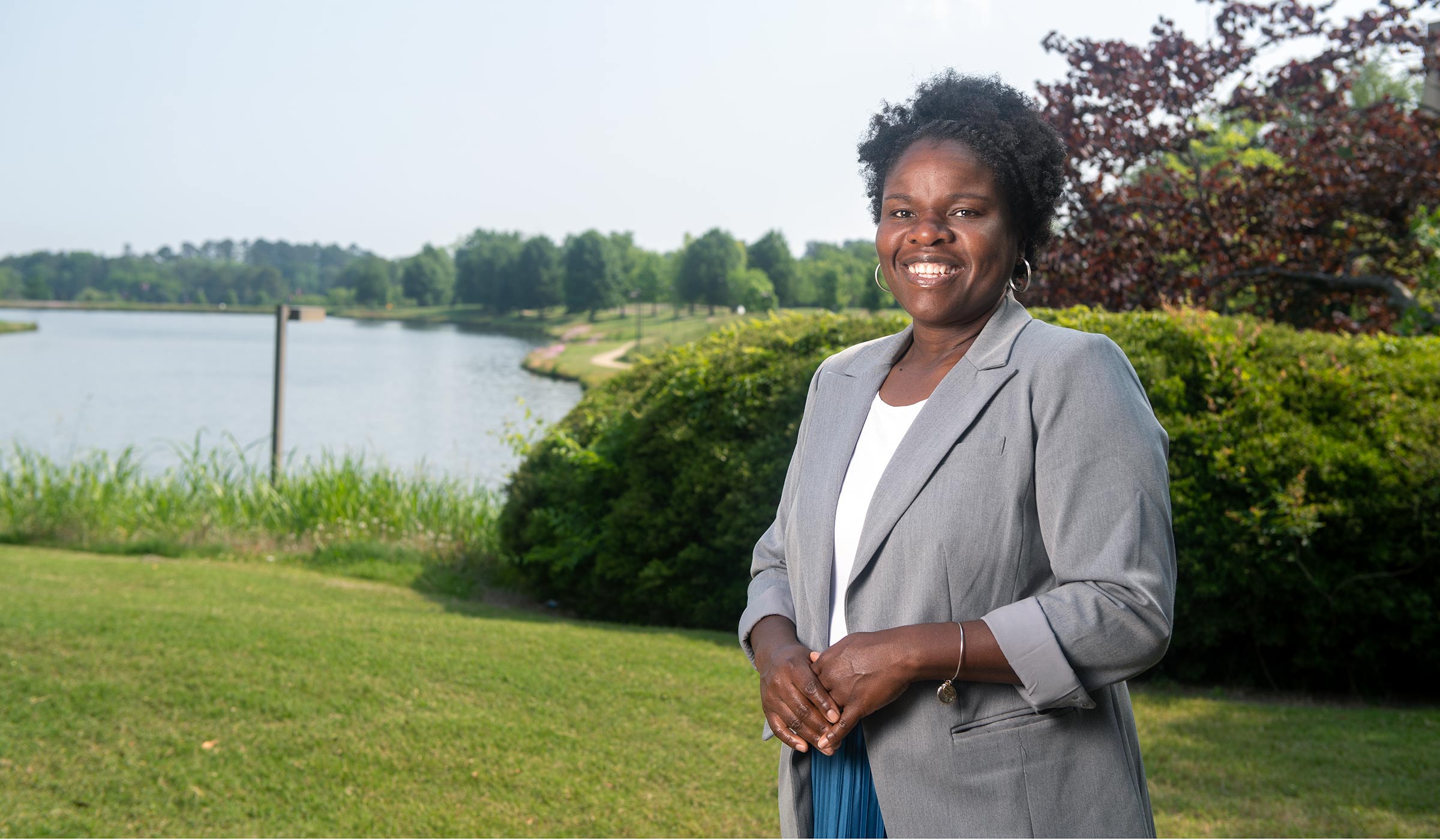 "I believe people have the power and potential to improve their communities when the right elements are present," said Kenya McKinley Cistrunk, an associate professor and director of the social work program in Mississippi State's Department of Sociology.
"I grew up in a community where everyone helped everyone else, and we took care of people who were unable to care for themselves. I became a social worker because of the influences around me. Social work as a major was a natural fit," said the McCool native. "Becoming a social work educator was the perfect way to blend my passion for service and my desire to help people learn what they need to live well in this life."
As a qualitative researcher, Cistrunk focuses on service provisions for marginalized and/or oppressed populations and examines under-resourced communities and groups. These services range from tangible items to help meet basic life needs to the development of programs for underserved youth and at-risk families in rural communities.
"My current research combines my two passions of community engagement and qualitative research," Cistrunk said. "Brian Williams, an associate professor in the Department of Geosciences, and I developed a program called the Cultural Research and Engagement Fellows Program where we trained high school students how to conduct qualitative interviews with elders within their respective communities."
Cistrunk said the program's goal is to help students explore the history of land access and use by African Americans in rural communities. "CREF laid the foundation for us to gather a wealth of information while educating high school students about historical challenges and opportunities with land in rural Mississippi."
"Intergenerational learning is an important element of life, especially in small, rural communities," Cistrunk said. "As elders and youth engage in the all-important questions of life, they share new realities with each other, fostering reciprocity in each conversation."
A Licensed Master Social Worker, Cistrunk is a 1997 graduate of MSU, where she earned her bachelor's degree in social work. She received her Master of Social Work degree in 2000 from the University of Alabama with an emphasis in program planning and administration, and earned a Ph.D. in 2013 in adult education from the University of Georgia. There her research centered around the needs of homeless adults and faith-based community agencies. 
Cistrunk is an executive board member of the J.L. King Center in Starkville and is the president-elect for the Mississippi Council on Social Welfare.
A recipient of the 2018 MSU College of Arts and Sciences Teaching Award in Social and Behavioral Science, she said education was strongly emphasized in her home during her childhood. "My community and my parents understood what was at stake if we didn't pursue an education."
She came to MSU as a student in the 1990s and said MSU has always held a special place in her heart. 
"It was an easy decision to make when I was offered an opportunity to join the faculty in 2012. I joined the education arena after earning my doctorate degree because I have a heart for helping people develop their full potential," she explained. "Every day in the classroom and in my role as program director, I'm challenged to consider ways to elevate students' understanding about the world around them and how they truly have the power to impact change. No two days are alike.
"I'm excited about the opportunity to train the next generation of social workers who will ultimately be the administrators, policymakers and educators in the near future. Additionally, I'm excited about doing research that allows me to work with community members to identify social and historical issues that impact life today," she said.