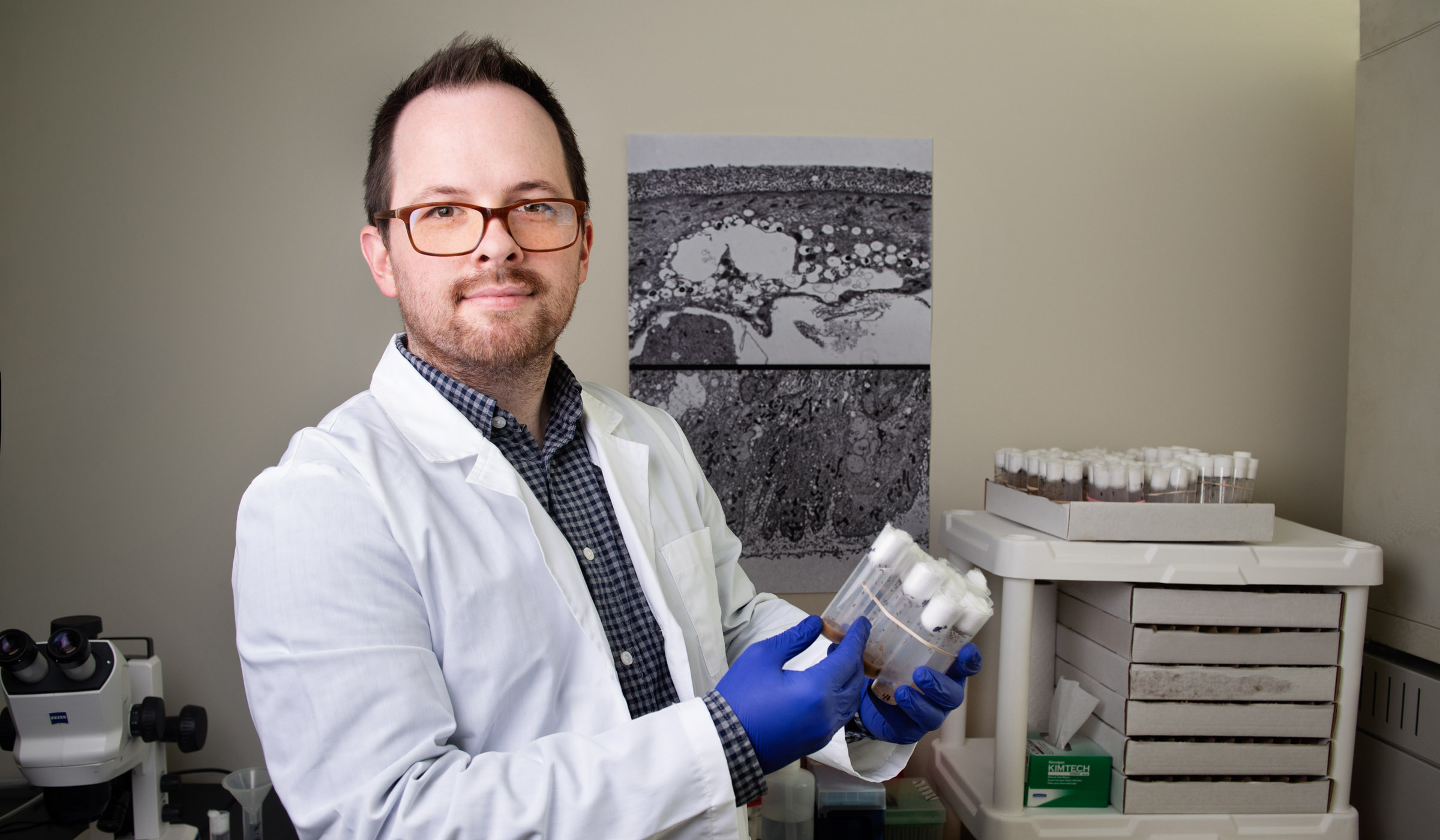 New Jersey native Matthew Ballinger didn't plan on academia being a viable career choice when he graduated from high school. Instead, he opened a coffee shop with his brother in Norwich, New York.
He remembers the experience fondly, especially since it gave him the opportunity to meet his wife. However, he said the venture wasn't right for the long term. His college academic journey began at a local community college, took him through his undergraduate program at Binghamton University in New York and through his Ph.D. in biology at State University of New York at Buffalo. He then spent three years working in Victoria, British Columbia, before joining the MSU faculty in 2018 as assistant professor of biological sciences.
Ballinger also didn't anticipate living in the South, but he said the people at Mississippi State—especially his colleagues in the Department of Biological Sciences within the College of Arts and Sciences—made beginning his faculty career in Starkville a great choice.
"When I came here, the reason that I was excited to take this offer was because the people here are fantastic," he said.
Ballinger's research on insects, especially certain types of flies, and the relationships they have with long-term microbial passengers, has continued from its beginnings in his doctoral program and is ongoing now in his Harned Hall laboratory at MSU. His work is being honored and bolstered through a prestigious $805,682 Faculty Early Career Development (CAREER) Program award from the National Science Foundation.
He said the nature of human curiosity propels many scholars as they delve deeper into their research and learn more about their subject matter, which also leads to new questions through the scientific method. He explained the satisfaction that comes from being a scientific researcher.
"It is great to look at a system, have a question about that system, and then have the opportunity and laboratory tools to try to resolve that," Ballinger said. "For a curious person—which is most people, I think—it becomes really fulfilling to pursue your curiosities."
Specifically, Ballinger looks at symbiosis between microbes and their insect hosts. He said the ability to sequence genomes greatly advanced research of the diversity of microbial life associated with invertebrates—and all animals. His students have the opportunity to use the latest genome sequencing technology and other cutting-edge research methods in courses he teaches, including several special topics in biological science classes.
While his initial work dealt largely with studying insects and viruses, he now focuses primarily on insects and bacteria and the impacts their interactions have on insect health and ecology.
Ballinger said he greatly enjoys being part of the Bulldog family, and he thinks Starkville is a great place to raise his family, which now has grown to include three young children.