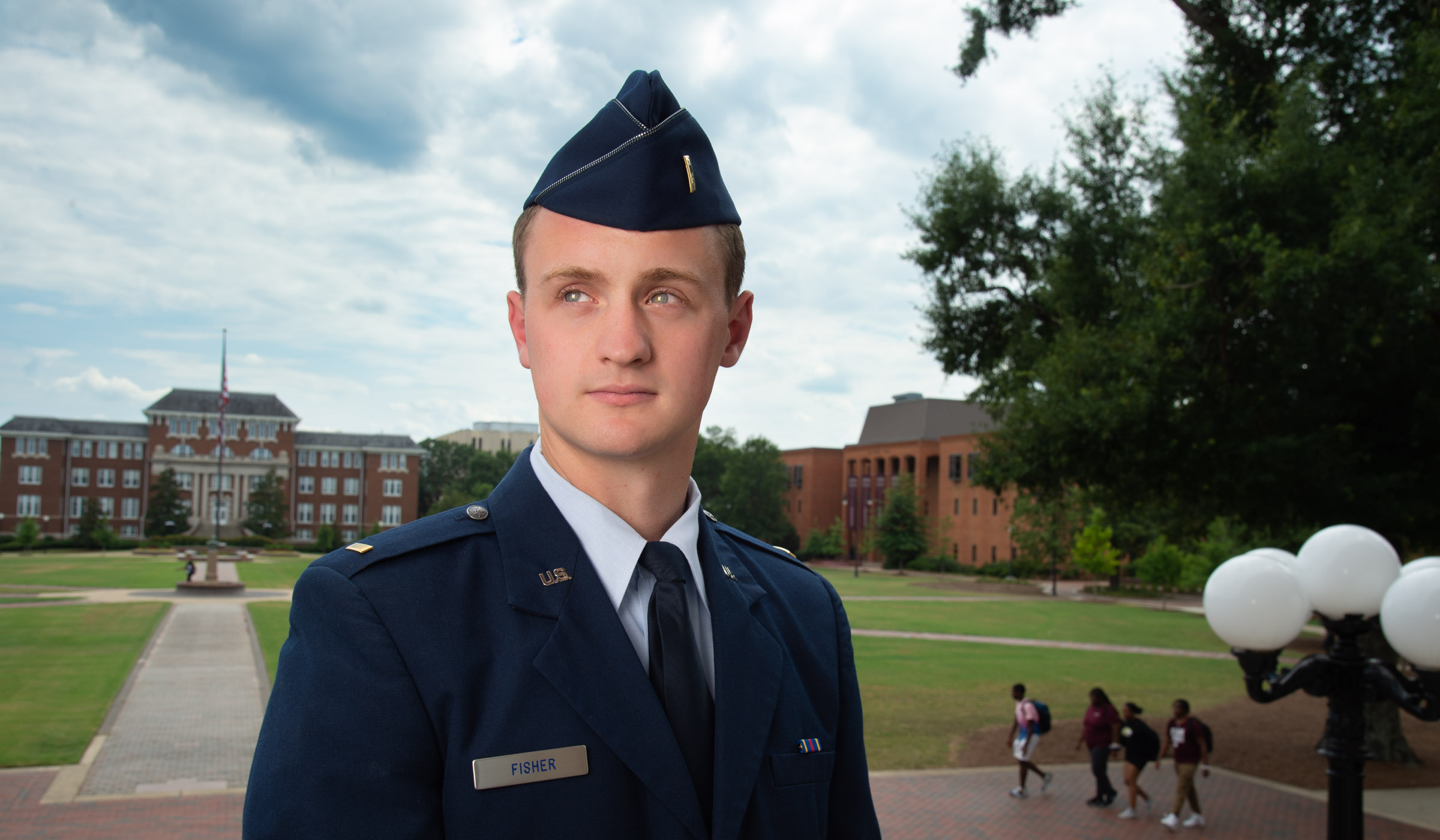 "July 4th is a day to be happy, thankful and free," said Rohan Fisher, a second lieutenant in the U.S. Air Force Reserves and graduate of Mississippi State's Air Force Reserve Officers' Training Corp Detachment 425. "Take a moment to remember the men and women who defend our freedoms."
The Colorado Springs native grew up next door to the U.S. Air Force Academy and knew he wanted to be a pilot, but he also wanted a traditional college experience.
"Senior year of high school, I didn't know where I was going to school," said Fisher, who earned his MSU bachelor's degree in mathematics this past spring and now is pursuing a Master of Business Administration degree. "I had a lot of options, but nowhere felt like the right place for me. Then a Mississippi State admissions counselor came to my school and told me about the university and the scholarships and programs, so I applied that same night."
He explained that his father later suggested they visit "the Mississippi school," although the family did not have previous ties to the university.
"When I visited, I felt like I was where I was supposed to be. Everywhere else I was simply a number, but State always made me feel welcomed, and more importantly, important to them," Fisher said.
He enrolled in the Air Force ROTC program as a freshman in 2018 to continue his family's legacy of service. His grandfather served in the army, and his great-uncle, uncle and brother were previously or are currently in the Air Force.
"I know there are many people across the country who would give anything to be able to serve, but for certain reasons, they are not able to. Since I am healthy and able, I feel like it is my responsibility to serve in their stead," Fisher said. "I joined AFROTC because I knew I wanted to be an officer in the Air Force, but I also wanted to enjoy the typical college experience. I knew MSU's AFROTC detachment would give me the best opportunities in the country because of the great leadership."
Fisher said the relationships he has developed with his AFROTC detachment have been one of the best experiences on campus. "We started the program with very little experience in anything, but through the challenges we faced, we grew so much, and it has been so rewarding watching that happen."
Fisher now is a graduate assistant in the Department of Marketing, Quantitative Analysis, and Business Law while he awaits his official assignment from the U.S. Air Force. "I will be starting undergraduate pilot training, or UPT, where I will be flying and working my way from having little flying experience—starting in a civilian propeller aircraft—to flying highly advanced military aircraft."
"I am most excited for the possibilities," Fisher said. "Where I will be and what I will be doing is still to be determined. It's a little nerve racking, but at the same time, exciting. I love this country and feel very blessed to have the opportunity to serve in the military."