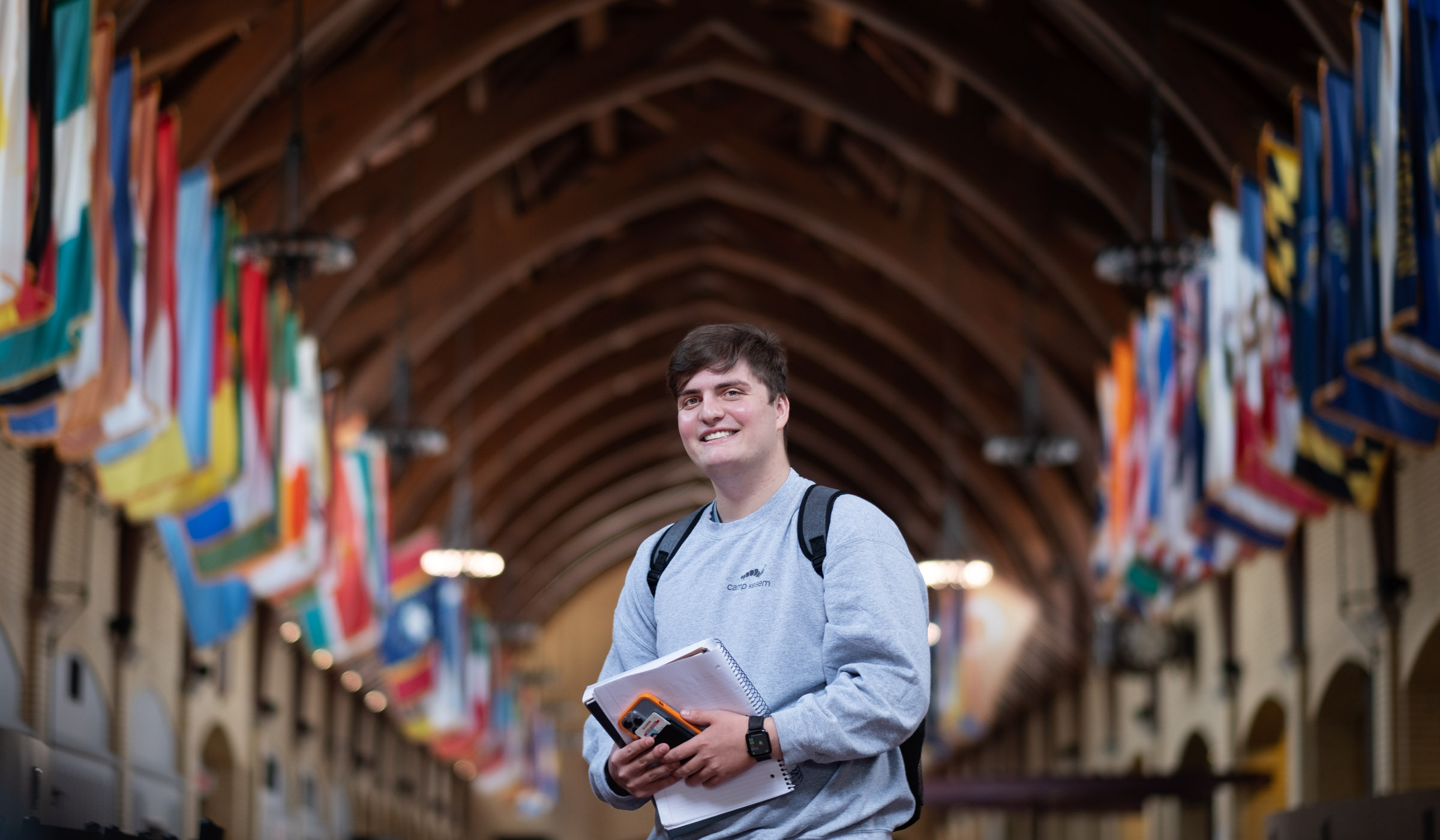 A senior educational psychology major from Edwardsville, Illinois, said the university is not only preparing him for his profession, but also providing life-changing study-abroad and extra-curricular activities that are holistically shaping him for the future.
Sam Stewart said he had the time of his life this past March as part of an eight-day MSU educational psychology course held in Seville, Spain. The College of Education student said he initially did not understand the relevance of study-abroad programs, but when he found a short trip scheduled during spring break and led by his human growth and development teacher, Assistant Clinical Professor Ty Abernathy, Stewart decided to give it a try.
The experience was transformative, leading to a new level of confidence as Stewart navigated international travel and studied and toured with about 40 others from MSU, ranging from freshmen to graduate students.
Stewart recalls that after his arrival, one of the first things he did was attend Catholic Mass at the elaborate Cathedral of Seville – the fourth largest church in the world and the largest Gothic church.
"From that point on, it was the best eight days of my entire life. I talk to everyone I know about studying abroad and what it meant to me. I urge them to do it because it's really a once-in-a-lifetime opportunity, and Mississippi State does everything in its power to make it seamless," he said.
"Dr. Ty did a great job of planning in advance, so we had structure, but also freedom and flexibility. The one thing I would change is that I now wish I had chosen a longer program," Stewart added.
On campus, he said College of Education faculty members have given him encouragement and guidance as he traverses the curriculum and considers graduate school and career options. Enrolled in MSU's "Thrive in Five" accelerated degree program, which puts students on track to earn both bachelor's and master's degrees in five years, Stewart said he's truly at an advantage as an MSU student because the university offers one of the country's few undergraduate programs in educational psychology, whereas most students at other schools have to wait to specialize in the field during graduate school.
Another impactful experience Stewart greatly values is his co-curricular involvement with MSU's chapter of Camp Kesem, part of a national network of college students who support children impacted by a parent's cancer through summer camps with understanding peers. The free, weeklong summer camps are funded by individual donations and corporate support, and Stewart has been part of MSU's first in-person camp this summer. He got involved as a freshman hoping to connect with others and find a niche group of friends. He found the most rewarding organization on campus by working with others toward the same goal of helping children.
"Camp was literally my favorite part of the entire summer. It taught me a lesson on compassion and patience within one short week," he said. "It really helped put things in perspective. I am blessed to have a healthy and happy family, but this week really showed me how much I had been taking it for granted."
Stewart encourages MSU students to connect with others in class and through additional opportunities on campus. He enthusiastically is inviting others to join the Camp Kesem chapter.
"If you're looking for ways to get involved, this is one of the biggest impacts that you can make," he said.