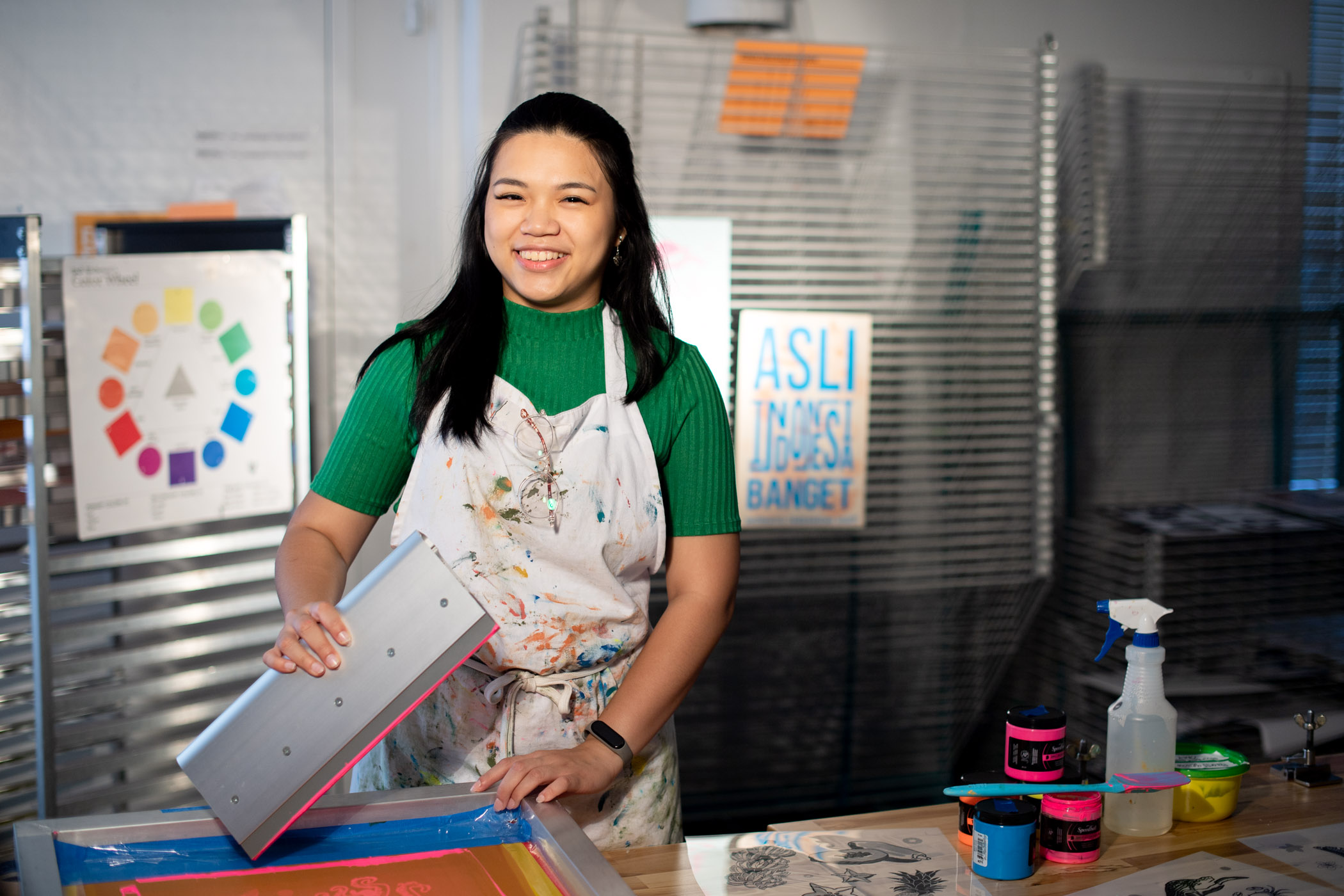 Trisha Harjono's first time traveling to the United States was when she began classes as a freshman at Mississippi State in the fall of 2019.
An MSU senior, the graphic design major was born and raised in Jakarta, the populous capital of Indonesia, which she described as "very different" from Starkville. A "city girl," Harjono said it took time for her to find her place at Mississippi State and adjust to her quieter college life after coming from such a large metropolis. Surprisingly, the smaller art department environment became the reason she fell in love with the university.
"The Art Department is small but super close-knit," she said, "and they made me feel really welcome. Within the department, I get to make connections, network with people and get closer with my professors."
When Harjono came to MSU, she had doubts about majoring in art since most of her family has a background in STEM or economics. She initially took chemistry alongside her art courses, but she enjoyed art so much that she knew she wanted to build her career in the design field.
"Here, you are trained to see connections through your observations," she said. "It showed me how to apply science to art, or vice versa.  I love making connections through art and applying those to the real world."
A "people person," she also enjoys making connections through campus involvement. She has not returned home to Indonesia since arriving, so she has kept busy during breaks networking through campus organizations and jobs, church events and travel.
She's worked as a resident advisor and desk manager for Housing and Residence Life, served as a camp counselor throughout the summers, and is currently working with the Center for Entrepreneurship and Outreach as a graphic design associate.
"The E-Center is such a great opportunity for me to work with startups and be able to learn about how the business world works," she said. "It has given me a chance to connect the classes I've taken for my minor in business administration."
Harjono also has been awarded scholarships for workshops at the Penland School of Craft in North Carolina for the past two summers.
"Penland is so awesome because you can meet different people with such diverse backgrounds from all over the country. Not only do I get to learn inside the studios but also outside through interacting with the other students," she said.
Harjono said she wants to learn as much as she can throughout her time at MSU.
"I like school, and I like learning about new things," she said. "And MSU has provided so many good opportunities for me to explore lots of different fields."