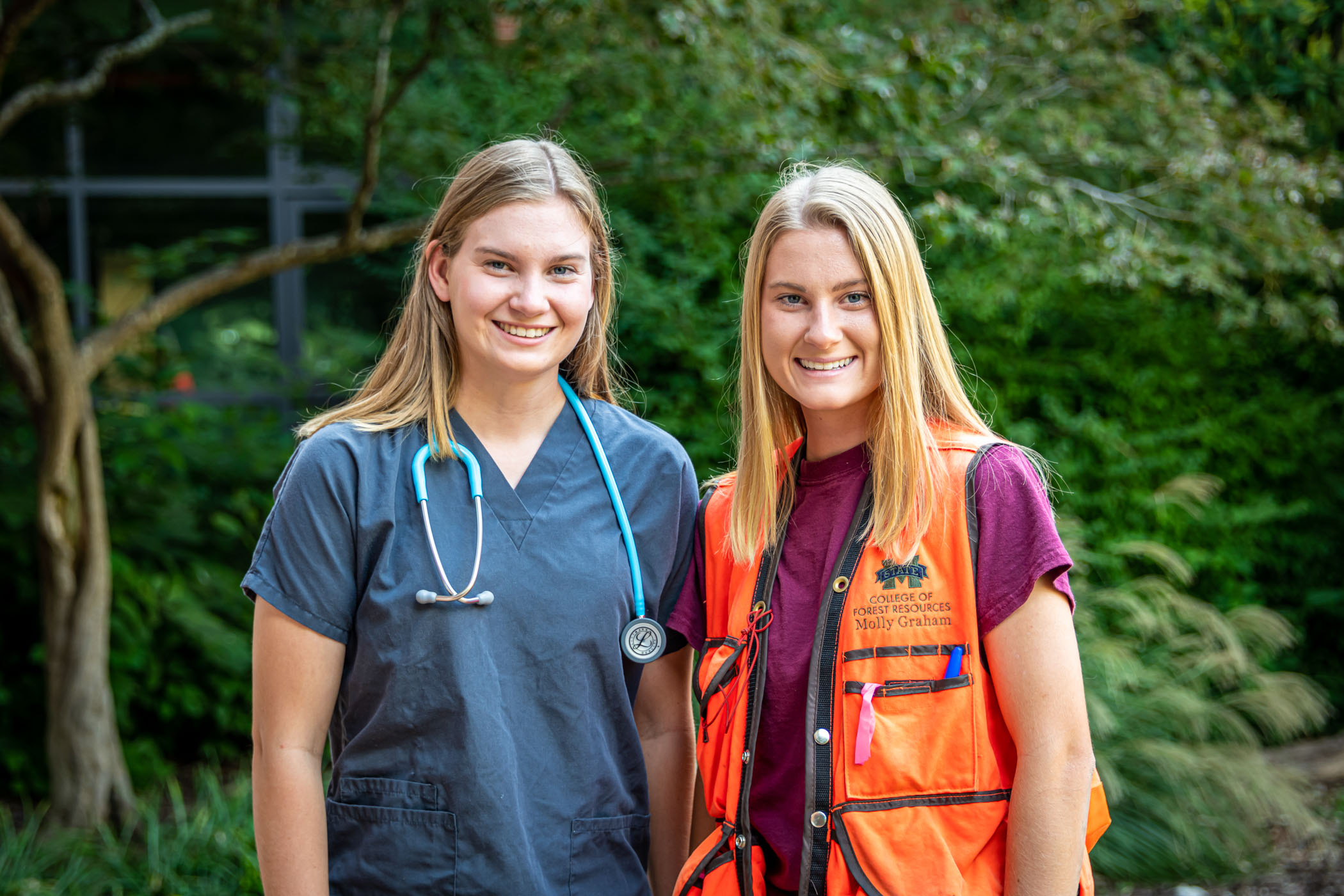 Born and raised in Pensacola, Florida, in an ardent Auburn University family, twins Molly and Mattie Graham believed they were destined to be fourth-generation Tiger fans. However, one trip to Mississippi State University was all it took for them to trade their stripes for cowbells.
Growing up with no background or familial influences in forestry, wildlife or animal care, Molly and Mattie found themselves dreaming of becoming veterinarians. Mattie, still pursuing that dream, is a wildlife, fisheries and aquaculture major with a wildlife veterinary medicine concentration and a minor in music. Molly, however, decided, through her high school experiences with Future Farmers of America, that forestry was her new dream. She is a forestry major with a concentration in forest management and a minor in geographic information systems.
"We weren't set on going to the same school and staying together after high school. We scheduled our Mississippi State visit as our last school to tour from our options, and we fell in love with MSU and Mississippi—it checked all our boxes," Molly said.
Since joining the Bulldog family in the fall of 2019, the sisters have fully immersed themselves in extracurricular activities and involvements.
"Ever since arriving at MSU, I've been involved in all the College of Forest Resources offers, making the most out of my experience here," Molly explained.
She is a CFR Ambassador, president of the Society of American Foresters Student Chapter and SAF Student Chapter executive committee representative for District 11, which is the national SAF designation that covers Mississippi, Texas and Louisiana. She also is president of XI Sigma Pi, the forestry honor society; serves on the Ducks Unlimited executive committee and works for the Bulldog Forest, a forest operation responsible for managing all of MSU's forest lands.
The pair explained how welcoming and hospitable the environment at MSU made them feel like they belonged at State.
"I really loved the atmosphere here; it felt like home. We met with Cory Bailey, the senior admissions coordinator for CFR, and he explained the different opportunities and options Molly and I had here with our different interests," Mattie said. "I love how close-knit the college here is, and I think I've finally found my spot, where I belong, and who I am, especially while getting to be a part of such different sides of MSU."
Mattie, while being enthusiastic about animals and her pre-veterinarian route, is also interested and invested in the arts. She is a part of the top choir at MSU, the State Singers, and has been since her freshman year. Aside from singing, Mattie spends her time assisting in research to gain experience and work with animals. She has worked with several graduate students on projects as a technician, and been involved with research on wood ducks, chicken health, poultry industrial settings and eggshell strength testing. Mattie is on the executive board of Ducks Unlimited and was a part of a veterinary outreach program with Volunteers Around the World.
"I think our time at MSU has been impacted most by the people here. I feel like we take for granted how good the atmosphere is at Mississippi State. The professors here are genuinely invested in the students, and everyone is always willing to help each other succeed," Molly explained. "It's also special for Mattie and me to have experienced this together. We always know that we have each other when we need someone, and getting to share college together has been exciting."
Molly plans to graduate in May of 2023 and wants to go into the workforce as a forester practicing silviculture. Mattie plans to graduate in December of 2023 and apply to MSU's College of Veterinary Medicine.