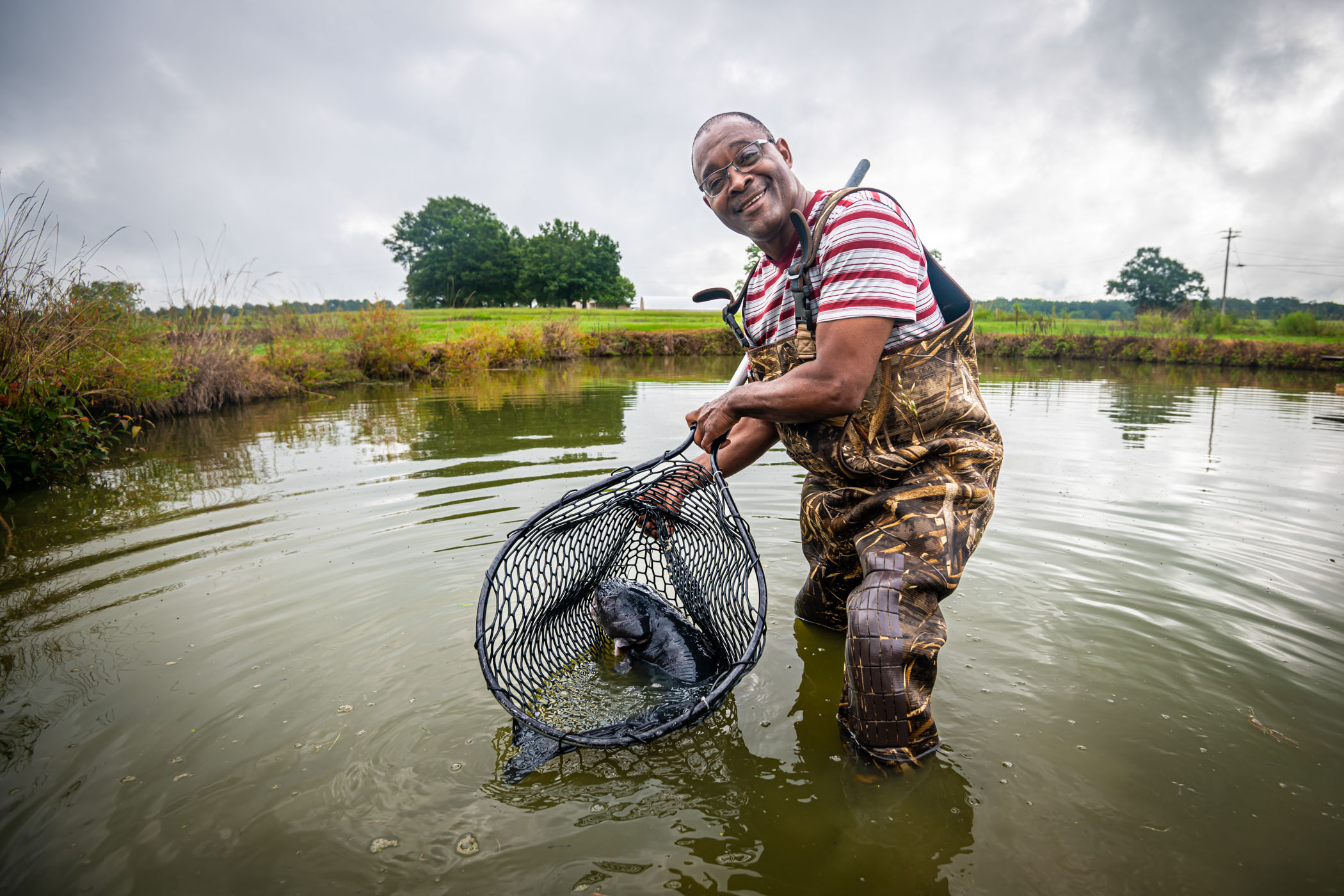 For Coahoma County native Troy Lindsey, life on the water is both a pastime and a career. Growing up fishing and hunting in the Mississippi Delta—the birthplace of America's catfish industry—little did he know his hobby would parlay into a profession. Lindsey grew up in various towns that dot the Mississippi Delta, including Roam and Tutwiler, where he graduated from West Tallahatchie High School. He went on to Coahoma Community College and then to Alcorn State University, where he graduated with a bachelor's degree in animal science.
After graduation, he traveled the country working for the U.S. Department of Agriculture. When a former professor at Alcorn with ties to MSU recommended him for a job at Mississippi State, he decided to test the waters as a Mississippi Agricultural and Forestry Experiment Station research technician at the South Farm Aquaculture and Aquatic Science Facility. The move proved a good fit and Lindsey, a recent recipient of the CFR/FWRC Beverly Smith Support Staff Award, has been at MAFES' H.H. Leveck Animal Research Center for the past 27 years.
"Our team does everything from assisting with research to digging ditches for drainage. We also care for the fish and other species as well as maintain the facilities, ponds and infrastructure," Lindsey said.
He said he's hooked on research in the Department of Wildlife, Fisheries and Aquaculture.
"My favorite part of the job is helping the professors and students collect data and then seeing in the end what we've accomplished as a research team," he said.
The unit includes 86 ponds ranging from a tenth of an acre to five acres, raceway tanks and recirculating systems. The unit addresses three prongs of U.S. aquaculture—the catfish industry; diversification of aquaculture in the region including recreational gamefishes, baitfish species and crustaceans; and the culture and physiology of conservation species including alligator gar, Atlantic sturgeon, the American paddlefish and more.
While helping scientists and students alike is a passion, Lindsey also appreciates how the work helps aquaculture producers across Mississippi.
"We partner with aquaculture farmers to help them evaluate fish health and quality and assess growth, nutrition and disease," he said.
While he's worked nights and weekends to get the job done, on days off you'll likely find him fishing for bass or catfish in a nearby lake or pond. Despite the attachment to aquaculture, however, it's clear that it's the people who matter most to him.
"For me, it all comes down to helping the students, professors, and ultimately, aquaculture farmers," he said.