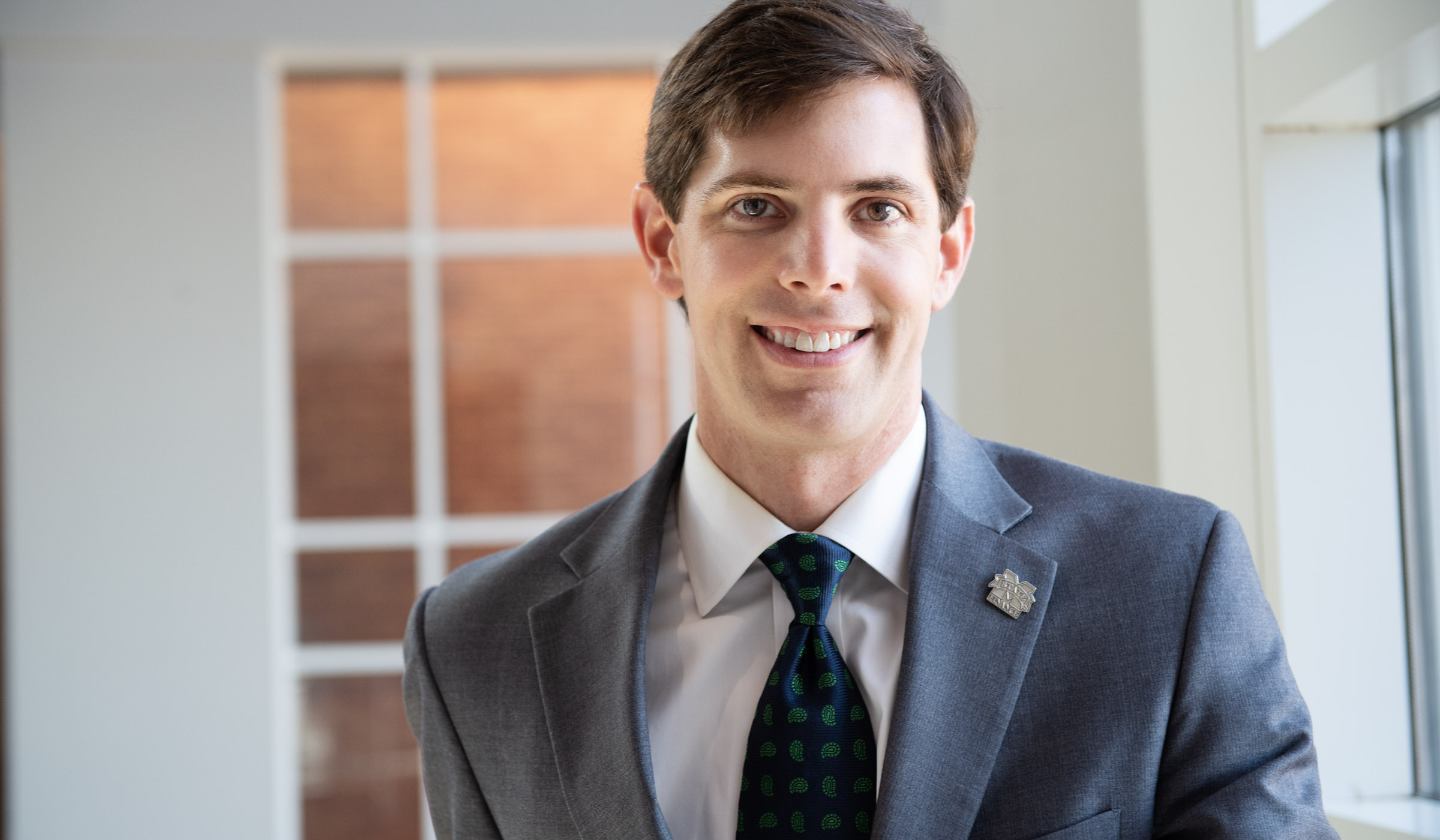 Those reading anything in the news about the economy or corporate finance lately probably have read an article featuring or written by Brian Blank, assistant professor of finance at Mississippi State University. A respected financial scholar, Blank has been interviewed in national and international outlets including the BBC, MarketWatch and ABC News and local news outlets like the Commercial Dispatch. His research has been covered in Forbes and Reuters, and he has written compelling articles for "USA Today" and The Conversation, an independent news organization that publishes articles written by academic experts for the general public.
"When I took my first finance class, it was confirmation that this was what I was meant to do—numbers and business. It just made sense to me," Blank said.
He received degrees in both mathematics and finance, before earning master's degrees in finance and applied statistics—all from the University of Alabama. After graduation, he began his career in Birmingham, his hometown, as a consultant with the Accounting, Economics and Appraisal Group, where he assisted companies facing critical challenges such as fraud, bankruptcy and litigation. One of Blank's projects included advising a financial institution that was a victim of a $500 million Ponzi scheme.
"We worked on some really interesting cases, and I learned so much," Blank said. "I think the most challenging part was that many of our clients were litigators, so our work had to fit into their schedules. I had no downtime, so there was a point where the grind became a little too much."
Blank decided to continue his education in finance and enrolled in the doctoral program at the University of Tennessee-Knoxville. While he was in the program, Blank discussed his career path with a family member who mentioned that they knew some great people at Mississippi State's College of Business.
"I came down on a random weekend seven years ago," he said. "I got to meet a lot of people, and there were lots of natural connections, but I had no idea that this trip would change my life for the better."
Less than a year later, Mike Highfield, who at the time was head of the Department of Finance and Economics, called Blank and asked if he was interested in an open teaching position. The pieces were all falling into place. Blank and his wife, Kate, made the move to Starkville and fell in love with the city and university. It was the perfect fit for their growing family.
Blank, who teaches a wide range of financial management courses, said students are studying the economy—both where it has been and where it is headed—at an interesting point in history.
"One of the things we discuss at the end of each semester is how firms manage their cash, and that has changed a lot over the last few years. Cash is very expensive today because interest rates have gone up, so firms don't necessarily want to be holding a lot of extra cash. This is much different than a couple of years ago, when firms were practically hoarding cash due to the economic uncertainty surrounding the pandemic," he said. "By incorporating current events in my classes, my students can understand how the terms and concepts they learned in class actually apply in a real-world setting as they are watching them unfold live."
Though he teaches many courses, Blank admits that every now and then he still gets first-day jitters.
"I feel lucky to get to research and teach what I love every day," he said. "I think it's also exciting to get to interact with people who are in such an important life phase, learning a lot about who they are, what they are interested in and who they want to be. The reward of knowing that I may have helped shape their futures outweighs any nervousness I could ever have."