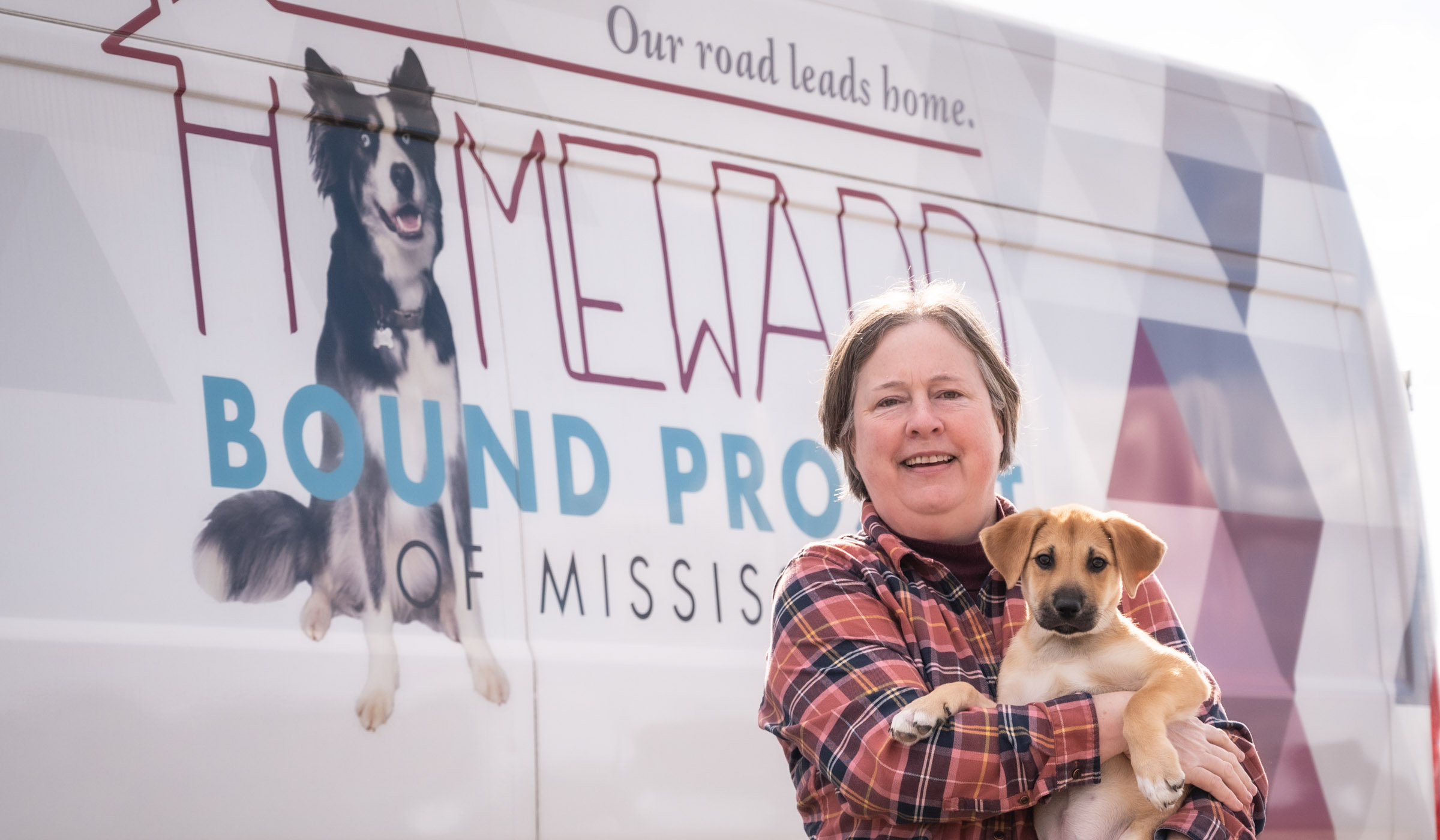 Many good things happen at Mississippi State University's College of Veterinary Medicine, and the Homeward Bound Project of Mississippi is near the top of the list.
The nonprofit organization was founded in 2007 when three CVM students noticed the imbalance between the large supply of adoptable dogs in the South and the high demand for them in the Northeast. They set out to create the first successful transport program developed, maintained and operated by students at a veterinary school.
In those early days of the organization, Terri Snead fostered dogs before their transport. Now, she serves as Homeward Bound's director of operations, in addition to her MSU role as a CVM animal health technician.
The Hattiesburg native said she always was destined to work with animals.
"I was always very animal-oriented. I volunteered and worked at a small animal practice while I was in high school. The veterinarians, staff and clients in that practice had a big impact on my life," she said.
After earning an undergraduate degree in business management from the University of Southern Mississippi, Snead obtained her veterinary technician certification and joined MSU's CVM, where she serves in the ambulatory service. After more than 30 years, she still loves what she does for a living. Her job includes speaking with clients and addressing their needs, making appointments, managing the service's truck fleet, ordering supplies and handling other administrative requests.
"Some of my fondest memories will always be of helping clients and watching students mature into confident veterinarians," she said.
As Homeward Bound's operations director, Snead oversees students as they prepare animals for transport, a process that includes spay/neuter surgeries, age-appropriate vaccinations, screenings for diseases and ensuring the animals spend a minimum of 14 days in a foster home before departing for the Northeast. She assists the organization's leaders as they coordinate volunteers and transport days and ensure that animals have everything they may need for the trip.
"Basically, my title with Homeward Bound includes everything you imagine it to and also anything else that needs to be done," she said.
The Homeward Bound Project of Mississippi has transported more than 6,000 animals to the Northeast since its founding, thanks in no small part to the work and dedication of Snead and other volunteers.
"I'd like to suggest that everyone try fostering for their local shelter or rescue," she said. "It is one of the biggest impacts you can make toward helping an animal."