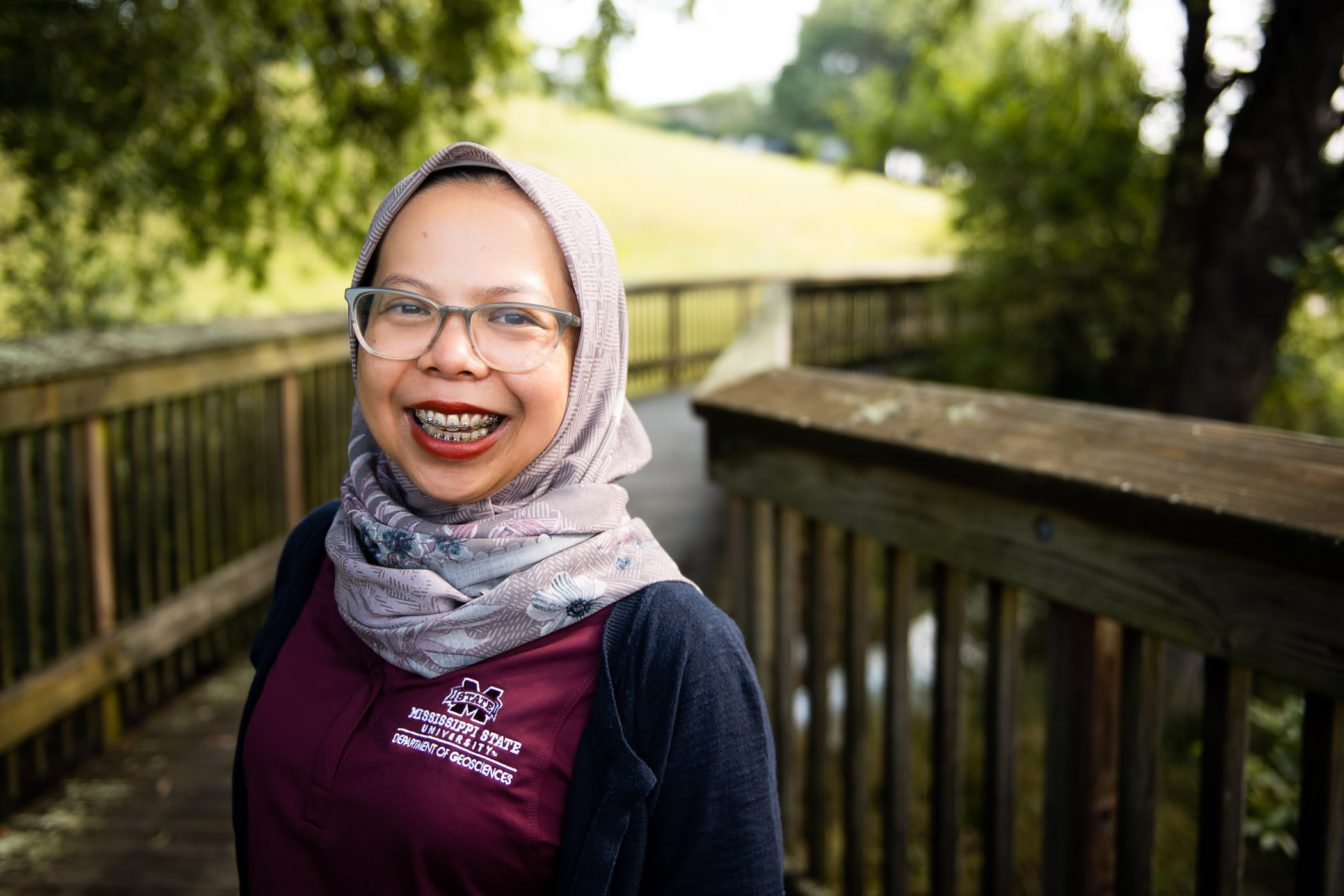 "In health geography literature, studies have shown that where people live, work and socialize can affect their physical and mental health and well-being," said Mississippi State faculty member Fikriyah Winata, a health geographer who combines geography with her passion to help improve health and well-being of people.
"In my observation, what most people don't realize about places and their physical and mental health and well-being is that humans develop 'relationships' with places, and places can affect our bodies. Think of it this way: those who regularly visit state parks—or around Starkville, our wonderful forests with many hiking trails—will have different health outcomes than those who never get outside. Through our day-to-day activities, we move from one place to another. So, places where we live, work, socialize, and do activities can contribute to our overall physical and mental health and well-being," she said.
The daughter of a teacher, Winata said growing up in a rural village in Indonesia meant there weren't many teachers around, so she took on the role herself, teaching friends and peers to read and count during their elementary years. "I have always wanted to be a teacher," said the assistant professor of geography and geospatial sciences in MSU's Department of Geosciences.
"When I was in middle school, I moved to the city, Tangerang, Indonesia, to get a better education, and lived with my cousin, who was a midwife, I became interested in public and community health after helping her at the maternity house and assisting midwives and nurses."
Because Indonesia's college system is different from the U.S. system, Winata could not get into the public health program at her dream university through the national college entry exam. She instead was accepted into a geography program.
"Unexpectedly, I loved geography and enjoyed my major. I became interested in geospatial technologies, particularly GIS—Geographic Information Systems."
After working for four years as a GIS trainer at Esri Indonesia, a leading distributor of GIS software, Winata moved to the U.S. to pursue her master's and Ph.D. in geography at the University of Illinois Urbana-Champaign.
"At UIUC, I found that I could use my GIS skills to address public health issues in society. So, I took a lot of classes in health geography, epidemiology and statistics, and specialized in health geography and GIS.
"I love teaching, and teaching for me is not only a job, but is part of my life. I also have many curiosities in life, and through my research career, I answered many of my questions."
A faculty member at MSU since Fall 2022, Winata teaches geography courses such as Urban Geography, Intro to World Regional Geography, and Geography of the Islamic World. This fall, Winata plans to teach a new course, Health Applications of GIS.
An avid runner—specifically at MSU's Chadwick Lake—Winata said she wants to understand how people's relationships with places and social networks can affect their health and wellbeing.
"Currently, I am studying Indonesian female domestic workers, or FDWs, in Hong Kong who live and work at their employers' homes and have mobility restrictions because of the nature of their job. Through my research, I found that FDWs' gathering with other FDW counterparts at parks and other public places can improve their social well-being and physical and mental health. In addition, gathering at public places like parks for this vulnerable group also becomes a source of care and social support since they do not have family and friends in Hong Kong."
"Besides understanding how relationships with places affect individuals' health and well-being, I am also using GIS and spatial and statistical analysis to measure access to healthcare and healthy food stores in urban areas, including in Jakarta, Indonesia, and Chicago, Illinois. Also, I have started a new research project studying access to mental health facilities in Mississippi."
"My ultimate goal in my research is to use my knowledge and technical and analytical skills to contribute to public health and improve people's lives."