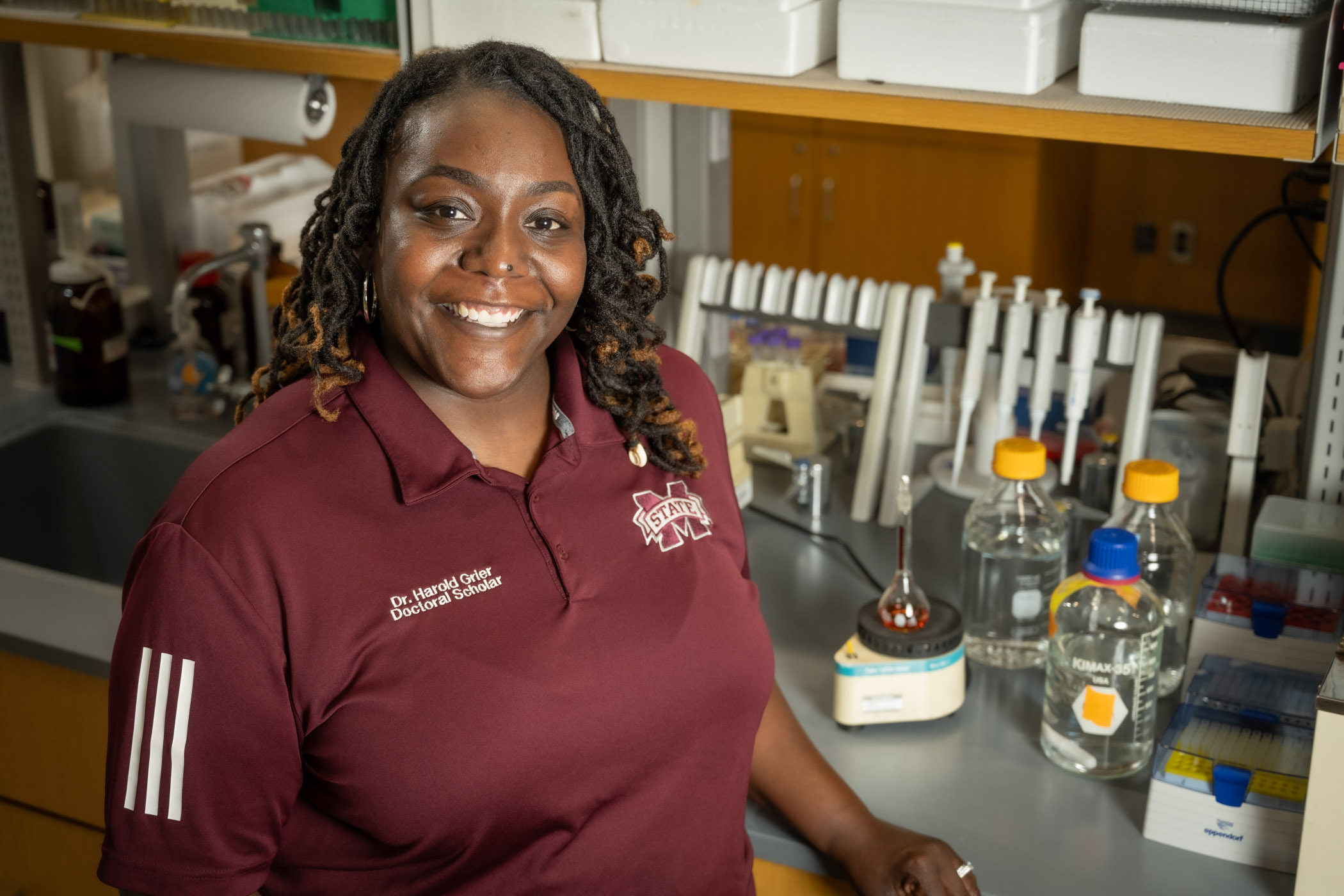 "Celebrate yourself and your accomplishments even when no one else is cheering."
That's the mindset that has led Chiquita Price to where she is today – pursuing a Ph.D. in toxicology at Mississippi State University's College of Veterinary Medicine.
The Tutwiler native earned two Bachelor of Science degrees—one in chemistry and one in biology— from Mississippi Valley State University in 2009 and a Master of Science in environmental toxicology from MSU in 2012. After receiving her master's, Price worked as a chemistry lab coordinator and lecturer at Hinds Community College in Raymond for five years. However, she couldn't stay away from the world of toxicology, and in August 2017, she returned to MSU and CVM as a graduate research assistant in the Center for Environmental Health Sciences.
"I didn't choose toxicology; toxicology chose me," Price said. "Once I was introduced to the field, I saw that it was a perfect blend of biology and chemistry that could be integrated into other fields of study."
Since her return to the university in 2017, Price has secured National Institutes of Health funding through the Research Supplements to Promote Diversity in Health-Related Research program, has been named a Dr. Harold Grier Doctoral Scholar through the Southern Regional Educational Board, was selected as departmental graduate student representative, and has served as the MSU Graduate Student Association service and outreach coordinator. She is also a member of the American College of Toxicology, the American Association for the Advancement of Science, and the Society of Toxicology. In 2022, Price earned a fellowship through the American College of Toxicology.
Price's research is conducted in the laboratory of William L. Giles Distinguished Professor Janice Chambers, where their focus is on toxicants to the nervous system. Some of these toxicants, at high levels, can lead to brain damage. The lab actively works on novel antidotes to maintain or restore function in the brain as well as maintain vital functions throughout the nervous system.
"At present, I am studying the toxic effects of nerve agent analogues in the brain and the protective effects provided by newly synthesized antidotes compared to the antidote that is currently available," she said.
As for her next step, Price is undecided but knows she wants to make a real-world impact wherever she goes.
"My options are currently open, but I am hoping to establish a career in industry or government working as a forensic toxicologist," Price said. "In that type of role, I will have the ability to make real-world decisions that will have direct and lasting impacts."