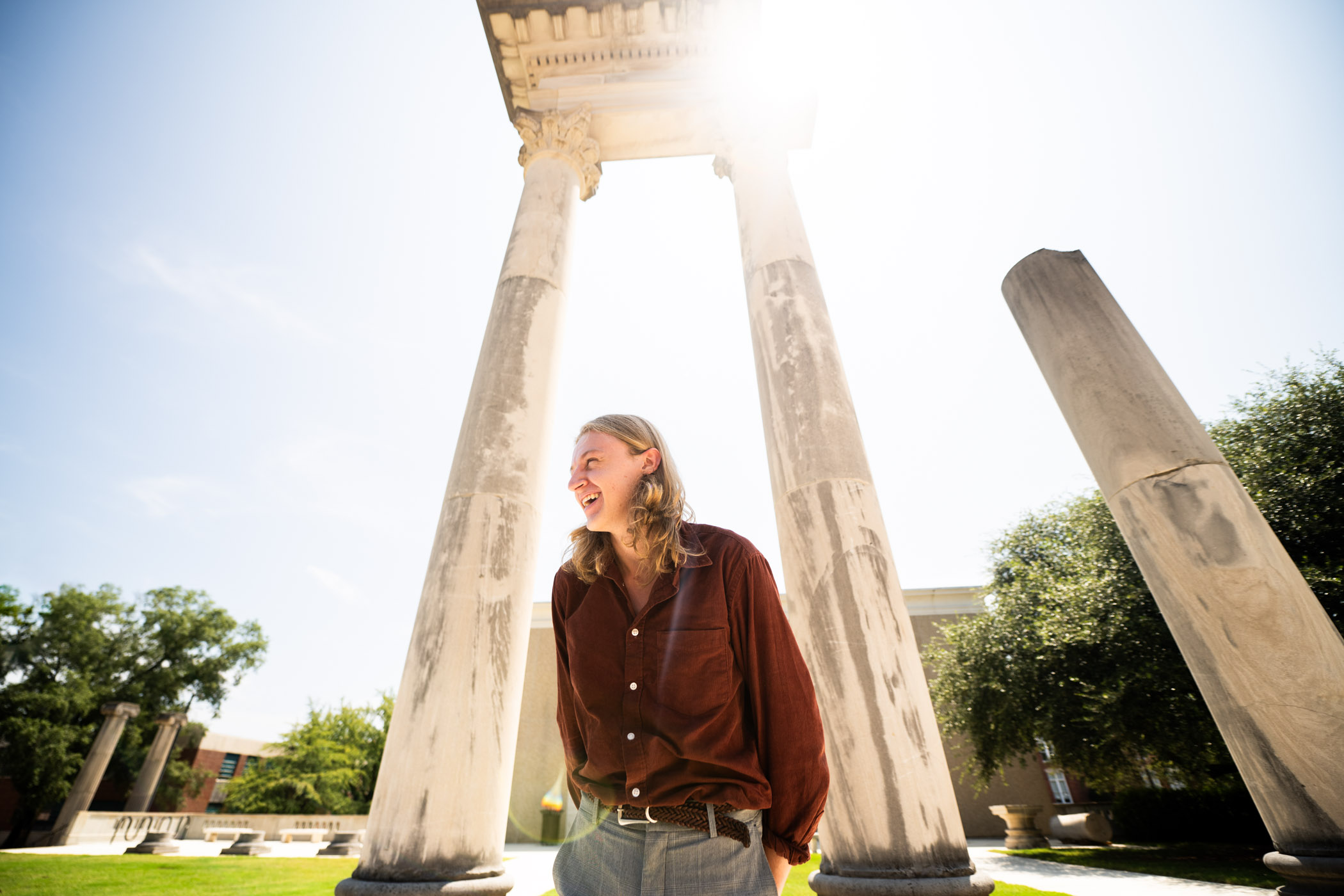 Growing up in North Mississippi, Aidan B. Taylor said his family vacations looked different than those of his peers.
"Instead of going to Disney World or the beach, we'd always go to places like Vicksburg or Natchez—all over the mid-South, really," he said. "We'd go to museums, old historic homes, cemeteries, battle fields, anything like that."
It was these cultural trips that first sparked his interest in historic preservation, architecture and interiors.
After attending an event at Mississippi State and learning about all the career opportunities available in the field of interior design, the Red Banks native knew he was on the right path.
Taylor graduated in May with his bachelor's degree in interior design and has worked through the summer as an intern with Belinda Stewart Architects in Eupora. He also is continuing his education as a graduate student in the new Master of Fine Arts in Historic Preservation program, a journey he began as an undergraduate.
Taylor said he's thankful to Beth Miller, the head of the interior design department, for introducing him to the program he now has about halfway completed.
"She told me about this new graduate program and thought I'd be a good fit," he said, adding that Miller knew his grandparents had owned an antique store and that he had learned how to restore old furniture. "I took the first couple of courses and realized what a great intersection it was with my passion for history and architectural studies. It just made sense."
After serving as a teaching assistant for the introductory interior design studio his final semester as an undergraduate, Taylor realized he also has an interest in teaching.
"I was helping out the freshmen with their very first project, and it was cool to pass down the knowledge of what I learned just a few years earlier as a student," he said. "The historic preservation MFA is a terminal degree, which means I would be able to go on to be an educator right after I finish."
This semester, he'll be getting more teaching experience serving as a graduate assistant for the Interior Design Fundamentals course.
He also hopes to continue historic preservation work like he's been doing through his internship with Belinda Stewart Architects.
 "While pursuing this degree, my mind has been opened to so many fascinating aspects of the historical preservation profession," he said. "In the future, I hope to use my design education to aid in the interpretation of some of Mississippi's forgotten and historically underrepresented sites. It is important to me that I use the skills I have acquired at MSU to give back to Mississippi and make it a more beautiful and culturally enriching place to call home."