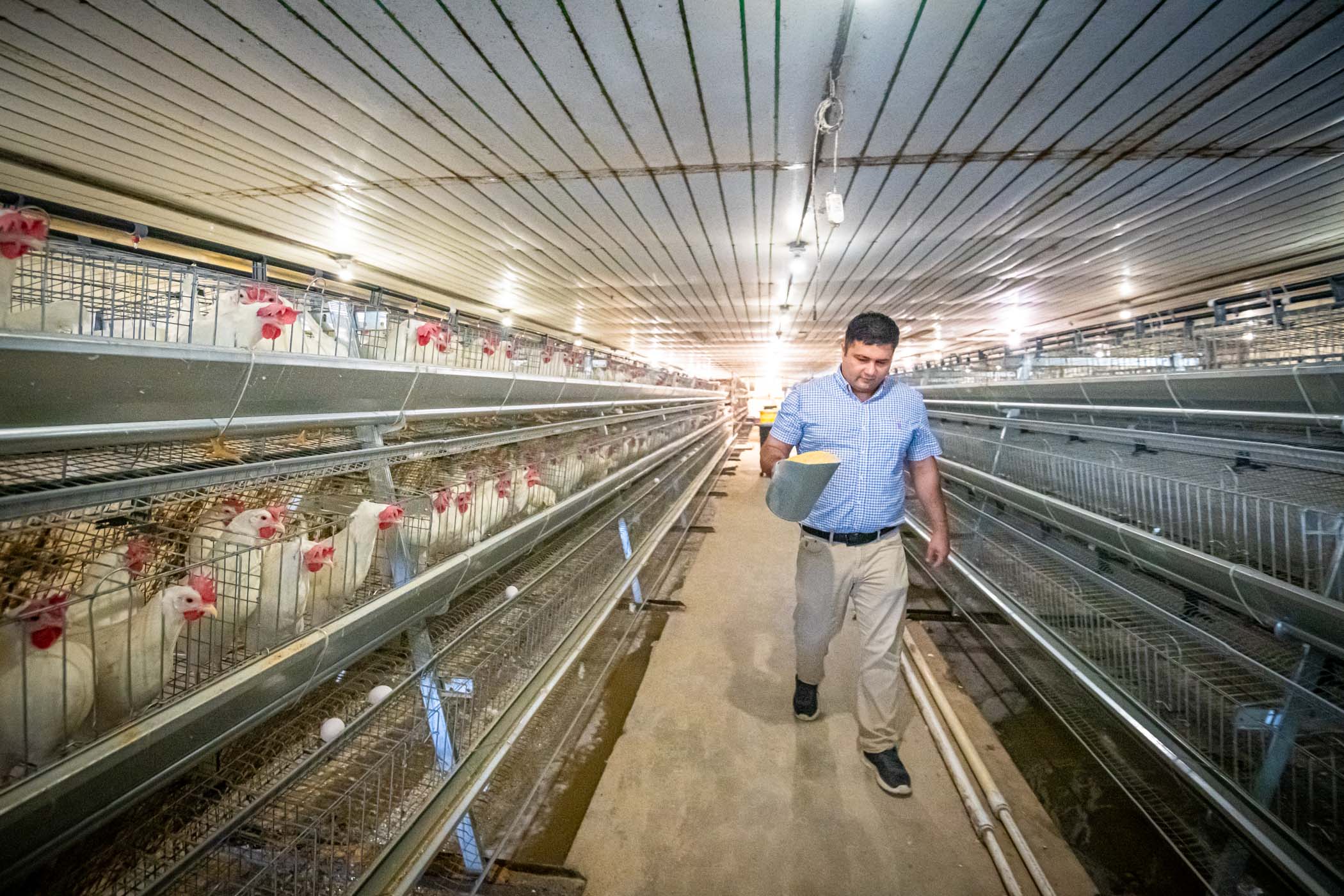 Growing up in the largely rural nation of Nepal, Ishab Poudel's passion for agriculture began early. His drive to make that passion a career led him halfway around the world to Mississippi State, where he is currently a doctoral student in the poultry science department.
"I developed a deep connection to and curiosity about the natural world growing up in Nepal," he said. "I spent a lot of my childhood venturing out into pastures to watch cattle graze, and I was fascinated with their behavior."
In 2015, after graduating with a degree in veterinary and animal sciences, Poudel took a job in his home country as a project coordinator for Heifer International, a non-governmental organization that helps farmers improve their livelihood and income by raising quality livestock. Having an up-close look at scientific research in action and witnessing its direct affect on farmers and communities sparked a desire to be a part of it.
"Working with Heifer International, I learned that raising poultry is an effective way to improve the standard of living in small and marginal communities," he said. "I saw that the work poultry scientists were doing in these communities had a direct impact on people's lives, and I decided to pursue higher education studies in the field."
Poudel remained with Heifer International for three years and then set his sights on applying to graduate programs—and MSU was at the top of his list. In addition to being one of only six poultry science degree programs in the U.S., he knew other students from his undergraduate university in India who had attended and were impressed with MSU's graduate school.
"When I learned more about the university and the Department of Poultry Science, I knew that Mississippi State was the best fit for me," he said.
Poudel's graduate studies have focused on evaluating the effects of prebiotics, probiotics and precision biotics—poultry feed additives that act as safe alternatives to modulating the gut microbiota. A robust microbiota, or bacteria in the gut, results in a stronger immune response to infections with pathogens such as Salmonella.
Poudel has grown tremendously in his five years at MSU, not only in his knowledge of science but also in his proficiency in English—the latter being a skill that most students take for granted.
"Studying at Mississippi State has given me an incredible opportunity to improve my verbal and written communication," he said. "As a scientist, it's important to express yourself clearly and articulately."
Having recently defended his doctoral dissertation and now preparing to graduate, Poudel hopes to secure a position where he can continue pursuing academic research in poultry science, doing his part to ensure safety in the world's number one protein source. He sees scientific research as an important link in the global agricultural chain and believes that food security must begin with prioritizing animal health.
"Animal welfare is critical because everything in our society is intertwined," he said. "Ensuring animal health is one important step in improving food security around the globe."